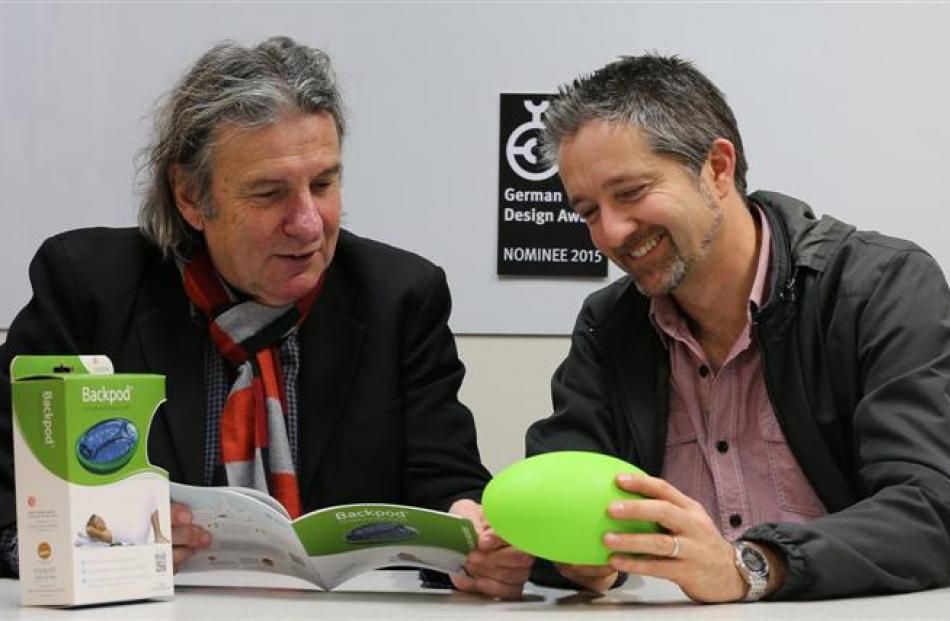 A Dunedin-designed product has become the first New Zealand product to receive an award from the German Design Council.
Bodystance Ltd received a special mention award at the council's awards ceremony in Frankfurt for the Backpod, a self-treatment for neck and upper back pain.
Entry was invitation-only and nominees must have already had an international design award. The Backpod received an honourable mention in the Red Dot international design awards in Germany in 2013.
Bodystance has three directors, industrial designer Andrew Wallace, design strategist Nick Laird, and physiotherapist and inventor Steve August.
Mr August was thrilled with the Backpod's most recent success, saying the award, coupled with earlier the Red Dot accolade, provided ''immense credibility'' in the market.
Only two New Zealand products had ever been invited to participate in the council's awards, he said.
The judges evaluated the product on the overall concept, degree of innovation, ergonomics, functionality and practical value, build quality and durability, ecological quality and compatibility, product aesthetics, graphics and semantics, safety and accessibility, and manufacturing techniques and quality.
The Backpod was a device and programme specifically designed for home treatment and ongoing care of the most common upper spinal problem in the world - a hunched upper back driving neck pain and headaches.
It was a rapidly increasing problem as people hunched more to use small devices like laptops, tablets and smartphones.
Bodystance was signing an agreement with a German medical, legal and marketing group which would be launching the Backpod into Europe.
About 8000 Backpods had already been sold in New Zealand but the ''big numbers'' were overseas, Mr August said.
New Zealand was always regarded as a good place to learn from getting out in the market and the company had learned a lot, he said.
The potential of the product was ''just enormous'' and he believed New Zealand had an ''amazing opportunity'' to develop other practical, effective and fairly low-tech health products.
There was an overlooked market opportunity for New Zealand to develop practical solutions to a ''huge number'' health problems, then take those innovations overseas.
This second, there would be 75 million Europeans with acute pain in the upper back or neck, or headache.
''New Zealand and Australia actually lead the world in practical innovations in this area, and it just doesn't get noticed,'' he said.