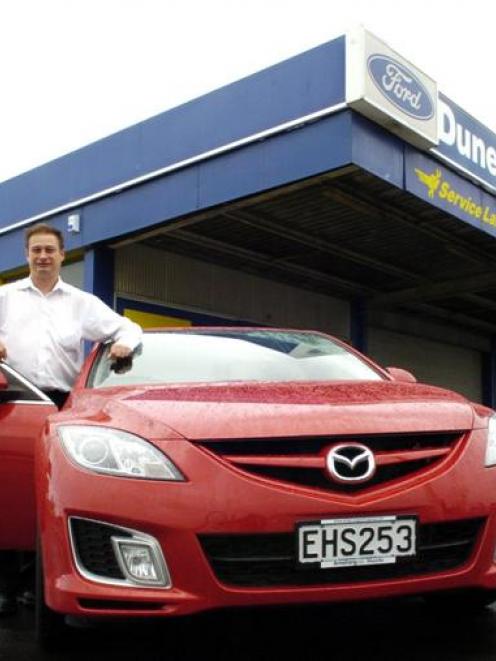 Dunedin's car yards, feeling the pinch only in the past three months, appear better cushioned than those nationwide where sales have slumped over the past year or so.
The industry in general has seen a slump of more than 20% in sales since September 2007.
In October last year, sales nationally were down 14.5%, or $90 million - the largest single decline since May 1995, according to Statistics New Zealand data.
The Dunedin car scene has been rife with speculation in recent months about the viability of businesses, but there has generally only been a repositioning or downsizing in the market of mainly small to mid-size operations.
Confirmed on Friday is that Armstrong Prestige is dropping its Hyundai brand, which is being taken up by Cooke Howlison.
Prestige is taking over the Land Rover, Jaguar and Volvo franchise from Southern Motor Court, to run alongside its Jeep, Dodge and Mercedes brands.
Prestige's Mazda franchise is going to Dunedin City Ford, where the 85-year-old company has invested in a large showroom and workshop.
Dunedin City Ford chief executive Robert Bain said sales for November had continued to slide and he expected a similar result in December sales.
Similarly, general manager John Duncan, of Armstrong Prestige, which has five dealerships offering 15 brands, confirmed a sales downturn for the same period.
He also highlighted that extra annual leave entitlements had extended people's holiday season out of Dunedin which meant December-January sales were becoming a "reasonable problem".
Southern Motor Court managing director Tony Sycamore said sales from July to December were down "dramatically" and "significantly", but not to the extent of the 20% national slump.
The high New Zealand dollar, especially against the yen and euro, meant buying power at the time was "as good as it will get".
However, he cautioned that the presently weakened Kiwi meant dealers would have to pay more now, with those higher prices expected to come through by the second-half of 2009.
Unlike the late-'70s and early-'80s, when it took 200 weeks' wages to buy a brand new car, that was down to about 40 weeks' wages, with new cars for sale from $18,000.
Mr Bain said sales in 2008 had been the best since 2005, and with petrol hitting a record $2.19 per litre in July, small car sales had taken off.
"[However] once the price came down and people realised petrol prices are not the biggest component [to owning a car], they are now moving back to [the larger model Ford] Falcons," he said.
During the past three months, sales had been noticeably down.
He said until then, Dunedin had been "cushioned" from the overall 20% decline nationally and not as hard hit - an observation Mr Duncan backed.
"Mainly that's because Dunedin people are not as [financially] extended as people elsewhere around the county," Mr Bain said.
Cooke Howlison Toyota general manager Adrienne Ensor also confirmed sales were down during the past three months, but said they had been steady" in recent weeks.
She expected the year ahead to be "challenging", considering the extent of the global downturn, but, as with other Dunedin dealerships, the company was making showroom alterations to accommodate the new Hyundai brand and she remained confident of retaining "steady sales" in the year ahead.
Mr Duncan, originally from Auckland, noted most northern cars were bought using finance, whereas in Dunedin there remained a southern "pride of [outright] ownership" and there were less obvious effects around Otago of the "credit squeeze".
In mid-2008, as much as 50% or more of Auckland car sales were under finance company deals, as opposed to less than 30% being financed in the South Island at the same time.
Mr Sycamore said Dunedin financing numbers had dropped from 28 cars per 100 since last August to 22.
However, rather than contributing to a sales downturn there was a noticeable increase in cash transactions from customers.
He said that in the pre-election July-September period, there was an unexpected decline of "almost no workshop activity" as people "took a wait-and-see approach", which has since rebounded to work booked up to five days ahead.
Lower interest rates were prompting more "normal" sales activity, with fuel efficiency still to the fore for many customers.
Initial New Year sales were an improvement on the start of each of the previous six months, Mr Sycamore said.
Dunedin City Ford, having nearly completed a more than $3 million workshop and showroom redevelopment at its Macandrew Rd site, confirmed it had bought the Mazda franchise from Armstrong Prestige (retaining its existing staff), which Prestige had bought from Angow Mazda last year.
Mr Bain said the franchise transaction went through on January 1.
Dunedin City would continue to rent the corner site (which is now for sale) of former Angow Mazda until April , but next month would begin construction of a workshop and showrooms on the corner of Andersons Bay Rd and Macandrew Rd for the Mazda franchise.
Mr Bain acknowledged Dunedin City's multimillion-dollar dual expansion plans would be an exception in the automotive trade, which was facing a sales slump and building recession.
However, the company, formed in 1923, was "taking a long-term view" with its expansion plans, he said.
Mr Duncan said the year ahead would have its challenges.
Larger yards would rely heavily on cutting costs and ensuring they offered "solid brands", and buyers could expect plenty of deals.
"Yes, there will be incentives to tantalise buyers," Mr Duncan said.