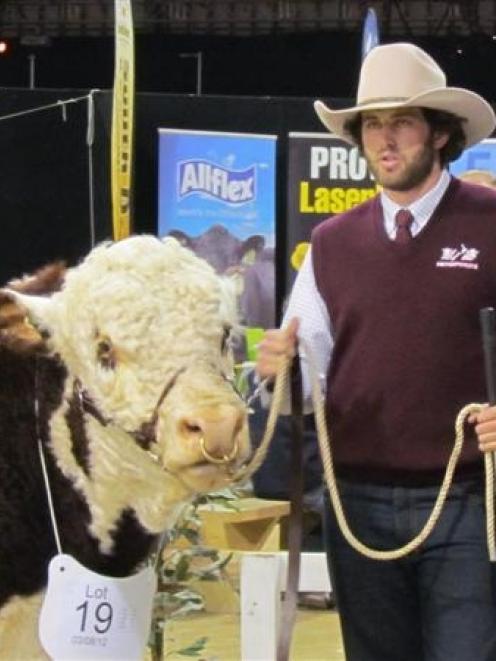 Middlemarch Hereford and coloured merino sheep breeder Will Gibson has had considerable success with his studs and, at only 20, says he has known since he was born that agriculture is the industry he wants to be in. It is something he is passionate about.
Mr Gibson is a third-year student at Lincoln University, studying agricultural commerce.
He has the Foulden Hill Hereford Stud and the Bluestone Coloured Merino stud, both of which are based at his parents Liz and Anton Gibson's 480ha property at Moonlight, near Middlemarch.
They also run Santa Gertrudis cattle.
He attended the recent AgInnovation's Hereford national show at Fielding with Foulden Hill McCoy, which was placed third in the Honda Motorcycles Impact Sires section and sold for $9000.
Mr Gibson also received the Hereford Herdsman award. He was delighted when Foulden Hill McCoy placed third.
''I was pretty happy to make it to the top six and when I got to third place, I was pretty happy with that success.''
He started his coloured sheep stud when he was 9 after being given the nucleus of his flock by his grandparents, who were also interested in coloured sheep.
''The coloured sheep was just a hobby when I was a young fellow,'' he said.
His Hereford stud started when he was 15 and he now has six bulls for sale.
''I have close to 30 cows calving this year, and about 350 coloured sheep, including 180 sheep lambing, plus hoggets.''
All his coloured wool goes to Jane Shand Design, of Christchurch, which makes baby blankets, scarves, shawls and hats.
''I am continuing to improve on what I have got. I am happy with the wool but there is still a lot more I can do.''
His sheep lamb at 142% to tailing and each sheep clips between 4.5kg and 5kg.
The fibre ranges from 16 to 19 microns, with one line down to 13.
He competes in A&P shows and started showing his cattle in 2010 to promote his studs.
He enjoys judging and stock-handling competitions, winning the transtasman wool judging competition in 2012.
That won him a trip to Perth.
Mr Gibson would like to eventually return home to continue farming and to improve his wool production, but in the meantime he is looking at options in the agri-commerce sector, including marketing and focusing on the fine-wool niche market,He will make a decision after finishing his studies later this year.
''I always knew farming was going to be my thing since I was born,'' he said.