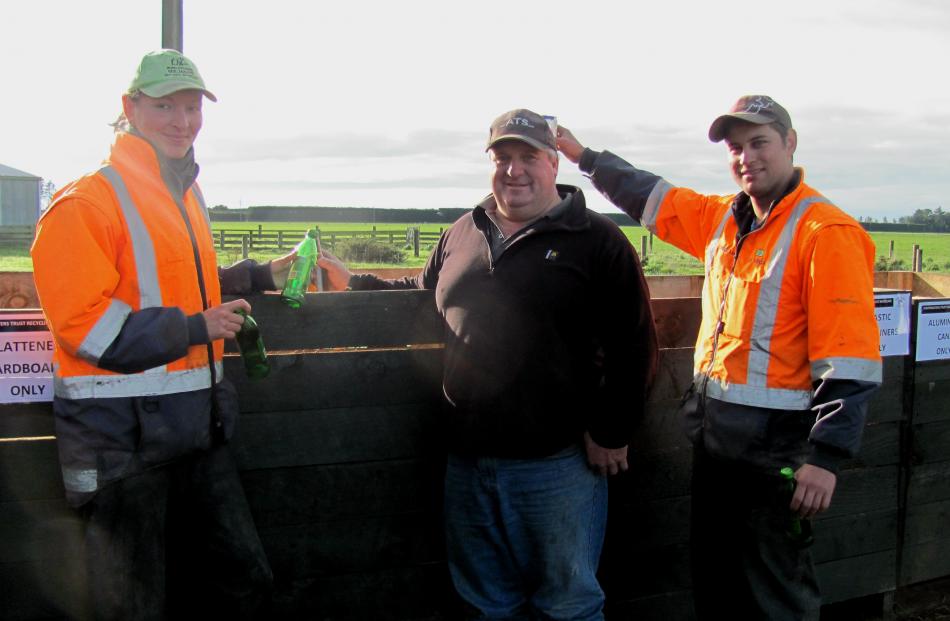 Tighter regulations and a desire to protect the environment has led Ashburton farmer Tim Lovett to be the first to sign up for a new recycling and rubbish collection scheme.
Wooden bins were delivered to his Seafield property last week, along with education material for property owners and staff.
Over the years, the Wastebusters Trust in Ashburton had received a steady stream of requests from farmers wishing to establish recycling depots on their farms, joint manager Tony Dawson said.
The trust had offered advice but had now gone a step further and introduced the on-farm collection scheme.
Mr Dawson believed the time was right to introduce the scheme, with restrictions on burning or burying waste and a desire by farmers to be responsible.
''Two years ago it probably wouldn't have got off the ground.
''People are now being responsible and while it comes at a cost, they are happy to do it.''
Mr Lovett said while he and his sharemilker had encouraged staff to recycle by putting bins in their accommodation, it still involved transporting the material to collection points, which had not been that successful.
He farms a 300ha dairy property and employs four to four and a-half staff.
''Some of the staff are married and have families so a farm like this generates a fair bit of rubbish.''
Now staff will empty their recycling and rubbish into the bins on the farm. Once they are full, a telephone call to Wastebusters will be all that is necessary to ensure they are collected and replaced with empty bins.
Mr Dawson said as well as the normal recycling products of glass, paper, plastic, cans and cardboard, additional agricultural recycling products had been identified. These included plastic baling twine, polyprop bags and 200-litre plastic drums. Additional lines were being investigated.
During research into the service, rubbish disposal was identified as being an issue, as disposal pits were not an environmentally friendly option, he said.
It was decided to include rubbish collection in the proposed service.
A range of bins was developed and tested to identify logistical issues.
The aim had been to keep the system as simple and cost-effective as possible, he said. Farmers have a one-off cost to buy the bins and will pay a collection fee and a landfill charge for dumping the rubbish.
It is planned to run a weekly collection service, covering set areas on the same day to keep collection costs down.
Wastebusters, which operates as an independent, self-funded trust, will work with property owners and staff to ensure recycled material is not contaminated.
Joint manager Sharon Breakwell said Wastebusters was offering as much help as people wanted to ensure the scheme worked.
Farmers wishing to participate should contact Wastebusters on (03) 308-9998 or 021 892-763 or tony@wastebusters.net.nz.
- by Maureen Bishop