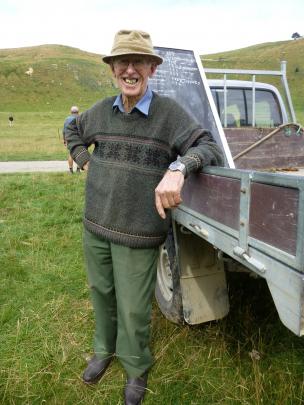 In a sheepdog's world there can be no more important date on the sporting calendar.
Next month marks the start of New Zealand Sheep Dog Trial Association Tux South Island and New Zealand Championship trials.
The steep-sided gullies and grassy flats of Waihi Station near Geraldine will echo with barks, commands, whistles and no doubt some agricultural language as the battle begins to be the nation's top heading and hunt dogs. The pre-competition banter starts early.
''We're not competing against each other but against the course and the sheep.'' Yeah right!
Earlier this month, Courier Country visited the Geraldine Collie Dog Club, at Waihi Station, where club trials were under way and hosts, competitors and judges alike were taking the chance for a dry run before hosting the big event.
Canterbury Centre president Fraser McKenzie said he expected about 250 entries in each of the four trialling events, from throughout the country.
It is the first time the Geraldine Club has hosted the New Zealand trials although it hosted the South Island Championships five years ago.
Each of the 18 Canterbury centre clubs was helping with the organisation, he said.
Waihi Station owner Archie Reid, who ran his first dog as a schoolboy in 1939, said he had hosted the New Zealand championships once before when he farmed on the Taieri Plains. He bought Waihi Station in 1970.
Dog trialling had been his life with a ''bit of sheep in between''.
The station would not only provide the venue but the 1000 sheep needed for each event - no sheep can be used twice - and Drysdales made worthy opponents.
New Zealand Sheep Dog Trial Association (NZSDTA) president John Harvey, of Martinborough, said the Geraldine club had a ''huge depth of experience''.
Not every club could host such an event; it was not always easy to find willing landowners, some places struggled to get enough sheep and each course had to meet stringent standards before a club was selected as host, he said.
A ''couple of carloads'' had come with him from the North Island to the club trials to get a look at the courses.
Immediate past president Merv King, of Geraldine, said club president Steve Blanchard led an able team and a ''tremendous amount of work'' had been done in preparation. New judges' boxes and sheds had been built, slipping pens had been restored and other significant maintenance carried out since the Islands were hosted there.
Geraldine was a ''great district and community'' club.
''People just turn up to help,'' Mr King said.
Canterbury Centre publicity officer and Hilton-Gapes Valley club secretary Sally Mallinson laughingly said they were all ''looking forward to June'' and hoped by then they would have thought of everything.
The organising committee was ''great'' with ''everybody doing their bit''. There had been wonderful support from local businesses, Mrs Mallinson said.
Accommodation had been booked in surrounding areas, and activities were planned for those not competing.
Two North Island judges and two from the South Island would judge the four events that make up the competition.
This year, Canterbury brothers Ben Manson and Sam Manson will judge the long head and zigzag hunt respectively. Wanganui Centre judge Dave Davey will judge the short head and yard and Mel Bolton, also of the Wanganui centre, will judge the straight huntaway.
To qualify for entry to the championships, dogs must have gained six qualification points in 2014. Entries close on April 26.