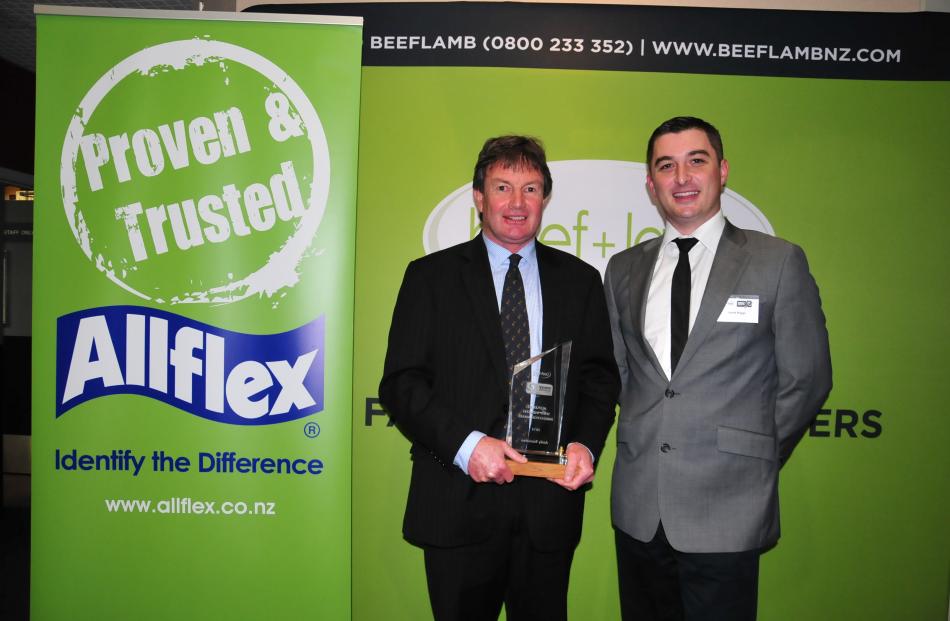 Southland and Otago did well in the third annual Beef and Lamb New Zealand Sheep Industry Awards in Napier last week.
AbacusBio managing director Neville Jopson, of Dunedin, received the Focus Genetics sheep industry science award in recognition of his work in the industry, while Mount Linton Station, in Southland, won the Alliance Group terminal sire award for lamb growth and meat yield and the SIL-ACE award for terminal sire for lamb growth.
Andy Ramsden, of Wanaka, was awarded the Allflex sheep industry innovation award for his input to increasing the productivity of New Zealand sheep during the past 20 years, and Riverton's Blackdale Coopworth stud won the Telford dual purpose award for reproduction, lamb growth plus adult size and wool production.
The stud also won the Primary Wool Co-operative dual purpose for wool award.
Focus Genetics, Kepler Supreme (Landcorp Te Anau) won SIL-ACE terminal sire for meat yield and Kaiwera's Nithdale Station, won SIL-ACE dual purpose for reproduction and SIL-ACE dual purpose for internal parasite resistance.
Twin Farm, of Gore, won the Sil-ACE dual purpose for growth (lamb growth and adult size) and Newhaven Perendales, Oamaru, won the Progressive Meats dual purpose for meat yield.
Taratahi Agricultural Training Centre at Masterton was named the PrimaryITO sheep industry trainer of the year, while Mark and Rachel Zino, and Sam and Keri Zino, from Hawarden, were named the Blackdale sheep industry supplier of the year.
Several other southern region farmers and breeders were finalists in many of the categories.
Results of the genetics-based awards were calculated based on ram breeders' performance in SIL-ACE (Advanced Central Evaluation) - the large-scale, across flock and breed genetic evaluation of more than 300 ram breeding flocks.
A special award for services to science and discovery was made to Dr Chris Morris from Ruakura Research Centre for his work on facial eczema tolerance and worm resistance.
Beef and Lamb chief executive Dr Scott Champion said the event highlighted the fantastic genetics available to New Zealand sheep farmers and how these could drive improved farm performance.
''It's also a great opportunity for the sector to get together, acknowledge the work of the winners and finalists, and to celebrate the sector's contribution to New Zealand,'' he said.