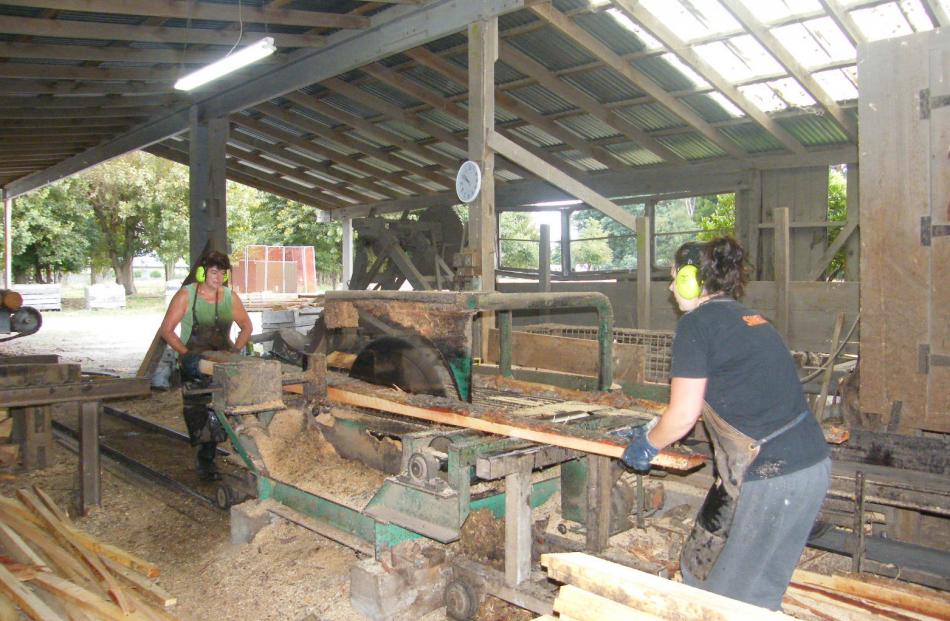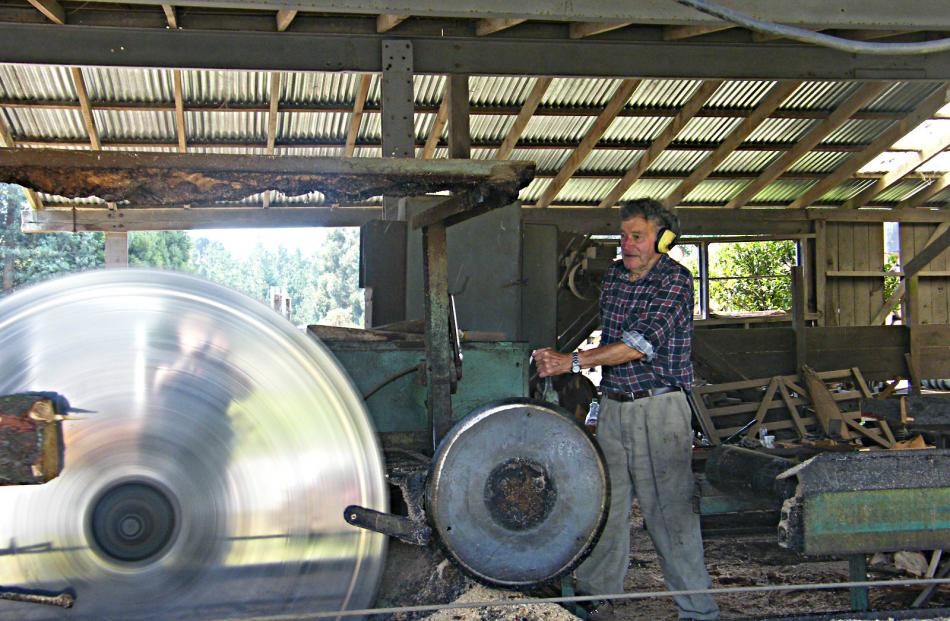 Five generations of the Scott family have been working with wood, processing it for use by farmers, builders and DIY enthusiasts around Canterbury.
These days, there may be a few surprises for customers when they call at their sawmill in Rakaia. They will find two women operating the bench saw and handling logs like professionals.
When Val Scott came home to help her father out in the family business, she was a typical young office worker with long hair, polished nails and high heels. She only came to help after her father suffered a hernia.
Her daughter, Michelle, had no intention of joining the family business either, but with only casual employment and her mother facing a heavy workload, she stepped in, too.
Their stories may not sound unusual. After all, families help each other out. It is the fact that they have joined the family sawmill that sets them apart.
Val joined her father, Malcolm, at A.W. Scott, sawmillers and timber merchants, in Rakaia in 1988 and never went back to office work.
Michelle's journey is much more recent. She has only been in the job a few weeks, and she's not yet convinced she is going to make it her career.
''I am enjoying it though, and it might be a case of never say never,'' she said. ''I think Granddad would like it.
"I take my hat off to Mum. It is hard work and the first few days I had plenty of bruises.''
Michelle said while it was physical work, she had found it easier than she anticipated.
''It's probably because I have been around it since I was a child. I used to bag the kindling.''
Her mother too was attracted to the sawmill as a child, calling in after school and in the holidays.
The two women operate the saw, feeding through split logs. Years of experience have given Val a feel for the different varieties of wood she works with.
Malcolm still turns up to work every day. It may not be as early in the morning as in previous years, but he will be 87 this month and can be forgiven for taking a few liberties.
He modestly said he looked after the equipment, sharpening saws, but Val adds that he operates the big saw every day, breaking down logs for further processing.
Mr Scott joined his father, Aubrey, at the sawmill in 1942.
''It was war time and he didn't think I was learning anything at school so I came to work for him.''
Aubrey's father, John Scott, from Geraldine, had also been in the trade at a time when machines were driven by steam power generated by traction engines.
In earlier times, the mill was semi-portable, moving around the countryside to process timber where it grew.
It operated in Parnassus, Burnham, Coes Ford and in Mid Canterbury before moving to its present site in Tancred St, Rakaia, near the Rakaia River, in 1935.
Nowadays, logs come to the mill and last year's windstorms have meant plenty of work as landowners make use of wind-blown trees.
Electricity came the same year the Rakaia Bridge opened - 1939. With it came more mechanisation and machinery which made the work easier and less physically demanding.
Malcolm's wife, Jean, recalls the first forklift.
''It was the same price as a house. It was huge money then.''
The family is justly proud that the mill supplied work for 16 men during the Depression.
Malcolm acknowledges that if Val had not come home to help out - and stayed - the mill may well have gone on the market and left the family.
His two sons did not want to join the business and it was left to Val to help keep it going. The mill has a loyal customer base and is still supplying farmers and builders in the district and beyond.
Some products have their time in fashion - at present it is tabletops and outdoor furniture - but the basics remain.
Recently, a customer presented the business with a bluegum batten made by the mill 50 years ago. The process of putting grooves in battens for the wire was developed by Aubrey Scott, and the mill still makes them today.