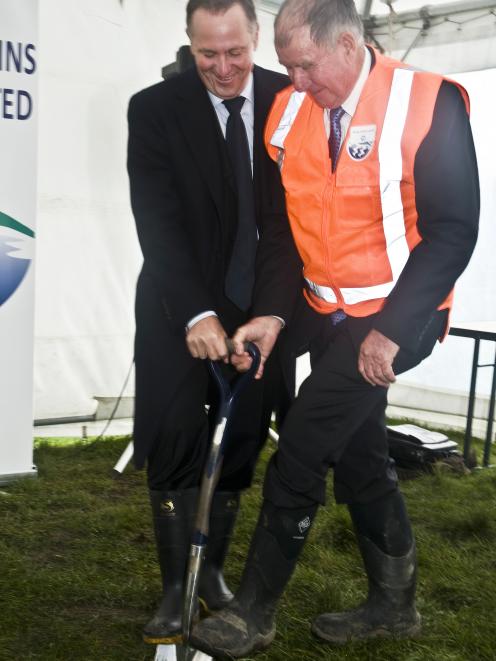 Work is finally under way on the construction of the $375 million Central Plains irrigation scheme, near Hororata.
Prime Minister John Key was on hand to turn the first sod of the scheme two weeks ago, to get work under way after more than a decade since the project was first conceived.
Stage one of the 60,000ha scheme, which has been in the pipeline since 2001, was expected to deliver water to 20,000ha of central Canterbury farmland in September next year.
Central Plains Water Ltd chief executive Derek Crombie said the first major work on the $140 million first stage, comprising the 17km-long headrace canal and bridges, had begun, with construction of the 130km-long pipeline network picking up momentum mid-year.
''We expect to have up to 150 contractors working on a number of sites in the near future and to this end we are heartened by the experience of our two major contractors, Fulton Hogan/John Holland JV on the headrace canal and Downers, supported by subcontractors Aquaduct NZ Ltd, for the pipe network.
''Our plan is to have the headrace canal and bridges substantially finished by the middle of next year, including lining the canal. This means we should be able to fill the canal in July, which will give us nearly two months of testing and tidying up before water officially flows in September 2015.
''As for the pipe distribution network, the intention is to build a pipe manufacturing plant in the scheme area. We will start now with laying some of the smaller pipes that can be manufactured locally and look to have the new plant up and running towards the end of winter. The first shipment of pipe plastic for the plant is already on the water,'' he said.