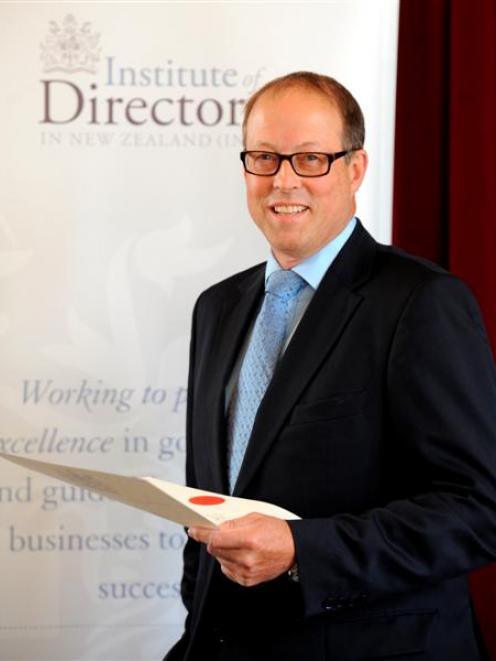 Years of governance involvement in Dunedin bio-tech companies by Colin Dawson was rewarded with presentation of a fellowship yesterday by the Otago-Southland branch of the Institute of Directors (IoD).
Branch chairman Stuart McLauchlan said the award reflected Mr Dawson's contribution to the field of governance, particularly of local companies involved in the commercialisation of academic research over many years.
Mr Dawson (58), a veterinarian by training, is a director of two NZX-listed companies - Pacific Edge Biotechnology Ltd, a Dunedin-based biomedical company which develops and commercialises technology for cancer detection and management, and BLIS Technologies Ltd in Dunedin, which produces probiotic health products, distributed to more than 40 countries.
Mr Dawson said: ''It takes time for directors to develop skills and confidence in governance roles and the IoD's programmes provide valuable assistance to directors on this journey.''
He chairs Immune Solutions Ltd, a start-up company offering oral delivery technology for vaccines and bioactives. Since 2002, Mr Dawson has been chief executive of Otago Innovation Ltd, which identifies and commercialises University of Otago technology, working with researchers to develop high potential technologies to proof of concept, then either creating spin-out companies, licensing or selling the intellectual property.
He is also a trustee of the not-for-profit Upstart Incubation Trust in Dunedin, which assists in stimulating regional development for Dunedin and Otago. His other directorships are with Photonic Innovations, Otago Angels Ltd and Menixis Ltd.