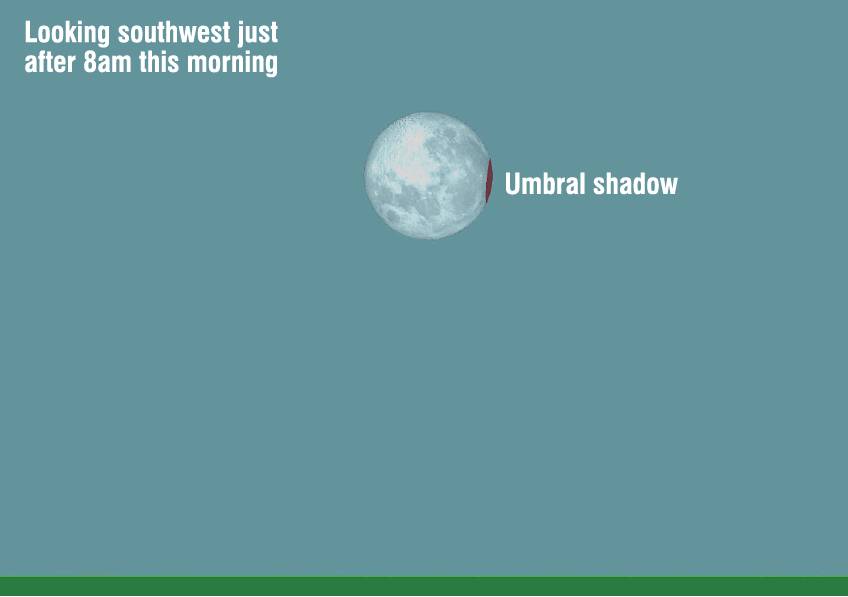 There's a partial eclipse of the moon going on, right now, and, if the sky is clear, you have an excellent chance of spotting the beginning of the darkest part of the eclipse, writes Ian Griffin.
But it won't be easy; the moon will be low in the sky, and the sky will be getting bright in the run-up to sunrise.
A partial lunar eclipse is the name astronomers give to an alignment which involves Earth, moon, and sun. The eclipse takes place when Earth passes between the sun and the moon, but the three celestial bodies are not perfectly aligned.
When that happens, a fraction of the moon's surface is covered by the darkest central part of the earth's shadow, called the umbra.
The whole of this eclipse is not visible from Dunedin; maximum eclipse takes place at 9.30am, which is about an hour after the moon has set. However, we do get to enjoy the early phases of the event, so it really is worth making an effort to see it if you can.
The lighter part of the earth's shadow (called the penumbra) first touches the moon's surface at 6.43am, with the moon just 13deg above the horizon. This phase will be very hard to see, and it won't be until just after 8am, when the dark part of the earth's shadow touches the moon, that you should be able to see any noticeable darkening.
Look for the dark shadow on the right-hand side of the moon. With the moon just 2deg above the horizon, this won't be easy. You will need to find a place with an unobscured view to the west to see this.
Over the next few minutes, the earth's shadow will cover more of the lunar surface as the moon sinks in the sky. This should make for quite a pretty sight.
Happy eclipse-hunting!