People living in the current Clutha-Southland electorate will have their fourth MP in seven years after MP Hamish Walker's political career came to a sudden and ignominious end yesterday.
Mr Walker had been told publicly and privately by National leader Todd Muller that he had no future with the party after his disastrous decision to divulge the personal details of Covid-19 patients to several media outlets.
National had called a board meeting at lunchtime to rubber-stamp Mr Walker's deselection as its candidate in the renamed Southland seat in the September election, but Mr Walker pre-empted that decision by tendering his resignation shortly before.
"I sincerely apologise for my actions," Mr Walker said in a brief statement, before turning his phone off.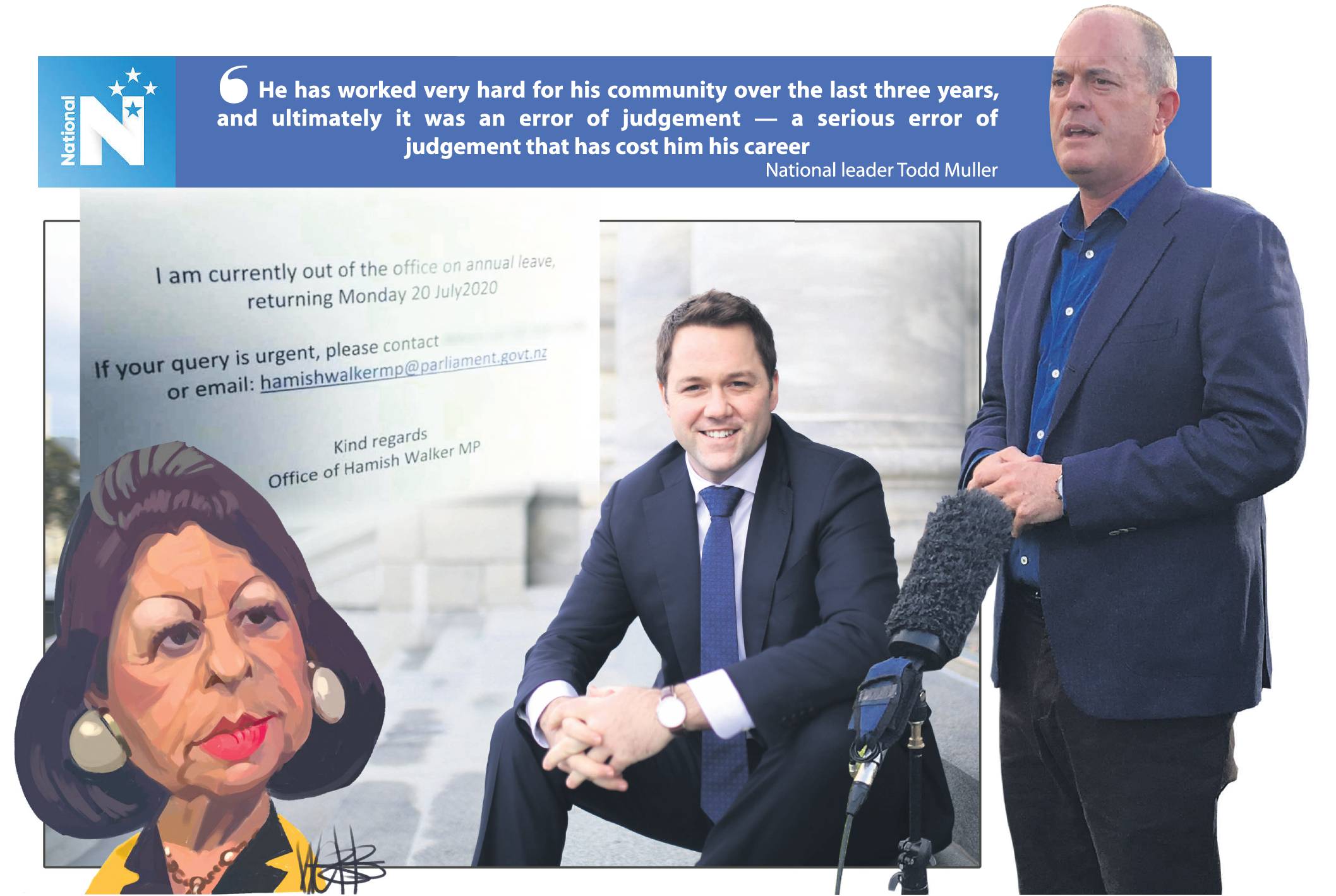 "I wish to thank the people of Clutha-Southland who I have loved meeting, assisting and representing over the past two and a half years."
Mr Walker did not appear to be at home in Queenstown and a sign at his electorate office said he was on annual leave until July 20.
A grim-faced Mr Muller said Mr Walker had gone "behind my back" by leaking the patients' details, and that his stepping down was inevitable.
"This was the only option because, as we have well traversed, the events of the last few days have not reflected from my perspective the appropriate National behaviour and values."
Mr Walker was regarded as an up-and-comer in National, until the privacy breach fiasco: after the party's recent leadership change he was promoted handed three spokesmanship roles.
"He is a tireless advocate for his community and, of course, for tourism in the South Island and Queenstown in particular," Mr Muller said at the time.
"I think he will be superb."
That enthusiasm was a distant memory yesterday, with Mr Walker stripped of all his party roles and ordained to leave Parliament.
"He has worked very hard for his community over the last three years, and ultimately it was an error of judgement — a serious error of judgement that has cost him his career," Mr Muller said.
Mr Walker's brief tenure as a constituent MP has unfortunate echoes of that of his predecessor in Clutha-Southland, Todd Barclay, who lost the confidence of party hierarchy after staff member's conversations were covertly recorded.
After a contentious selection battle, Mr Walker (35) secured the nomination in one of the safest National seats in the country, one which had been held by former Prime Minister Bill English before Mr Barclay.
Fellow southern MP Michael Woodhouse said Mr Walker potentially had a very long and successful career ahead of him, and he was "deeply disappointed" at the turn of events.
"It is a matter for the leader and the party, but it is important to note that Hamish has worked incredibly hard in one of the largest electorates in the country and up until now he has done a very good job.
"The cost of his infraction is a high one, but it had to be paid."
Mr Walker received the highly confidential information from former party president Michelle Boag, and then sent it to several media outlets, including the Otago Daily Times — which made no use of it.
National's leadership, not knowing that the supposedly protected information had been leaked by one of its own, strongly condemned the privacy breach over the weekend, which forced Prime Minister Jacinda Ardern to order an inquiry into the leak on Monday.
Ms Boag has since resigned as acting chief executive of the Auckland Rescue Helicopter Trust, saying that although the information was sent to her private email address it was available to her because of her position. She also stood down from Auckland Central MP and National deputy leader Nikki Kaye's campaign for this year's election.
Ms Boag has not explained why she sent the information to Mr Walker; the government has decided the inquiry should continue and examine the wider issue of the security of private information.
National Party president Peter Goodfellow said the selection process to replace Mr Walker in Southland would begin "almost immediately."
"On behalf of the National Party board of directors, I would like to apologise for any distress caused to the individuals concerned as a result of the actions of one of our members of parliament," Mr Goodfellow said.