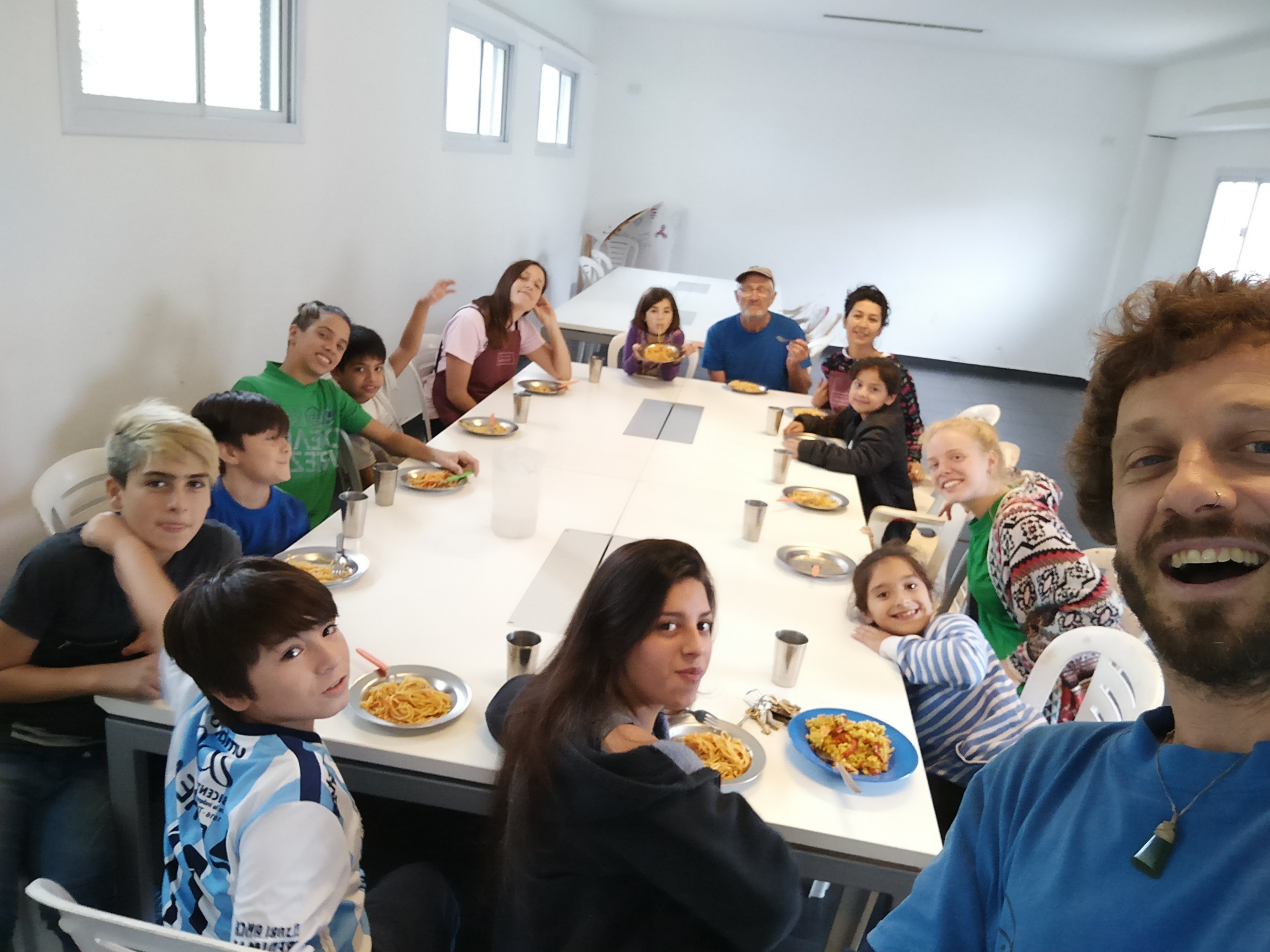 Alexandra man Alan Whitaker is living in Argentina for two months volunteering for Food for Thought, a programme run by a charity established by his son, Ben Whitaker, to help disadvantaged children in a community blighted by violence, drugs, poor education and government neglect.
Halfway though his time in a South American concrete jungle, he reflects on the differences between Buenos Aires and small-town Central Otago, and the prospects of impoverished children striving for a chance. 
After more than a week of trying, Ben and I are still attempting to purchase a garden fork.
The city of Buenos Aires has nearly 3 million inhabitants, and a representative number of shops, but we're still trying to buy a fork.
Either there are no gardens or they use something else. More research needed on this one, but in the meantime, we'll have to go online for the fork.
I have been in Buenos Aires now for more than three weeks and I have no idea how this city works.
I will give you the first complication. There is more than one Buenos Aires.
The first is the city proper: the Ciudad de Buenos Aires. The city is an autonomous region named the Capital Federal or CABA (short for Ciudad Autonoma de Buenos Aires). The city itself consists of 48 neighbourhoods or "barrios" and 15 communes, which include one or more neighbourhoods.
To the east of the city is the Rio de la Plata, a huge bay at the mouths of two rivers, the Parana and Uruguay.
To the other compass points are millions of people.
Buenos Aires, the city, has almost 3 million people, but Gran Buenos Aires goes for 40km in any direction. Here, there are 99 cities sidled alongside each other with a total of 14 million inhabitants.
The final Buenos Aires is the province, one of 23 in Argentina and is further divided into "partidos".
Are you still with me?
There's not much point in me going for a walk in the area I am staying in to go sightseeing.
Firstly, I'd more than likely get hopelessly lost and, since my Spanish is pretty well limited to "si" and "gracias", I'd likely remain lost.
Secondly, it's just city for kilometre after kilometre. To a country boy, for whom Dunedin is the biggest town I visit with any regularity, Buenos Aires is another planet.
I have committed myself to a couple of months work at my son Ben's charity in the poor area of Monte Chingolo, about 40 minutes drive from his flat each day.
The drive itself is a fascinating historical journey.
We pass just a few modern apartment blocks, a larger number of dated high-rises - dark grey concrete edifices with few redeeming features - and some Spanish-influenced two to five-storied apartment blocks with ornate arches and whorls, before the roof lines lower and we move towards to the area where Ben works.
His charity shares a site with a community support group, Fundacion Arche, that runs workshops mainly for the mothers of the area.
The complex is rapidly becoming a focal point for many of the mothers and a few fathers.
The challenge for Ben and Fundacion Arche is to keep the funding support necessary to operate. With government changes, everything changes.
What are my first impressions of Buenos Aires?
It is early days, but so far I can find nothing here that can be compared with country New Zealand: the buildings, the roads, the traffic, the people, the schools, the businesses, the music, the language, the time people arrive, leave, eat, socialise, turn up for work.
I could go on but you get the picture. Nothing.
Take power poles for instance. Before I left New Zealand there was a bit of a kerfuffle over the safety of a few power poles. Some were red stickered and put on the replacement immediately list. Hah! C'mon New Zealand, take a breather.
In the parts of the city I have been in - admittedly, a small and unrepresentative sample of the whole, but I did tell you how big it is - nearly every small business and domestic home has a power pole outside it.
There are big poles, little poles, leaning poles, supported poles, strapped together poles, even some four-by-two poles. And, I kid you not, the average number of wires coming off each pole would be in double figures.
Sure, there are twos and threes, but from several poles I counted more than 40 wires stringing off like thin strands of spaghetti.
Goodness knows where they go to or what their function is; I can just laugh and shake my head. I remind myself I am in Argentina where rules are just guidelines and the politics both local and national are, to say the least, suspect.
Nah, says Ben. Corrupt.
The roads. Close to the CBD there are lights, markings, even helpful traffic wardens gleaned from the "Policia" for an hour or two.
As you travel away, the lights disappear, then the markings, then some of the seal and finally you can be on a country track with slum houses either side. Footpaths likewise.
Then the cycle continues. There are a few temporary barriers in front of the more serious potholes but that's about as far as road repairs go.
Sometimes they change the barriers to make you think it's a new pothole.
Having said that, I have visited the neighbourhood of Recoleta, where the embassies are located. Seriously upmarket, with beautiful French-influenced architecture and new high-rises for the upper echelons of this multi-layered city. There are few potholes here.
The traffic. A few days ago, Ben had a duel with a big bus for the same space in the road.
I'm not a chicken, but I've come to believe might is right. In that if the other guy is bigger than you, you take the safe option.
Not so, says Ben. If you did that you'd never get to where you're going. Be assertive, you small-town pussy cat. (Which may be one step up from a chicken.)
When I came up from under the seat, the bus was gone.
It does seem sort of sensible that if you have your nose in front, you have right of way for a lane change or a turn off. And it works. It seems here that the drivers rely on common sense, not road rules.
There appears to be little road rage, red lights are for when there's traffic to give way to and he who hesitates is a visitor. But I'm going to have to up my heart pills if I wish to keep travelling with Ben, and that's a given.
There's no way I will drive here. There are six-lane roads, double-lane roads going one way, two ways, single lanes the same; and you can throw in a few motor bikes and cyclists going both ways on the one-ways.
On the street a block from our venue are a number of dead cars.
One of them is on top of another. They have been there for at least the past three years. Maybe they lost a duel, but it's more likely they have been stolen, driven to oblivion, and then dumped.
I have seen many cars still travelling the roads that back home would have failed their last 10 warrants. Rust, dents, road-scuffing mufflers; old dungers.
Graffiti ranges from "Louis" or "Pablo" to political messages, football team slogans, tagging and works of art that Banksy would be happy to put his name to.
There are small, rough tags on the fences, more elaborate ones on the bigger flat factory walls and some outstanding portraits on the blank walls of apartment blocks.
Eva Peron has her own portrait in iron lacing on the north and south walls of the Social Development Ministry.
There is much irony here. The Social Development Ministry building is huge. The social development itself appears very tiny.
On a wall fringing Monte Chingolo there is a political slogan complete with pictures. One says 2015 and shows an ill-repaired road. The other says 2017 and the road is smooth and well sealed. The actual road alongside the wall? Pot-holed and badly lacking in seal.
The people? I have hardly had time to make an accurate assessment of the local culture and my comments are gained from superficial observations.
Maybe my views will change over time, and the people I am mixing with are mainly helpers at Ben's venue.
But, without exception, and that includes the plasterers, the caretaker and her husband and the parents of the kids, they are the warmest, most big-hearted, generous, funnest (got that one from my grandchildren) people you would meet anywhere.
To be fair, there are people like that in New Zealand, but own up. Don't we get a bit sidetracked with the need to get on and get the mortgage down and pay for the kids' uniforms, and keep the car warranted and all the other pressures of life?
These people have nothing like we have but they will spend as much time as you need to keep you happy with your day.
I hate the politicians and what they do, I resent the officials' tendency to make a few extra bob on the sly at the expense of the citizens, but I am in love with the Argentinian people.
Who knows if my two months will make permanent changes in me, but at least for the time being I am learning to ignore my watch, reassessing my priorities and trying to learn to eat my dinner some time between 7pm and midnight.
 - Alan Whitaker is a retired teacher who taught for 30 years at Dunstan High School, specialising in biology and science. He went on to establish the Courthouse Cafe, in Alexandra. In his spare time not taken up with grandchildren, he now writes and helps with fundraising for Food for Thought.
The cause
Ben Whitaker leads an Argentinian-based organisation called the Social Opportunity Group, which helps disadvantaged children. Food for Thought is its largest programme, helping vulnerable children in Monte Chingolo, a suburb of Buenos Aires.
The project focuses on providing one healthy meal a day, and then ''creative activity'', education and learning. With other trained teachers and volunteers, they teach art, yoga, music, drama, cooking, permaculture, sports and life skills.
Food for Thought is also part of a collaboration with an Argentinian organisation, Fundacion Arche. Together they are building a
community development centre with garden spaces, composting, rain water catchment, solar panelling and education around this theme.
Ben trained as a teacher at the University of Otago, then taught at St Gerard's Primary School and Dunstan High School in Alexandra, followed by teaching stints overseas. He later established his own cafe in Melbourne. The cafe sends 100% of its profits to Food for Thought.