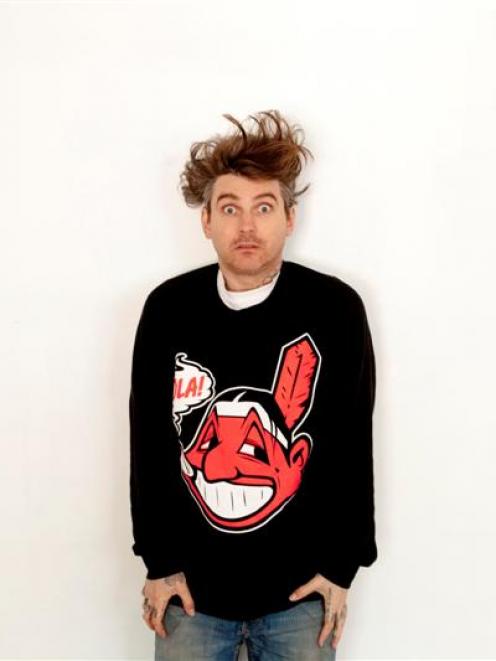 What goes before dunk and after grand? That's it, ''slam''.
A grand slam is a term long used in the card game bridge, for winning all 13 tricks. It was then applied to tournament tennis. In the world of the spoken word, you can also slam, a term that can be traced back to a Chicago club in the 1980s, where the MC wanted to revitalise open-mike nights.
Auckland-based spoken-word exponent Tourettes, aka Dominic Hoey, has performed in New Zealand and internationally, and next week will be in Wanaka to slam at the Outspoken festival. He hip-hops, he MC-battles, he's a founder of the Breakin Wreckwordz label.
He's a dyslexic, Landfall-published punk poet who describes his work as ''a celebration of the absurd beauty of 21st-century capitalism. Poems and rap songs, odes to idealism, gallows humour, working class pride and the cancer of convenience''.
Q How long have you being playing with words?
A All my life. But I started taking it seriously at the tender age of 12 when I won a school poetry competition. *
Q Any favourite words or phrases?
A ''I concur'', ''by proxy'', ''long-term effects''.
Q And any that you can't stand?
A ''Neo-liberal'', ''John Key'', ''moist''.
Q I concur. About moist. Yuk. Moving on, fast ... What is a slam and how does one do it?
A It's a spoken word comp where people get up and do a poem and are given a score out of 10 by the crowd, who are often not the best people to be judging the merits of someone's poetry. Half the poets are ejected from the venue and this continues until there's only one left and they win a meat pack and a $10 book voucher.
Q Sounds epic. Last question: what are you outspoken about?
A Politics, art, sandwiches.
---
Hear him
* Tourettes' school competition-winning poem ''Iraq'', written when he was 12 and probably only called Dominic, contains the beautiful lines ''eventually the war will cease/and once again we'll have world peace''.
To see how his lyrics have changed over the past quarter decade, you can check his words out at Amigos, Wanaka, on Tuesday, as he performs with Ali Jacs in the last show of the 2014 Outspoken Festival.
Tickets at www.outspokenfestival.co.nz.
---
 - Liz Breslin.