"Bold Blue, Red Hill", Caitlin Clarke
(Wave Project Space)
"Bold Blue, Red Hill" is a new exhibition of ceramic sculptures by Otautahi-based artist Caitlin Clarke. While the works in the exhibition can be approached through typologies — including: "paintings" (rectangular ceramic artworks resembling the form of paintings with a frame motif); small sculptural works akin to keepsakes; flat tablet-like ceramic slabs bearing small stone and ceramic offerings; vessels; and light-emitting objects in the shape of a slender mushroom head — one of the many pleasures of "Bold Blue, Red Hill" is the obfuscation of artwork and source material achieved through installation choices. The floor-based constellation of ceramic artworks and hefty chunks of stone in the centre of the gallery exemplify this intentional blurring of art and whenua (land). In this grouping it is not immediately evident whether a large piece of stone with pockets of soil and the odd little sprout beneath a vessel (A river from above, 2022) is an aesthetic or a functional support.
When this merging of work and support is considered in the broader, substantive processes of Clarke's practice — in the artist's methodologies of gathering, collecting, foraging and recycling — the efficacy of indeterminate boundaries, or where one form begins and another ends, becomes apparent. In many respects, Clarke's merging/emerging installation in the gallery's centre could, in and of itself, constitute the entirety of the exhibition. It is therefore tempting to imagine the rectangular-based artworks (hanging and placed flat) occupying a space of their own.
Clarke's use of found melted sea glass (in some works) and audio backdrop of water scintillate.
"Grass all the Greener", Hannah Joynt
(Olga)
In "Grass all the Greener", Otepoti Dunedin-based artist Hannah Joynt continues her exploration of the absurd through incongruous juxtapositions of utilitarian and opulent objects and scenarios. In Pontoon Piano (2022), for example, Joynt positions a piano and freestanding pink lampshade on a pontoon. Where a pontoon more commonly signifies aquatic activities, the piano and lampshade are companionably found in domestic spaces. Despite the jarring incongruity, all the works in this body of work involve or are situated in the context of leisure pursuits. The Annual Event (2022) takes a harvest festival or agricultural show as its origin but attenuates the co-ordinates. Instead of a woodchopping competition, the contestants chop watermelons, and do so with an array of implements from axe to rake, spanners and spade. Elsewhere in the festival, participants tackle oversized corncob pieces with a two-person crosscut saw and giant standing cacti with knives.
Joynt eschews hyperrealism for a naive, representational style of realism that is most successful in the exhibition's largest painting, Making Your Leisure Your Pleasure (2022). In the absence of crisp delineation, the activities of a busy painting such as The Annual Event become somewhat blurry and indistinct. However, the larger scale of Making Your Leisure Your Pleasure enables Joynt to attend to details while still retaining definition. Among the waterlogged willow trees and pink flamingo floating craft (small boats, peddle boats), Joynt depicts flamingo birds, abseilers, sunbathers and ubiquitous orange road cones. The bareness of the trees in what otherwise appears to be summer adds to the disquiet.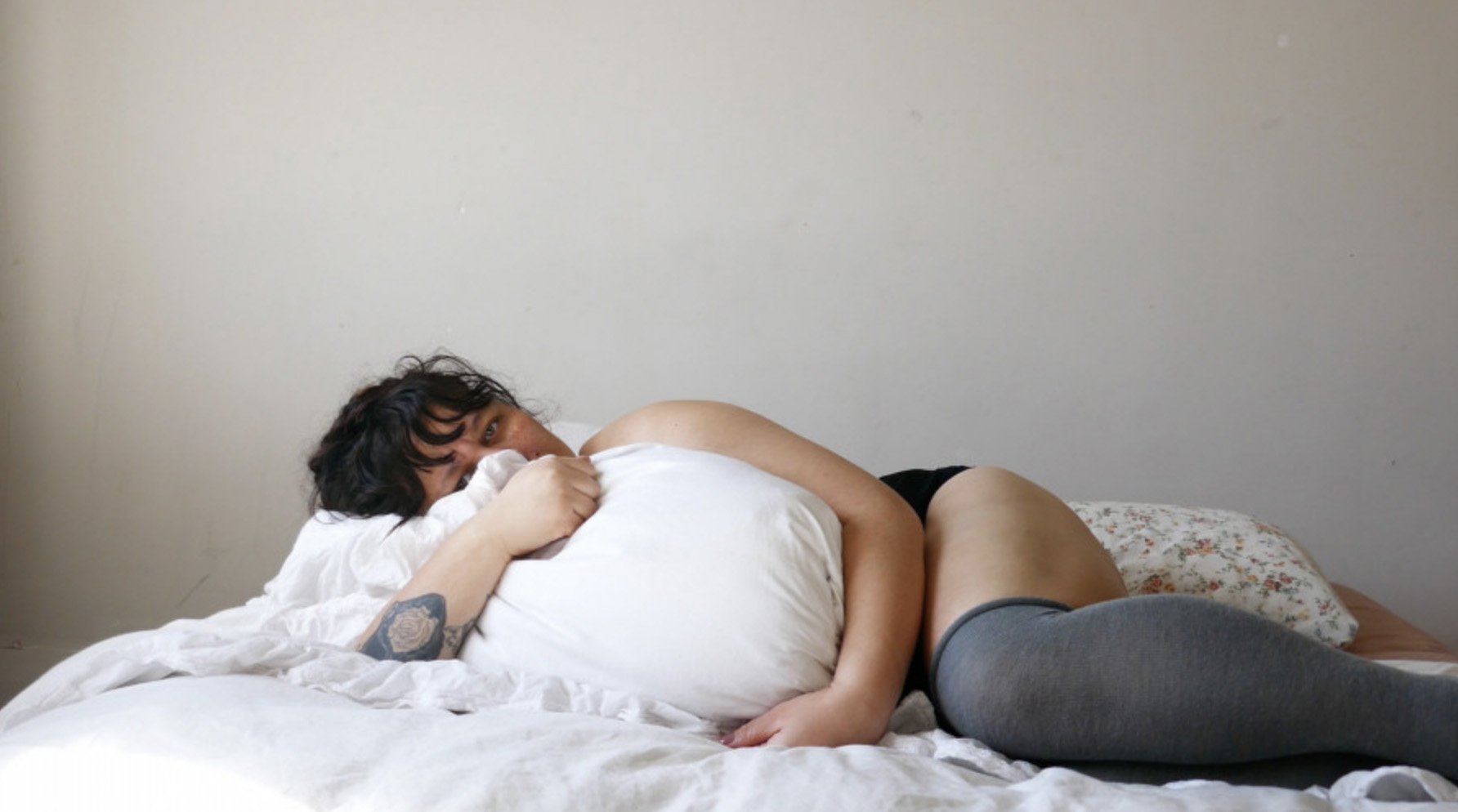 "7 minutes in Heaven", Natasha Matila-Smith
(DPAG Rear Window)
For seven minutes the viewer watches artist Natasha Matila-Smith (Ngati Kahungunu, Ngati Hine, Samoan, Pakeha) perform an interconnected flow of unrequited affects or emotions: anxiety, fear, yearning, rejection, desire. For the duration of the video Matila-Smith lies on her side, hugs a pillow and stares directly into the camera. The vulnerability of the artist's sideways foetal position is undercut by her defiant and durational rupture of the fourth wall, which generates the work's sustained tension. The accompanying vector of tension hinges on the ever-decreasing separation between private anguish and public display augmented by social media.
Matila-Smith, who has consistently worked within the genre of "sad girl" confessionalism through her social media presence, changes the parameters of reception with 7 minutes in Heaven. While those who follow the artist on Instagram, for example, are familiar with her practice and have varying degrees of intimacy with Matila-Smith the person and Matila-Smith the persona, the Dunedin Public Art Gallery's Rear Window platform on a public street (Moray Pl) positions her film as a discrete work easily accessible for general passersby.
The work's title refers to group game in which two people are persuaded to go into a wardrobe and engage in whatever activity for seven minutes. Matila-Smith is, however, unremittingly by herself and unengaged in any intimate activity with another person. This aching loneliness is a familiar trope in the artist's text-based and video works. In Elegy (2020), the artist sits alone on one of two low wooden bench and looks out to sea.
By Robyn Maree Pickens