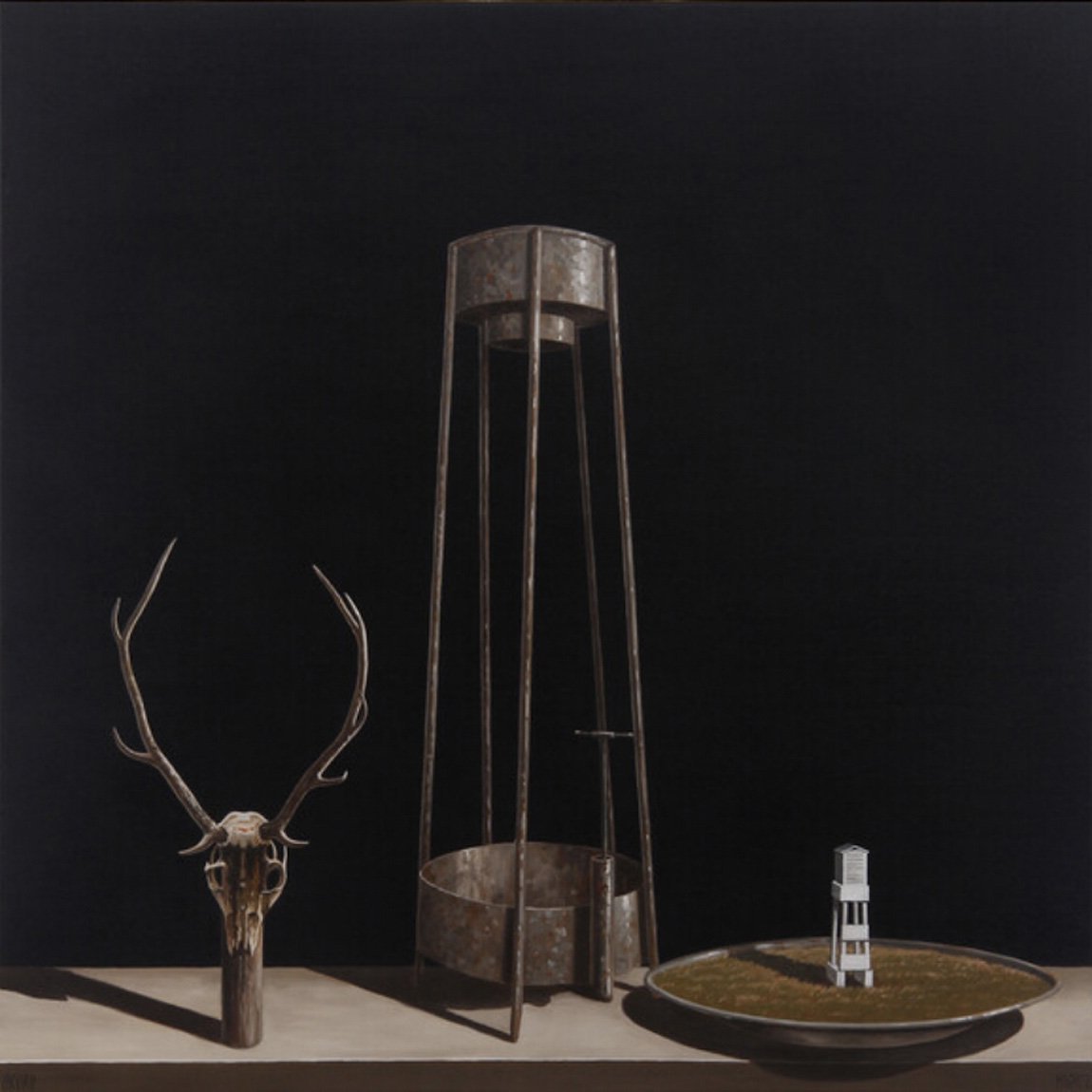 Recent Paintings, Michael Hight (Milford Galleries)
Michael Hight returns to Milford this autumn with another complementary offering of his signature beehive and nocturnal paintings. Long a staple subject of his practice, Hight exhibits several new beehive paintings alongside works from 2020 and 2021. As viewers familiar with Hight's work will know, the artist paints hyper-realistic scenes with a collection of rustic beehives in a typically tussock-clad foreground and mountain ranges in the background. Despite Hight's hyper-realistic style, the beehives serve to a lesser degree as formalist blocks or geometric shapes.
If the beehive functions as a structural motif in this series of paintings, so too does the compartmentalised shelving of the artist's nocturnal paintings. The shelving structure enables Hight to dovetail hyper-realism and surrealistic accents. With regard to the former, Hight maintains his hyper-realistic style, while the shelving partitions succeed to bring disparate objects and artefacts together despite their apparent isolation. That is, the partitions intentionally perform separation and connection.
Typically, Hight incorporates fragments of bone, remnants of small metal objects, miniaturised landscapes, earthenware, small sculptures, and feathers singularly in open-faced shelving compartments brightly lit with deep shadowy recesses. As with the beehive paintings, Hight has included nocturnal paintings from the past three years inclusive. The most significant difference between the 2022 paintings and the earlier ones is the deep black recesses of the shelving cavities. While the artefact typology retains its continuity, the black interiors are noticeably darker.
Okuru (2022) is one of four paintings that enlarges a plausible scene from an unseen nocturnal.
The Fall, Christopher Ulutupu (DPAG)
The Fall is a cinematic diptych; a large, immersive, two-channel film work by Christopher Ulutupu (Samoa/Niue/Germany). Made in collaboration with his partner, whanau, and friends, The Fall depicts a primarily utopic imagining of life after the demise of interconnected systems and events, including capitalism, the global pandemic, and a diminished human population. The title also evokes religious end times which the film corroborates with two siblings/characters wearing angel wings. However this adornment is also a reference to Janet Frame's autobiographies and Jane Campion's film An Angel At My Table (1990). Ulutupu, who was the 2022 Dunedin Public Art Gallery Visiting Artist filmed extensively in and around Otago and Te Waipounamu, and one shot of a young woman on a gravel road is a nod to a comparable scene in Campion's film. Other regional locations will be familiar to residents of Otepoti and Central Otago.
Composed of 14 pairs of extended, sequential vignettes (with the odd deviation), Ulutupu primarily juxtaposes disparate scenes with recurring themes, actions, and motifs. Typically, one alternating screen provides the audio component for each of the 14 or so vignettes of the diptych. For example, in one juxtaposition, a young woman sings You Needed Me (by Anne Murray, 1978) into a mic stand in the low tides of Karitane on the right-hand channel, while a man whittles a stick with a machete while a young woman sleeps on a mattress outside on the left-hand channel. Family, song, and looking after one another characterise Ulutupu's version of the aftermath.
On The Table, Nick Austin (DPAG)
Nick Austin is one of five artists who has been invited to curate a section of On The Table: Artists in the Jim Barr and Mary Barr Collection. The (overall) exhibition title references a gallery run by the two collectors (Jim and Mary Barr), who have lent a significant number of works from their personal collection to the Dunedin Public Art Gallery. In terms of the Barr collection, Austin has centred his exhibition on two artists who were also partners: Julian Dashper and Marie Shannon. Whether or not this partnership initiated Austin's thematic concerns of domestic life, the home, exterior and interior architecture, and portals between life in and beyond the home, it nevertheless provides a useful lodestar.
Given Austin's practice as a painter, it is interesting to note the high prevalence of photographers in this exhibition, especially those specialising in black and white photography, such as Peter Peryer, and the lesser-known photographer Minerva Betts. Perhaps with an acknowledgement of traditional gender roles, particularly during the 1970s when both Peryer and Betts were active, Peryer's works are of architectural exteriors such as hotels, while Betts' and Shannon's are of domestic interiors.
As one of the portals or communicative modes between home and beyond and a clear reference to Austin's own paintings of postcards, Austin includes two postcard works by Patrick Pound. Serving as a centrepiece to the L-shaped gallery space, Pound's Other Peoples Messages (1992) are exhibited as if on a domestic mantelpiece in Austin's diversely expressed materialisations of home.
By Robyn Maree Pickens