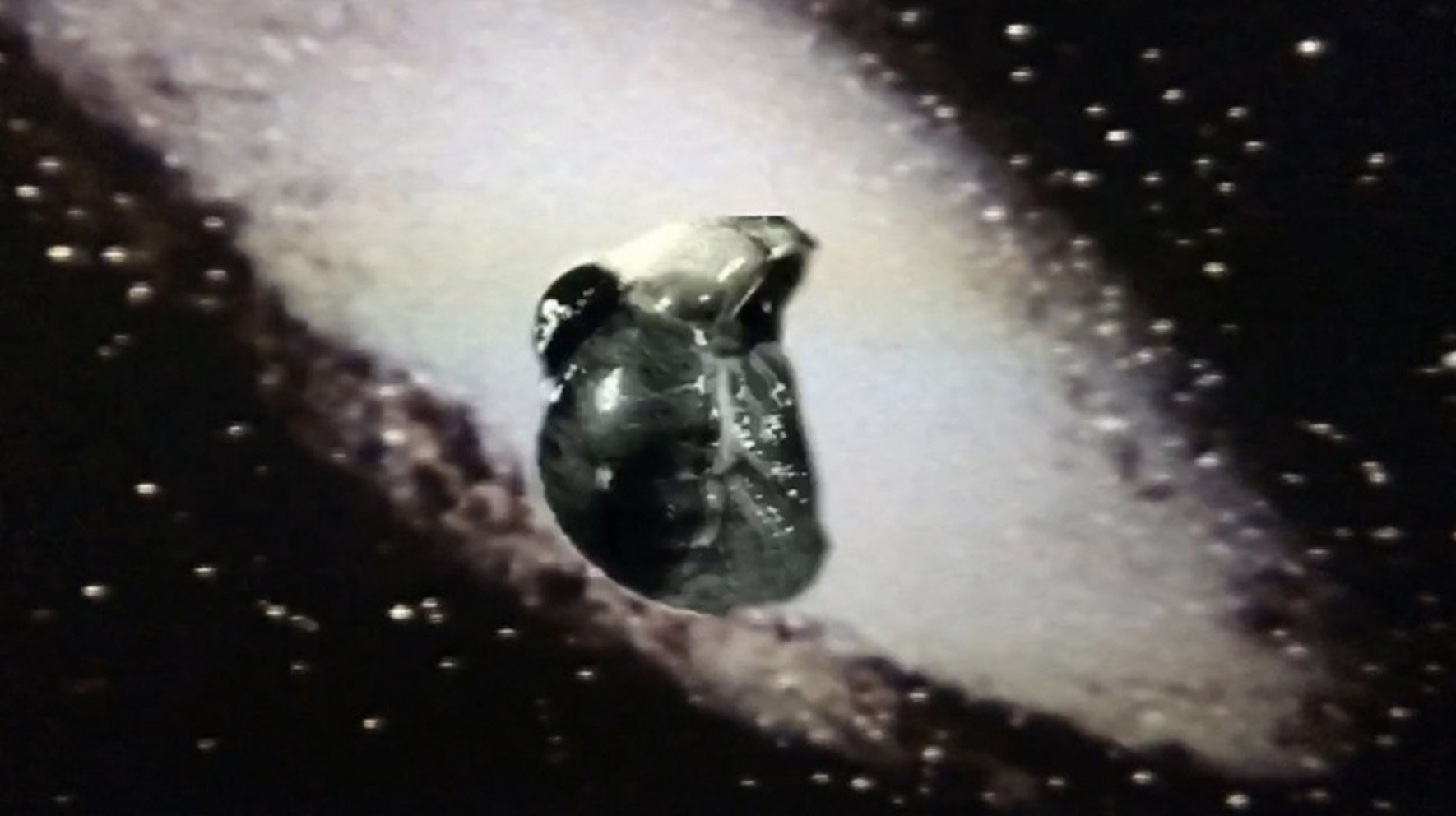 "Tawhirimatea", Sandy Wakefield
(DPAG Rear Window)
Tawhirimatea (2019), one short film of a diptych by Sandy Wakefield (Ngapuhi, Ngai Tahu) shares a measure of aesthetic sensibility with sequences from early 2000s documentary films such as The Corporation (2003). While both films repurpose educational footage, cartoons, and B grade movies from the "space race" era of the 1950s and 1960s towards differently nuanced cultural and narrative ends, the aesthetic impact of both is intentionally schlocky, kitschy, and cringe-inducing. Wakefield has selected some questionable archival reels such as pro-nuclear propaganda and "Stepford Wives"-style women advertising consumer goods to successfully critique the prevalence of western scientific world views, particularly cosmological origin narratives such as the Big Bang theory.
In the opening and closing scenes of Tawhirimatea, a black and white pulsating heart is superimposed over old, grainy footage (in colour) of stars and galactic masses, while a disembodied voice repeats "in the beginning" and later, "mauri ora" (amongst other phrases in both te reo Maori and English). The film's central character, who appears intermittently throughout, is a purple, animated atmospheric being who causes storms, fires, and accidents by blowing wind, and rain by crying tears. However, this being is not the titular Tawhirimatea, the atua of weather in Te Ao Maori, but an incomplete, simplified, and patronising western representation of weather as an embodied being, as atua. Wakefield gives presence to the real Tawhirimatea through the soundtrack by re-recording an excerpted lyric from Hirini Melbourne's Uira (1997). Repurposing archival material to correct, challenge, or tell a different story is a challenging task.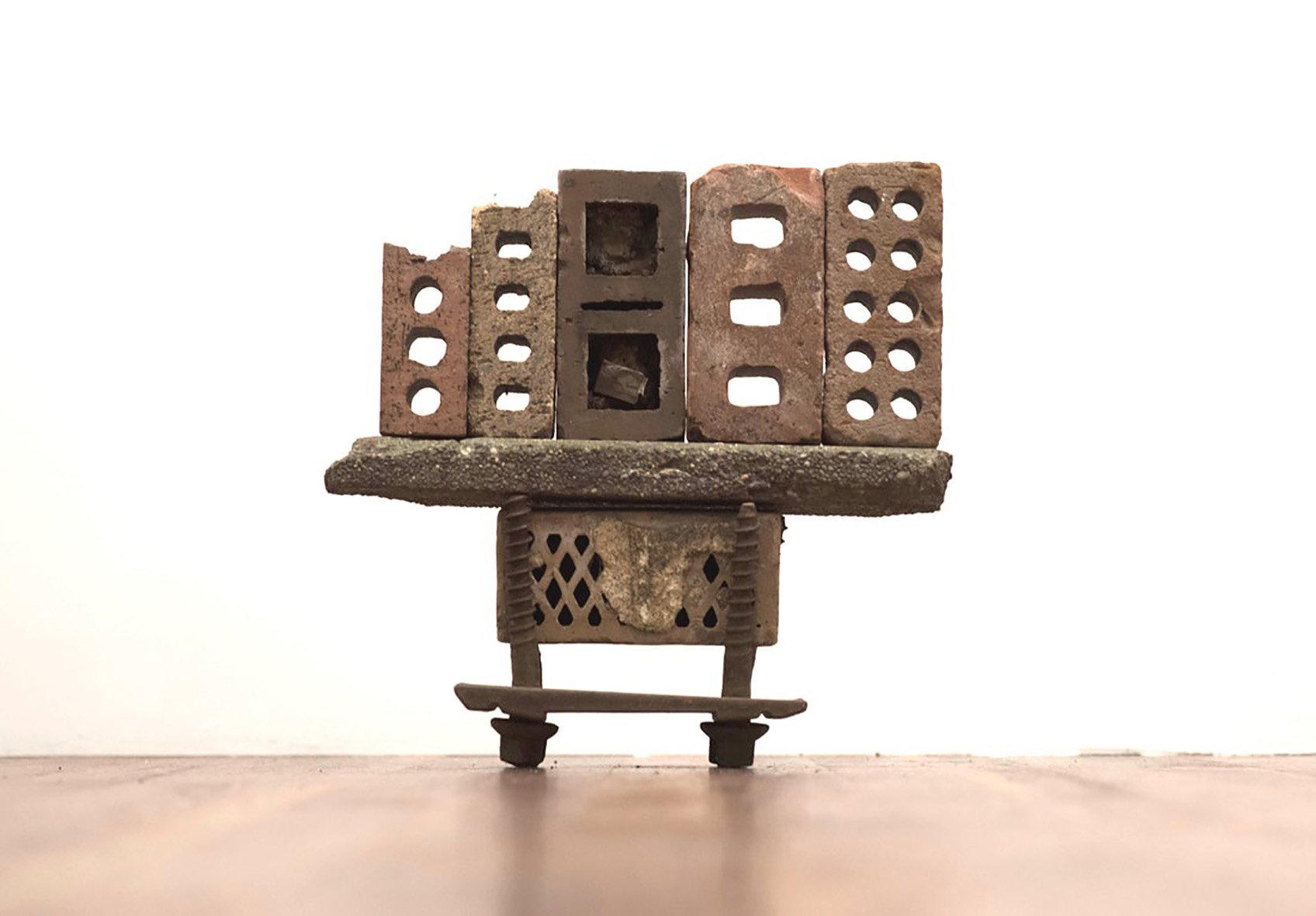 "Drowned World", Dene Barnes, Jackson Harry, John Ward Knox
(Olga)
If JG Ballard's post-apocalyptic, science fiction novel The Drowned World (1962) has become recognised as a key founding text of climate fiction (cli-fi), it is fitting to frame Drowned World—a group exhibition by three Otepoti-based artists: Dene Barnes, Jackson Harry, and John Ward Knox—as a half-centenary tribute to Ballard and our own slowly drowning world. As with the central role of geology in defining the Anthropocene—the epoch in which pollution and waste produced by primarily industrial nations is present in sedimentary layers of the earth—the exhibition Drowned World can be approached in terms of sediments and layers: conceptually and materially.
Dene Barnes' found object sculptures of brick, mortar, and steel are seemingly located in the bedrock of the earth, but are oriented to face the sea, ongoing capitalist gentrification, and rising sea levels by way of their titles, Harbourside Redevelopment (1–5, 2022). These small sculptures sit somewhere between mock maquette and altar piece and offer small portholes of vision through the negative space of the bricks.
Installed primarily on the gallery floor, some of Jackson Harry's bronze and acrylic sculptures of old, hard-edged, Oldsmobile sedans appear partially submerged. Harry's sculptures perhaps speak to the ubiquity of cars and the vast amounts of fossil fuels extracted to run them — and their contribution to harmful emissions.
In what may be a contextual overreading, John Ward Knox's finely detailed, black and white oil paintings of hands on silk perhaps ask, "are these the hands responsible for the drowned world?".
"Nature Danger Revenge", Alexis Hunter, Evangeline Riddiford Graham, Deborah Rundle, Sorawit Songsataya
(DPAG)
The group exhibition Nature Danger Revenge constellates contemporary curatorial practices, intergenerational conversations, and the reappraisal of historical artists and works. The "historical" artist in question is Alexis Hunter (1948–2014), an Aotearoa New Zealand feminist artist who spent much of her life in London and is best known for her photographic work. Hunter's neo-expressionist paintings of the 1980s onwards are lesser known, and perhaps less accessible for contemporary audiences. Rather than exhibit Hunter's large, expressive paintings of hybrid creatures and wilfully sentient nature by themselves, curator Sophie Davis, in step with contemporary curatorial practices, chose to commission new work by three very different practitioners: writer and artist Evangeline Riddiford-Graham, text- and installation artist Deborah Rundle, and multimedia artist Sorawit Songsataya (the 2022 Frances Hodgkins Fellow). This diverse group of artists were perhaps invited precisely because of their individually disparate practices in order to underscore Hunter's transition from photography to painting.
Individually, from the commissioned artists, Rundle's engraved, text on slate works (My Body, 2022) and Songsataya's digital video work of a tree trunk converted into "point cloud data" presented on three upended, vertically stacked screens (Crown Shyness, 2022) are especially compelling. However, collectively the works of the three commissioned artists are aesthetically disparate and vastly disparate from Hunter's paintings of "passionate instincts," such as the magnificent fiery atmospheric-lava scape of Creation (1987). Do these works help us reappraise Hunter?
By Robyn Maree Pickens