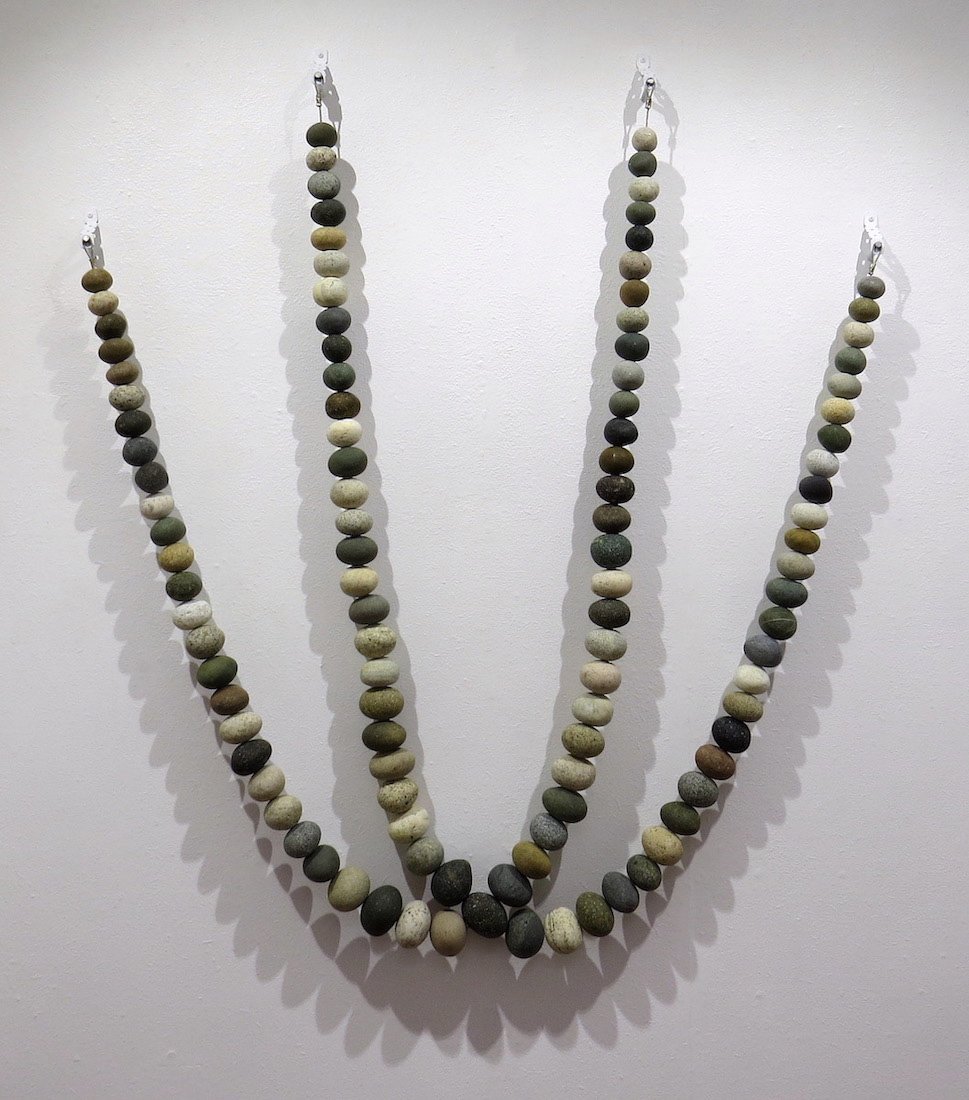 "Trinity — A Group of Three", Chris Charteris
(Milford Gallery)
There is something special about groups of three that echoes across time, through religions, civilisations, philosophy, and rhetoric.
Chris Charteris' latest exhibition of sculptural works recognises and reflects this ancient link in a series of pieces which use the divine trinity (as expressed in faiths as diverse as Wicca, Hinduism, and Christianity) as a foundation.
Charteris creates his work from natural resources: rock and bone, representing the inorganic and organic, but weaves the same patterns across the materials to create a third path that — like fossil or coral — draws on both types of material. The stone pieces, left as boulders either strung on giant's necklaces or as trios of standing stones, are etched with deep cruciform patterns, the roughness of the raw stone and smoothness of the working creating a frisson and almost demanding that the viewer touch the forms. Similar cross patterns are depicted in the whalebone pieces, items which have a further spiritual meaning associated with the mana found within the remains of the mighty ocean beasts.
The works reference the activities of humans in interaction with the environment, and also in some of the forms give a nod to the long history of human civilisation, providing a thread which links us with our earliest ancestors.
"Above and Below", Lucy Hunter
(Pea Sea Art)
Pea Sea Art in Port Chalmers is showing the debut solo exhibition from Lucy Hunter. The works are in two distinct media, ceramics and ink drawing, both featuring a cast of seemingly benign and whimsical "Devils" in a variety of activities and gatherings.
The ceramic pieces are small individual figures, each of them a delight. Most of the figures are seated, and each displays a wealth of character, both in their unique coloured patterns and their various poses.
The bulk of the exhibition is composed of the two-dimensional works. Although the images are mostly dark and shadowy, there is a warmth in the pieces that gives the suggestion that their creation has been a labour of love. With a style reminiscent of book illustration, and with bold black and pure white the only colours, there is almost the feeling of woodcut prints about the pieces. The horned characters are depicted in both everyday and mystical ritualistic scenes, many of which live up to the exhibition's title, with hints at both a diabolical underworld and more serene celestial sphere in the images. The titular work is a fine example, with a pair of lovers caressing, unaware of the fires of hell and vortex of heaven which circle nearby.
"Shifting Channels"
(RDS Gallery)
"Shifting Channels" at RDS Gallery features the work of eight emerging artists.
Works range across a variety of subjects, though several of the artists draw on familial or nostalgic links. This is particularly the case with Hana Pera Aoake's sculpture, based on an old family photograph, which speaks lovingly of ancestral connections. Wesley John Fourie's fabric assemblage and homily-like needlepoint sampler also calls on the nostalgia of home. Pippi Miller's cryptic childhood memory scene, Dressing Up in Each Other's Clothes is both impressive and slightly unnerving.
James Thomson-Bache and Hemi Hosking are both interested in the intricacy of pattern, in Thomson-Bache's case through the obsessiveness of fine detail. Hosking, by way of contrast, presents bold Cook Island-inspired tivaevae patterns in a series of impressive screen prints.
Troy Butler mixes gouache and photography in a series of moody scenes which tread the border between the exotic and the impoverished to good effect. Taarn Scott's series of drawn geographical abstracts, created on loosely hanging fabric, appear almost as windows into another landscape or time.
Among these often subtle and delicate works, Prudence Jobson's sculptural pieces are a point of difference. Almost brutalist in their use of concrete and rusting metal, these abstracts appear as semi-decayed industrial forms yet have a hefty life of their own.
By James Dignan