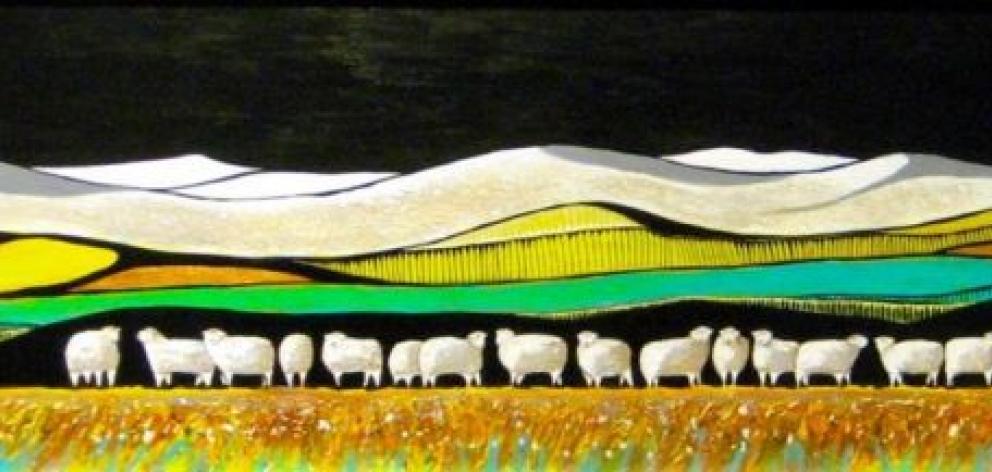 ''Ambi-Dexterous'', Esther Dexter (Lakes District Museum and Gallery, Arrowtown)
Esther Dexter's brush is as versatile and adaptable as the tongue-in-cheek title of her solo exhibition in Arrowtown would suggest, seeming to reach out 
and take inspiration from widely varying sources - abstraction, illustrative design, traditional landscape, a hint of pop art - blending them together seamlessly to create her own distinct style.
There is something very warm and approachable about the collection, a distinctly local feel that is as much to do with the confident balance of colours as it is the explicit insignia of Central Otago, the iconic lakes and mountains, historic buildings, and landscapes populated by prolific sheep.
Dexter uses fascinating textures and tones to trace the sights of the seasons from pearlescent snow-capped peaks to a late-afternoon wash of summer sun, to a crisp spring and a fiery autumnal glow.
Metallic detail and abstracted flower forms are used to lovely effect in Golden Meadows, and there is a nostalgic, storybook charm to the Seasons of Arrowtown #2, Summer at The Fork & Tap and The Red Bicycle.
Collectively, the works seem to be an ode to the everyday aspects of small town and rural life, the beauties of the land juxtaposed with cafe and agricultural scenes, and the inevitable gossip shared between the elderly friends in Have You Heard the News.
High-rise, the depiction of city life, is a bold contrast to the sunny yellows and greens of the Arrowtown scenes.
The skyscrapers are pointed slashes, with the spaces in between forming black, spiky trees, and the human figures below an anonymous cluster of black-on-red silhouettes.
---
''Creature Collective'', Tess Sheerin (Queenstown Art Centre)
Art has always played an important role in social commentary, and artists have a powerful voice when it comes to advocating for necessary change.
Where words can fall on deaf or busy ears, imagery can create a lasting and persuasive impression.
Along with the outdoor mural Drainbow Trout in central Queenstown, Tess Sheerin's ''Creature Collective'' exhibition is an individual's cry of protest against an issue that affects every person who will view the works.
Pollution and the careless, unthinking disposal of waste is responsible for the deaths of hundreds of thousands of mammals and birds every year, and Sheerin uses her painting to put a face to that suffering.
Strongly influenced by street art and graffiti in the UK, as well as Japanese printmaking, Surrealism and the Dutch graphic artist M.C. Escher, Sheerin depicts her animals in black and white, giving a sense of ghostly pathos to the figures with their unblinking, pleading stares.
Highlights of neon, toxic green and orange glow like the hazardous materials they represent in Consciously Ignorant.
Sheerin combines ink and paint work with photography from the beach walks that prompted her wider investigation into coastal pollution.
While every piece gives the impression of careful planning and detail, she allows paint to drip and slide, making the actual creation of art an energetic, kinetic part of the final captured image.
Paint-bombing buildings, splattering colour: these are actions that are often used in more aggressive social activism, but here Sheerin uses them to create something beautiful, a quieter form of protest that still makes itself heard.
---
''Equus: Portrait of a Horse'', Jillian Porteous (Hullabaloo Art Space, Cromwell)
The relationship between humans and horses traces as far back into history as the written word recalls.
Once vital for transport, battle, everyday life and survival, horses have also been companions, pets, and loved family members.
Jillian Porteous explores that unique bond in her latest collection, ''Equus: Portrait of a Horse''.
A series of wall-mounted ceramic horse heads, each work is very definitely an individual, with changes in appearance and expression somehow conveying a distinct sense of personality.
There are solemn faces, placid faces, a cheeky glint here and a slightly menacing vibe there.
Despite the usual connotation of animal heads mounted on a wall, there is no sense of death here, no impression that these are trophy prizes.
Rather, there is a humorous suggestion that the horses have poked their heads through the wall out of curiosity, to see what all the fuss is about in the gallery.
Porteous uses the raku method of pottery, firing the glazed clay at a temperature of around 1000degC, then removing it and leaving to either cool outside the kiln, plunging it into water, or putting it in a sealed bin with combustible materials that ignite and blacken any unglazed surfaces.
The end result is gorgeously earthy and weathered, as if the portraits might have been created hundreds of years ago, reinforcing the sense of history.
Lines and colour tones differ on each work, from the faintest spots and striations to the heads that appear to have been pieced together like jigsaw puzzles.
 -by Laura Elliott