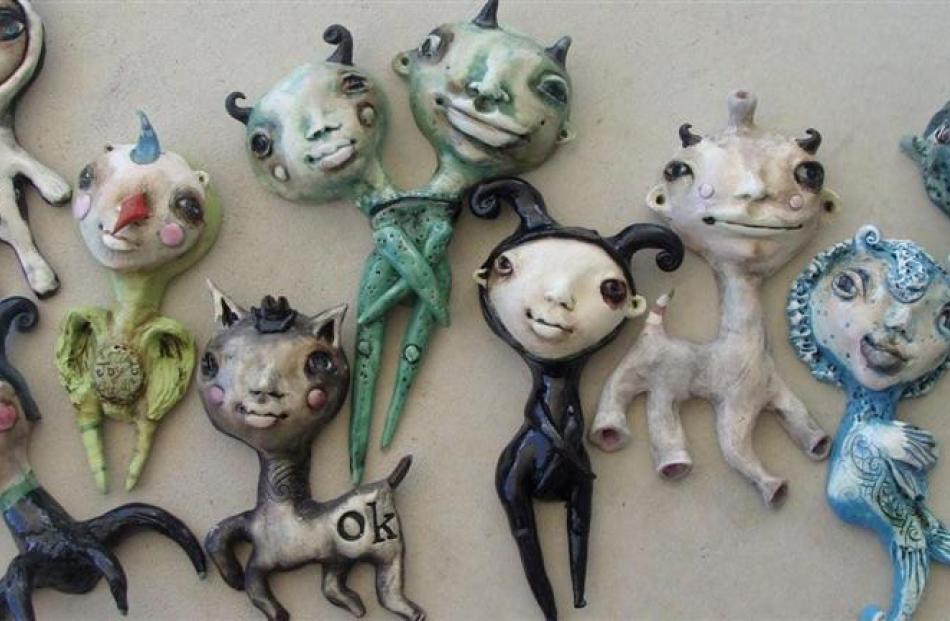 Fun and fantasy visit Dunedin this week, but there's method in the madness. Nigel Benson meets a quartet of quirky artists.
Seldom has an exhibition been so appropriately named.
"A Gathering of Quirk" opens at the Artist's Room this weekend and holds a looking glass to a wonderland of New Zealand art.
The exhibition features four artists who incorporate a pigment of imagination in their art - figurative painters Tony Cribb and Crispin Korschen, ceramicist Cheryl Oliver and sculptor/painter Hayley Hamilton.
"All of us are in a similar vein, with a similar style and message," Cribb said this week.
"The works all have a light-hearted tone and I think people definitely relate to that.
Most art, to Joe Public, is a bit daunting, sometimes, with all its elaborate statements and meanings.
"At least, on the surface they appear simple, but you can look deeper and see more than that."
Cribb has five new works in the exhibition.
"My paintings are pretty all over the show, style-wise, because I've been having some health issues, with food intolerances and stomach problems, and my work reflects that.
"One of the paintings, There's an Octopus on my Head, relates to my situation over the last six months, when I had a bit of a bogey on my back and was getting run down.
One day, when I was half asleep, the idea of an octopus on my head popped into my head.
"I liked the analogy of an octopus on my head.
"I've got my reasons why and, hopefully, people will relate to that . . .
"I quite enjoy using an illustrative technique to convey raw human emotions.
"I like my characters to broach the raw emotions we all have to deal with.
"It's all about sharing the journey."
Cribb's influences range from Muppets creator Jim Henson to New Zealand master Colin McCahon.
The Christchurch artist is best known for his Tin Man character, which evolved in 2001 when he was developing children's books.
"Some of my works are loaded with meaning, while others have none at all.
A great deal of enjoyment comes from creating works that are slightly vague, thus inviting the viewer to draw their own conclusions on the meaning of the work," he says.
"The most satisfying inspiration comes from within myself; my experiences, my feelings, my thoughts.
A lot of my inspiration is random, coming from deep within a dark cupboard submerged somewhere inside my head.
"There is no justification, no logic, no reason, no background - it just is."
Kapiti Coast artist Crispin Korschen breathes life into characters inspired by her experiences and observations.
The result is Dali-esque creatures roaming impossible landscapes.
"I like to tell stories about the extraordinary lives of ordinary people," she says.
"Painting gives me the opportunity to bring to life the characters and images roaming in my head.
"The stories told by my art-works are either my own, inspired from observations and my experiences, or expressions of my restless curiosity.
"I see things and these odd images just start to come out of my mind.
I just have a very odd brain," she laughs.
"I'm always watching and listening to people.
"And people say the oddest things, without even thinking about it.
"I like to watch people and their relationships with each other.
"If people can find something in my art-works that they can relate to or laugh about, I know I've reached them.
"We spend so much of our time running around like crazy things.
But, does it really achieve what we want to achieve?"
"A Gathering of Quirk" is rounded off by Tauranga ceramicist Cheryl Oliver and sculptor/painter Hayley Hamilton.
"My focus with clay has been in variously representing the small moments of what it is to be human, with a bias towards the lighthearted," Oliver says.
"I endeavour to portray issues of relationship, emotion and thought and to reflect on the complexities of what it is to be human.
The work is deliberately simple in form - relying heavily on texture and facial expression to create narrative - while humour is used to keep the work accessible and lighthearted.
"The humorous has a legitimate place on the art spectrum."
Raglan sculptor and painter Hayley Hamilton creates narratives with clay and paint.
"Clay has always been part of my life.
"It is an intriguing medium - as rewarding as it is frustrating - yet it pulls me back again and again," she says.
"Painting is a way of expressing ideas which cannot be formed in clay.
"I embrace the freedom paint brings.
"Sometimes it is an extension of my clay.
"Sometimes it stands alone.
"I try to find that still, small voice."
See it
• "A Gathering of Quirk" opens at the Artist's Room at noon on Saturday and runs till February 13.