THE GRIFTER'S CLUB
Sarah Blaskey, Nicholas Nehamas, Cailin Ostroff, & Jay Weaver
Hodder & Stoughton
REVIEWED BY PAT THWAITES
Imagine a scenario in which our Prime Minister is a wealthy tax-dodger whose holiday home is part of a luxurious complex incorporating a country club and five-star accommodation.
For a few months of the year, our leader resides in this beautiful compound, to attend to any matters that need attention and sometimes host world leaders who happen to be in New Zealand at the time.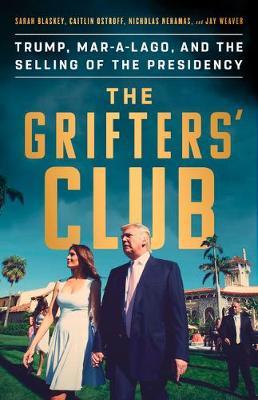 It is an ingenious idea. The holiday home serves as a substitute for our dull Parliament. It not only delivers a stunning background for our leader to shine while shaking hands and doing deals with presidents and royalty, but provides accommodation for all the government officials and Secret Service personnel who may be needed. And best of all, our Prime Minister can profit handsomely from the deal.
Back in the 1920s' wealthy American heiress Marjorie Merriweather Post built a palatial dwelling at Palm Beach Florida. She furnished it with the best of European accessories and treasures and named it Mar-a-Lago. It was  "always intended to be a palace for America's equivalent to nobility", but after Post's death, it lay vacant for years. Nobody could afford such an extravagant estate, until a man with delusions of grandeur bought it in 1985 and converted it into a club.
Donald Trump is known by many names. As the owner of  Mar-a-Lago, he was provided with several others, according to the authors of The Grifter's Club.
Comparing his style to that of Louis XIV, he is said to think of himself as American's Sun King. One of his faithful club members refers to him as "the king of the castle", another member as "our Prince Charles".
Transforming his "castle" into a club, adding a giant ballroom, and, when elected president, using the premises to highlight visits from overseas dignitaries, served, at first, to provide a splendid background for this President to shine and for others to bask in his glory.
But as the book's title infers, eventually the wrong sort of people became attracted to its charms: the social climbers, rather than the socially secure, the financially dubious, and the cunning.  Security had never been strong, dodgy trespassers frequently found easy access to the facilities.
The Grifters Club has been a co-operative effort by three reputable investigative journalists. Written with wit and providing several interesting snippets of political gossip, it delivers on what its cover promises – exposing Trump, Mar-A-Lago and the extraordinary "selling'' of the Presidency.
Pat Thwaites is a retired Dunedin schoolteacher