NEW ADMISSIONS
Mira Harrison
Copy Press Books
REVIEWED BY TONY FITCHETT
In 2018 Mira Harrison's first book Admissions was published: a collection of eight linked "tales of life, death & love in a hospital not far from here". Her latest offering serves up the same but with the backdrop of the pandemic. All four stories are set in, or related to, the same hospital, during the Covid crisis and only one of them focuses on a main character from the first book. Throughout it all is a deep feeling of reality.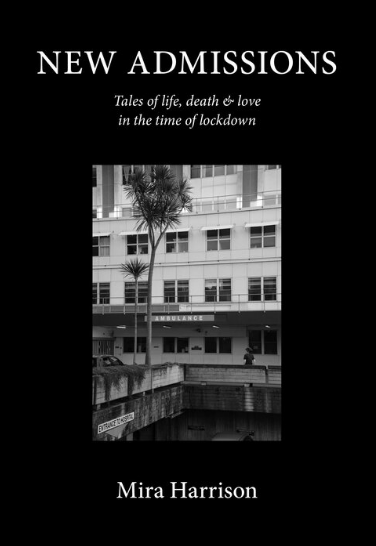 This is fiction, but it feels real, affecting real people, however bizarre some of the situations in which they find themselves. Such as the Professor of Obstetrics, self-isolated at home with her grumpy daughter who has returned from a gap year in South America with Covid and therefore unable to go to the hospital to deal with an emergency. She uses video communication to coach her registrar in the delivery suite through the management of an uncommon complication after delivery of a baby.
Other stories cover the confusion and selfishness triggered by news of the impending nationwide lockdown, including the bulk buying of flour, sugar, milk, and loo paper. There are the efforts of a first-year Health Sciences student, child of ''tiger parents" who are trying to direct her into training as a doctor, to become independent from them, initially by taking on part-time work in the hospital kitchen scullery, and the coincident development of her sexuality. Also featured is the brutal separation of a long-married husband and wife as he is admitted to hospital and she is barred from contact with him.
The common theme is relationships - of all kinds. Married love, forged through medical school, surgical training and work, finally refusing to submit to bureaucratic rigidity; exploitative marriage, with the demeaned, and at times physically abused, wife, unaware of her infected state, responding to her husband's self-centredness by plunging into a one-off sexual encounter, with tragic consequences; a working mother caring for a rebellious daughter; friendship developing into eros.
The stories focus on women, and are open about the pressures that still weigh much more heavily on them than men. And, despite the harrowing conclusion of the first story, and the hovering spectre of death, the tales affirm life, growth, and personal integrity.
Tony Fitchett is a retired GP and obstetrician