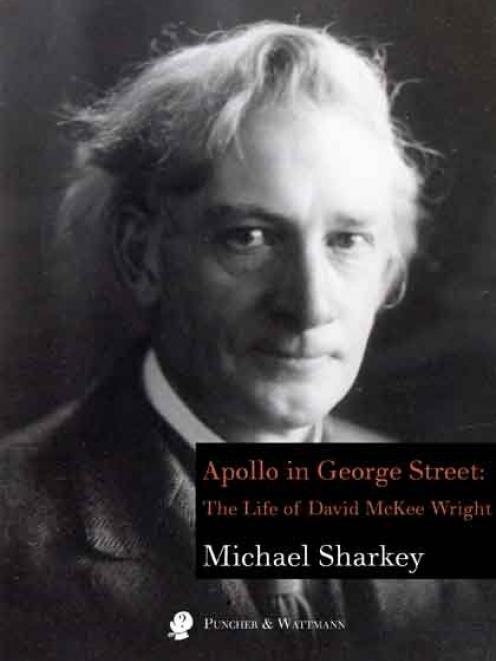 At first sight, Dunedin readers could be overly excited at the title of a biography written by Michael Sharkey:
Apollo in George Street
. The subject, Irish-born poet and journalist David McKee Wright (1869-1928) certainly did have a local connection early in his life when he came to Dunedin and contributed to the
Otago Witness
. But the George St referred to in the title is in Sydney, Australia. There McKee Wright worked in various newspapers, edited the
Bulletin's
"Red Page" and later became editor of
Fairplay
in 1912.
Twenty-four of McKee Wright's early ballads were collected at the end of 1897 in the volume Station ballads and other verses. His poetic output declined while he was in Oamaru from 1898 as a Congregationalist minister from 1889 to 1900, becoming prominent in the temperance movement and arousing hostility from some for vehement attacks on the "moral pollution" of the town.
After moving to Wellington and then Nelson as a pastor, until 1905, he then became busier as a freelance journalist, starting his own weekly newspaper but falling into financial problems. In 1910, he moved to Sydney, where he had already been contributing poems to the Bulletin for some years. He wrote more for that newspaper, the Sun and Sydney Mail, as well as Fairplay.
Sharkey, himself a well-known Australian poet, has produced an impressively detailed biography (small print in more than 400 pages) which is also a study of his poetry.
The former minister and temperance advocate seems to have led a largely bohemian life in Australia, where he enjoyed the proximity of the hotel bars to newspaper offices.
His marriage in New Zealand failed and he lived with Beatrice Osborn in Sydney from 1913 to 1918, having four sons before he broke with her to live with poet and actress Zara Cross, with whom he had two daughters.
Contending that McKee Wright is one of Australasia's major forgotten figures, it is hoped this book does much to rectify that situation.
It is well documented and illustrated and repays the reader who delves into the account of the restless life of a man who wrote hundreds of humorous and topical verses. It explores both the person and the riches of his poetry.
• Geoff Adams is a former editor of the ODT.