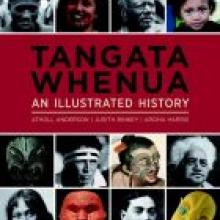 This ground-breaking book will help make Maori history New Zealand history.
Tangata Whenua: An illustrated history is an accessible, scholarly and visually appealing one-stop shop for the story and world of Maori.
The 500-plus page large format hardcover book is the first thorough one-volume history of Maori.
It has been written by respected academics Atholl Anderson, who is professor emeritus at Australian National University, the late Judith Binney, who was professor emeritus at University of Auckland, and Aroha Harris, who is a member of the Waitangi Tribunal and teaches history at University of Auckland.
Between them, the authors cover the ancient, modern and contemporary history of Maori, stretching from the migration of ancestral peoples from South China about 5000 years ago, and the quest for survival in colonial Aotearoa, to their resilience and revitalisation in the 21st century.
Woven through the narrative are smaller essays, some by other authors including the University of Otago's Michael Stevens, that pick up different topics of interest and importance such as an overview of hei tiki, the significance of muttonbirding, and the cultural politics of rugby.
Supporting and adding to this valuable repository of information are more than 500 images ranging from a full-page photograph of a hei tiki fashioned from rare, translucent brilliant green kahurangi pounamu, and images of Maori war parties sketched by explorers and colonists, to fascinating photos of well-known and unknown Maori from the mid-19th century to today.
The publisher is to be commended for committing to such an enormous and farsighted project as Tangata Whenua.
The size of the book has allowed an excellent depth and breadth of erudite and insightful storytelling.
The style is scholarly but pleasingly readable.
It is particularly gratifying to have chapters dedicated to the pre-European history of Maori: dispersal, material culture, way of life, key personalities and interactions.
The result is a resource which makes accessible to all New Zealanders a wealth of information, redressing what has been, for many of us, missing chunks in the history of our own country.
• Bruce Munro is an ODT features writer.