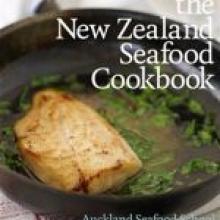 For an island nation surrounded by oceans which still have some fish, we are remarkably conservative when it comes to buying and eating it, although those who like to spend the odd day in a boat or on the rocks and catch fish themselves may be different.
The New Zealand Seafood Cookbook (Penguin, pbk, $50) is one of the few books that specialises in local species - although local tends to mean northern (lots of snapper, few blue cod and no brill or sole recipes).
The recipes come from the Seafood School at the Auckland fish market, and although some are for posh dinner parties or restaurants, such as proscuitto-wrapped hapuku on truffle-scented potato puree with ratatouille, there are many more modest and accessible ones for less expensive fish, like leatherjackets flavoured with fennel seeds and thyme, cockle pasta, pan-fried flounder with lemon and caper sauce, or the Greek-style mussels saganaki with onion, garlic, tomato, herbs and feta.
---
Another cookbook featuring New Zealand kaimoana (seafood) is
Kai Ora: Fresh, Healthy Food Made With Aroha
by Anne Thorp (Random House, pbk, $50).
Thorp has her own cooking show on Maori Television, and, influenced by growing up in a large whanau in Whakatane, features delicacies like kina, paua, Cook's turbans (a type of shellfish), fish heads and muttonbirds, as well as more usual types of seafood, meat and lots of fruit and vegetables.
Traditional foods are given a modern twist, revealing Thorp's contemporary style and flair gleaned from years working in the hospitality industry and cooking for friends and families.
A breast cancer survivor, she is concerned about the healthfulness of the food she serves to guests and even in recipes for things like pork and puha, a more or less traditional boil-up, instructs you to cut off the fat and steam the vegetables.
A fascinating cookbook that combines the best of traditional and contemporary food.