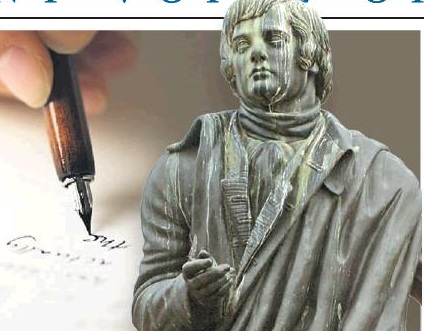 The annual Robert Burns Poetry Competition stirs up memories and inspires writers from near and far. They share their winning words with Otago Daily Times readers.
Odes, laments, satires, lyrics and various Scots dialects featured in the entries to the 2018 Robert Burns Poetry Competition. The Burns statue also continued to hold poets' attention.
Published poets section judge and 2018 Robert Burns Fellow Rhian Gallagher said the winning poem, A Robbie Burns Supper in Saudi Arabia, by Marjory Woodfield, struck her for its ''freshness''.
''It is a prose poem, written in everyday language, with bits of humour. The poem also employs a seemingly small subject to touch on larger ideas. These are all characteristics of Burns' work.''
Gallagher also appreciated the flourishes of alliteration and admired the pacing in the poem.
''The poem sets up the terms in which it is working and sustains these throughout - it doesn't, for example, try to hit us over the head with a dramatic ending. It's a poised, understated piece that rewards re-reading.''
Honesty and to the point is what Dunedin poet Elena Poletti appreciated in judging the unpublished section.
The winning poem, Midnight, showed an honesty and focus making it very clear, she said.
''It reflected the family situation in language that was very straightforward.''
The second placed poem, Lament of the Datin Scene, came alive off the page.
''Again it was a very simple, very tight knit poem.''
She urged those who entered to keep on writing and ''really focus'' on what they want to say and not ''waft'' about.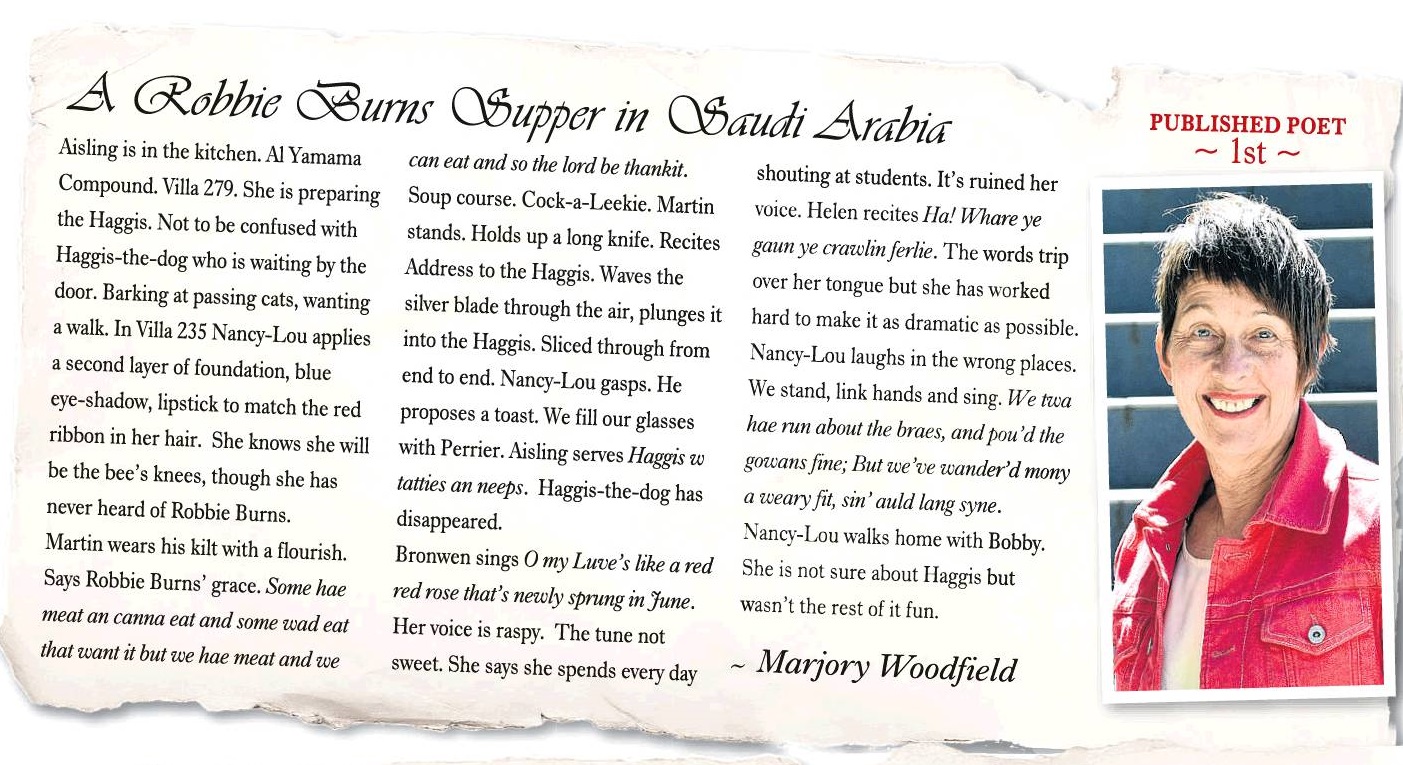 Published
Marjory Woodfield
A Robbie Burns Supper in Saudi Arabia
Drawn by the history of places, people met and stories shared, Christchurch teacher and writer Marjory Woodfield called on her recent experiences in Saudi Arabia for her winning piece.
''I entered the Robbie Burns competition because I remembered so vividly the Robbie Burns supper that friends in our Riyadh compound organised. I also remembered my father, who loved poetry, reading to me as a child, Burns' poem To a Mouse and the Selkirk Grace.''
Woodfield has been writing seriously - poetry, flash fiction and creative non-fiction - since returning to New Zealand from living in Riyadh and has had work published in a range of literary journals.
''I suppose it's not surprising that my writing's often informed by Middle Eastern experiences, such things as searching for fossils in the desert, visits to souks, mosques and minarets.
''Winning this competition though, at the end of a year of writing, has been the icing on the cake.''

Peter Matheson
Fause Truith
The ability to say things in poetry that are impossible in prose is one of its attractions for historian and Presbyterian minister Peter Matheson.
While he is retired, Matheson is still researching, preaching and loving poetry - both writing and reading.
''Poetry is close to prayer. Goes deep.''
He prefers to write mainly lyrical poetry relating to land, sea, beaches and people.
''To personal crisis. But also political/protest. Some hymns. Depends. Comes and goes.''
As he is Scottish, he enjoys the use of Broad Scots and also the ability poetry gives him to ''rage at lies around Brexit, Trump, denial of climate change but also delight in Scottish Proverbs and its traditional wisdom.''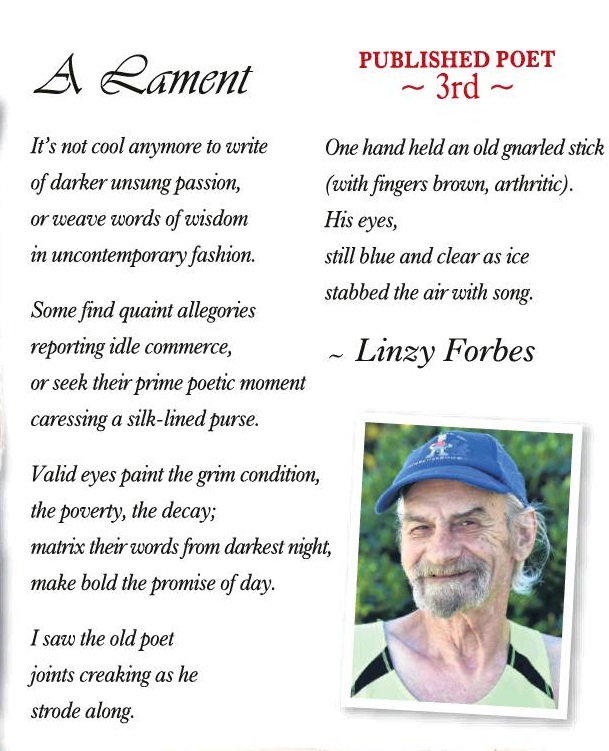 Linzy Forbes
A Lament
How poetry today compares with that of yesteryear attracts retired Dunedin writer Linzy Forbes.
He has been writing poetry for ''30-odd years'' and used to run a poetry cafe in Porirua when he lived in the Wellington area.
''It's a nice form of expression''.
Entering the Burns competition appealed as his father was Scottish and the connection between traditional and new poetry.
Forbes has also been successful with a form of Japanese poetry, Haiku, winning an international competition.
Unpublished
Louise O'Neill
Midnight
As she does not ''really'' write poetry Jean Cockram entered the Robert Burns Poetry Competition under an assumed name, Louise O'Neill.
But having discovered she won the unpublished section, a surprised Cockram thought she had better revert to her real name.
A research manager at the University of Otago, Cockram, an Australian who lives in Dunedin, says she entered the competition on impulse.
''I don't really write poetry. This was a bit of a one-off. But I've always loved reading poetry.''
Her winning poem is about her father who was ''utterly devoted'' to the poetry of Robert Burns.
''My youngest sister and I grew up with Burns' poetry and songs as the soundtrack of our childhood, which was a bit unusual in suburban Australia. My dad was a shift worker, and I think he dreaded midnight shifts.''
She was also inspired by a poem by Robert Hayden called Those Winter Sundays.
''There is something about that I find very affecting and it sparked a memory for me.''
Eleanor Girvan
Lament of the Datin Scene
Eleanor Girvan carries a book and pen with her all the time, even when walking the dog, in case inspiration strikes.
From Kilmarnock in Scotland, Girvan has lived in Dunedin for 13 years and has written poetry since she was a little girl.
''My parents encouraged me to. I write to express and process my feelings and observations.''
The physiotherapy practice manager who is looking to get back into teaching, writes the full spectrum of poetry including melancholy, love, humour and feminism.
Girvan writes every day. ''I write a diary, I write lists, poems, letters and I also illustrate and paint.''
She was encouraged by a friend to enter the Robert Burns Poetry Competition as both she and Burns are from Ayrshire, so it was natural for her to use Burns' dialect and ''have a play around with his style''.
''I wanted to create a lament about the dating scene. Even though it is a lament, there's humour and a little feminist sting at the end.''
Mark Sanford
To An Aud Dug Dreaming
Sanford could not be contacted.
Winners
Winners from the 2019 Robert Burns Poetry Competition. —
Published
Marjory Woodfield, A Robbie Burns Supper in Saudi Arabia , 1; Peter Matheson, Fause Truith, 2; Linzy Forbes, A Lament.
Unpublished
Louise O'Neill, Midnight,1; Eleanor Girvan, Lament of the Datin Scene, 2; Mark Sanford, To An Aud Dug Dreaming, 3.
Youth
Sophia Niblock, Otago Girls High School, I'm Wondering, 1; Ollie Young, Kings High School, Address to a Plastic Bag, 2; Emma Davis, Columba College, The Kings of the Earth, 3.Highly commended: Caitlin O'Brien, Columba College, An Ode to the Cheese Roll; Millie O'Neill, Logan Park High School,  Archibald.