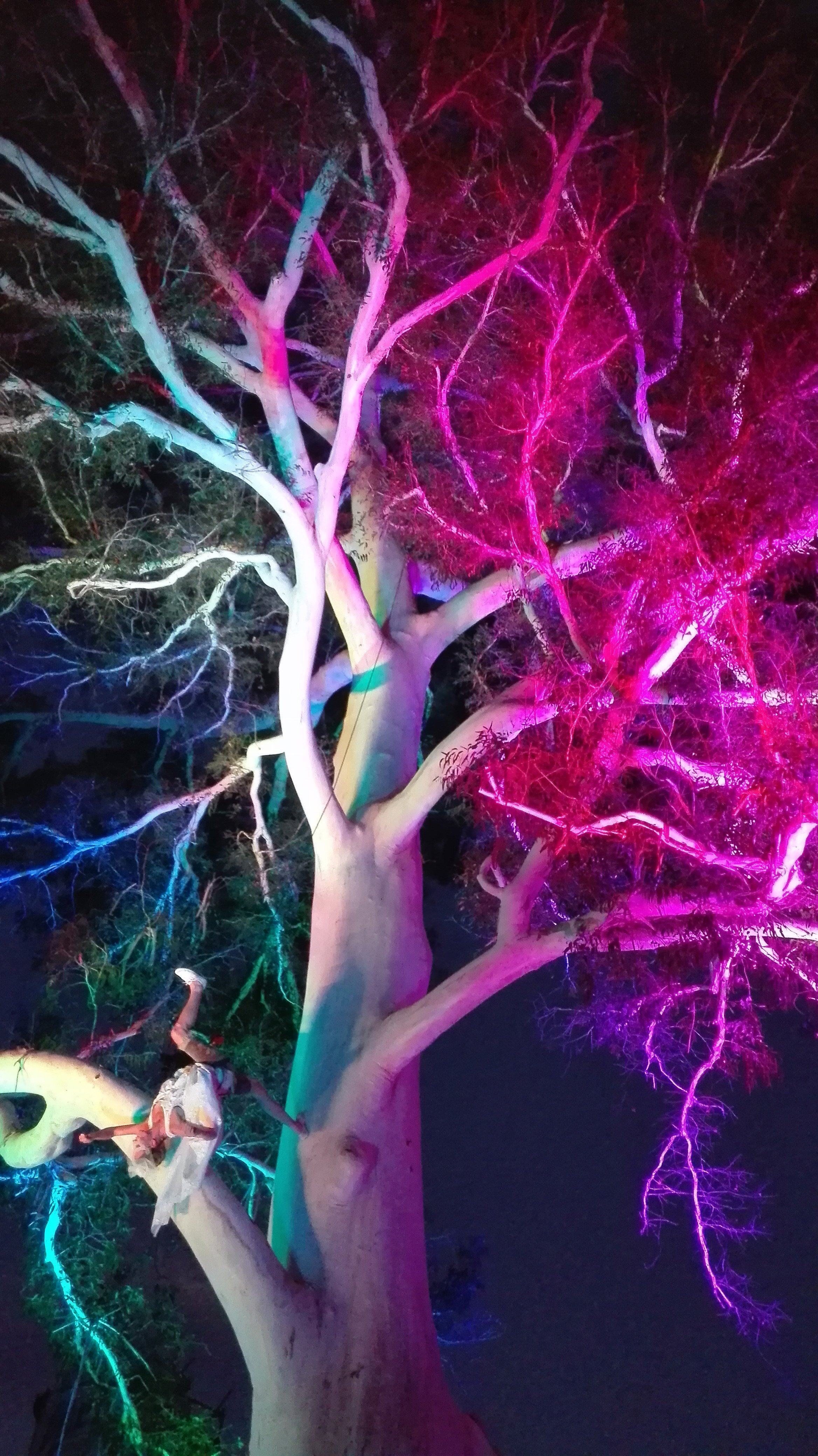 When Chloe Loftus says she has to break in a new partner every time she performs her dance show, she is not talking about a human dancer. Loftus talks to Rebecca Fox about finding her feet in the air.
Wanted: One tree with a wide, straight trunk, plenty of sturdy limbs, and space for an audience around it.
That is what dancer Chloe Loftus needs in a dance partner for her latest work, The Arboreal Aerialist.
She found just the tree in the front garden of the Otago Museum.
Every new tree she performs with is like a new dance partner.
The variety of tree and the branches it offers create a different dance each time.
That is because Loftus, dangling from a harness, dances through and on the branches of the tree.
She describes her performance as aerial structured improvisation.
"I can be very much in the moment and respond to what the tree and the audience bring."
With simple up-lights to illuminate her, she looks like she is suspended in midair as she dances around the trunk.
"I move in slow motion, making it look effortless though it does take a lot of control."
Loftus' career to date has been a long build-up to this type of performance.
She grew up going to dance classes — the usual contemporary, tap and ballet — and when she went to university and it came time to decide on a direction, she carried on with dance.
"Dance was still a passion and I'm of a mind that if you can do something you love for your living, you're extremely fortunate. I perhaps didn't think through the challenges of being a dancer."
She studied dance in the United Kingdom and began freelancing before setting up her own company, Chloe Loftus Dance, in 2005.
Much of her work involved performing in large-scale events and she began choreographing and mass movement directing.
"That really inspired my passion for outdoor work. I started creating work for theatres but got disillusioned at how exclusive they felt and how hard it was to reach people who had not had any exposure to contemporary dance.
"Doing work outside means there are no social or financial barriers to access. So I can engage people who would not normally go to see contemporary dance."
She also segued into aerial dance, in particular what is known as vertical dance, where performers wear harnesses.
"It's like wall dancing; you can perform against buildings suspended in air. The issue with that is you need a structure to do it."
Loftus' performances often connected with nature, so it was a small step from there to working in trees.
"I thought how beautiful it would be do it with the natural environment, the structures already there. What better way to get people looking up and appreciating the natural beauty in their communities."
During her time as Auckland Parks Artist in Residence she spent two months working outside with trees, in particular a pohutukawa where she did bungy-assisted dance.
"That started this relationship I have working with the environment."
Then she was commissioned for Light Nelson Festival (2018) and created an aerial installation performance 10m up a heritage tree.
Loftus, who returned to live in New Zealand four years ago, is now touring a version of the show around New Zealand, including to the Dunedin Arts Festival.
She was booked to appear in last year's Dunedin Fringe Festival but it was cancelled due to the Covid-19 lockdown.
One of the things she loves about the piece is that people wander past and discover her, and are captivated.
Her piece is accompanied by music she describes as acoustic tango-inspired, so it has a mesmerising, hypnotic effect on people as they gaze up into the tree.
But the work does present some challenges.
"Rehearsals can be tricky as I need to find suitable space. I was supported by a climbing centre in Nelson so I was hanging upside down dancing on the wall while others were climbing."
She has also had the support of the Department of Conservation to use a scenic reserve to rehearse in.
Making her movement look effortless requires a lot of work.
"You have to build up muscular control, finding the fluidity of the dance on the tree when holding yourself in a horizontal position seemingly effortlessly."
That meant a lot of core work and practising with the harness, as well as a good stretching routine.
"I have to do some quite intensive training to get my body back into the idea of holding itself horizontally. There is nothing like doing the harness dance itself to find those specific muscles."
She was attracted to aerial work because it allowed her to stretch what is humanly possible, playing with gravity and creating a sense of magic for audiences.
Working at height also offered a unique way to engage with people, she believes.
Her other line of work is developing mass movement pieces for large-scale events.
"I've found a niche here doing unusual and engaging outdoor dance theatre."
The beauty of the mass movement pieces is in bringing together community for a shared cultural experiences, she says.
"There is this ripple effect of inspiration, creativity and community."
She also choreographs for other organisations and is currently touring an aerial piece, The Air Between Us, with Maori dance artist and wheelchair user Rodney Bell.
However, she finds an alarming amount of her time is spent in administration on developing funding applications, planning and health and safety.
"I dream of having a project manager so I could focus all my energy on the creativity."
TO SEE
The Arboreal Aerialist
April 20-21
8pm in front of the Otago Museum