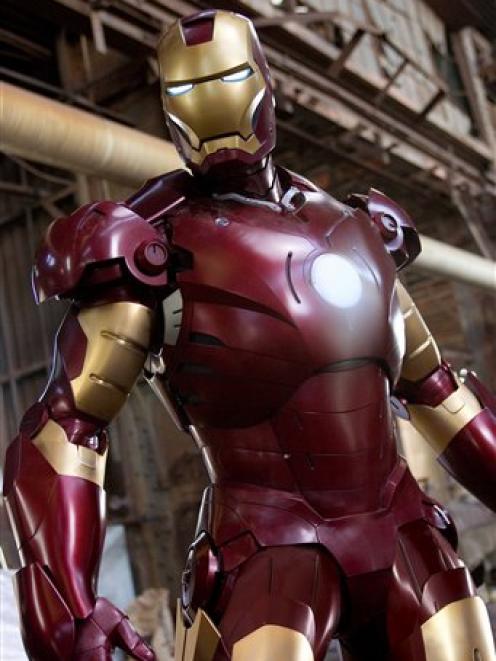 Before Batman and the Joker came along,
Iron Man
stood out as this year's big comic book movie success story.
Landing in theatres in early May, it emerged as the first mega-blockbuster of the season, earning more than $US318 million ($NZ480 million) in North America and immediately prompting the elated heads of Marvel Studios to sign off on two sequels.
Released tomorrow on DVD, Iron Man is practically guaranteed to dominate the home video scene.
To underscore that domination, the movie is releasing in three versions: A standard DVD with scant extras, the two-disc Ultimate Edition and the Ultimate Edition on Blu-ray disc.
Anyone eager to geek out on every minute detail in hero Tony Stark's universe should snag one of those latter options, which tell the story behind Iron Man in exceedingly specific detail.
How specific? After watching the nearly two-hour I Am Iron Man documentary, I am almost convinced that I worked, in some capacity, as director Jon Favreau's assistant.
But that exceptional doco is only the beginning.
Once that two hours has elapsed, prepare to spend: 47 minutes watching The Invincible Iron Man, a history of the comic's evolution as told by numerous authors, from creator Stan Lee to Warren Ellis; 27 minutes with Wired: The Visual Effects of Iron Man, which breaks down the painstaking work done by three effects houses; and 24 minutes on a series of deleted and extended scenes.
And that doesn't even mention some additional featurettes, a series of photo galleries and Blu-ray extras such as Iron Man IQ, a web-based application that allows viewers to answer and share trivia questions about the film.
As interactive and gadget-centric as Iron Man is, some of the finest moments in both the movie and the DVD material come from a most traditional Hollywood source: the leading man.
Robert Downey jun is what makes Iron Man soar.
For proof, all one needs to do is watch some of his screen tests, included on disc two of the Ultimate Edition.
Even while in try-out mode, Downey's face, right down to the slightest tic, tells an entire story.
Hidden bonus: Click around on the disc one menu screen to uncover an Easter egg that treats viewers to a meeting of the Stan Lee and Robert Downey jun Mutual Admiration Society.
In the brief clip, Downey thanks Lee for agreeing to cast him as Iron Man and Lee gives Downey acting tips.
- Review by Jen Chaney