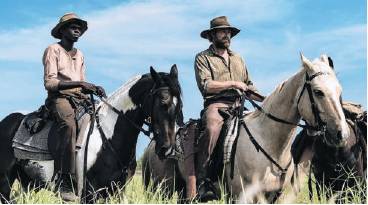 HIGH GROUND
Director: Stephen Maxwell Johnson
Cast: Jacob Junior Nayinggul, Simon Baker, Callan Mulvey, Sean Mununggurr, Jack Thompson
Rating: (R16) 
3 STARS 
REVIEWED BY JEREMY QUINN
The ''meat pie Western'', as I have just discovered to my great amusement, is a moniker used as a coverall term for Australian-made Westerns and bushranger films. A play on spaghetti Westerns, it also made me wonder what the Kiwi equivalent would be (it's ''pavlova Western'').
While taking story cues from the traditional Hollywood Western genre, these movies often deal specifically with themes of colonialism and imperialism, being a means of deconstructing the country's past in a way often overlooked by the Americans in favour of jingoistic myth-making.
High Ground (Rialto), while not based on a true story but inspired by actual events, is an impressive evocation of Australian history, at least until it falls apart in the second half.
It centres around ex-WW1 sniper Travis (Simon Baker), who in 1919 heads a police operation, in Arnhem Land, northern Australia, which goes out of control, resulting in the massacre of an Aboriginal tribe - the only survivors being a small boy, Gutjuk, who is rescued by Travis, and his uncle, Baywara, who escapes.
Twelve years later, Baywara (Sean Mununggurr), now responsible for a long series of murderous revenge attacks on colonial outposts, is being hunted by Travis, who reluctantly recruits Gutjuk (Jacob Junior Nayinggul) to help track down his uncle.
The film initially doesn't shy away from showing the violent nature of the European settlers, but by the end leans a little too heavily on the usual white saviour narrative, becoming yet another, not very exciting, shoot 'em up.