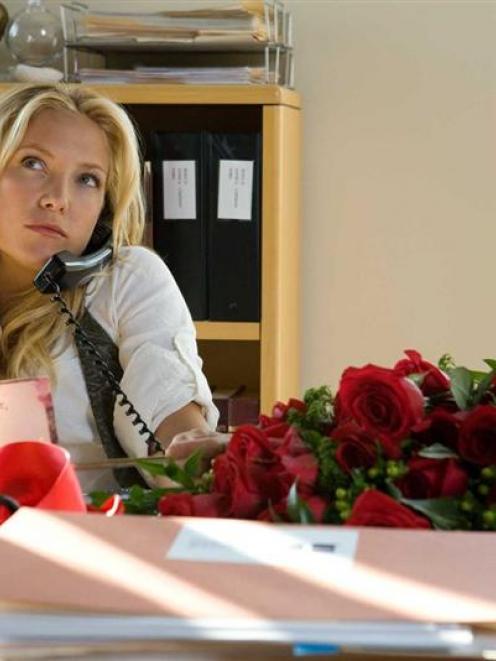 It's refreshing listening to Kate Hudson re-live disastrous dates.
If this Hollywood beauty has had shockers with suitors, it can make us regular types feel a little better about our horrific hook-ups.
There was the night Hudson turned up to a romantic Italian restaurant in Los Angeles to meet a friend of a friend.
Her potential boyfriend was a banker and one of her girlfriends had talked up the guy, raving how the actress and this financial wizard would be the perfect match.
"I left before we ordered our food because the guy was just so deeply boring," Hudson, wincing as she recalled the night, said in an interview in Los Angeles.
"I told him: 'I'm just going to save us from this and just leave'."
The awkward dates were Hudson's inspiration for her new comedy, My Best Friend's Girl, with stand-up comic Dane Cook.
Cook plays ladies man, Tank, who hires himself out to be the world's worst date. Men, desperate to get back with their exes, pay Tank to be a despicable male chauvinist pig so their girlfriends run back to them.
Hudson's character, Alexis, is in a relationship with Tank's best friend, but when Tank is hired to do his evil routine on Alexis, he falls for her.
Hudson, 29, has been Hollywood's go-to actress for romantic comedies over the past decade, with films on her resume including How to Lose a Guy in 10 Days, Le Divorce and You, Me and Dupree.
My Best Friend's Girl, with its MA15 rating in Australia, has more edge, raunch and language than what her fans may expect.
"But, I thought it depicted how the women I know are," Hudson explained.
"The films that I have been involved with that deal with love and sex and relationships have usually been down the straight and narrow.
"This movie is closer to what I have experienced with my friends and girlfriends.
"Emotionally, it has a really nice message.
"It's about friendship and why those relationships are so important.
"On top of that it is very funny."
The past two years have been as tumultuous for Hudson in her real life as the dramas that Alexis faces in this film.
In 2006, Hudson announced she was divorcing husband, Black Crowes lead singer, Chris Robinson. They have a son, four-year-old Ryder.
The break-up set off a paparazzi frenzy as she dated various men, including Tour de France champion Lance Armstrong and another Hollywood comedian, Dax Shepard.
"It's kind of a funny world we live in now," Hudson said.
"With the tabloids, I feel there's so much negativity out there.
"It's like people think that the public only wants to read controversial or negative things.
"Therefore, you end up dealing with a lot of people lying about your life.
"You have to answer to things that become this ridiculous onslaught of lies.
"That's a difficult place to live.
"That's the hardest part of what we all do.
"In order to deal with it, I go back to my life at home, my family and son, and my friends, and the experiences I have on set with the people I work with.
"It makes everything OK.
"It makes everything feel more balanced."
• My Best Friend's Girl is currently playing in Australian cinemas.
- Peter Mitchell