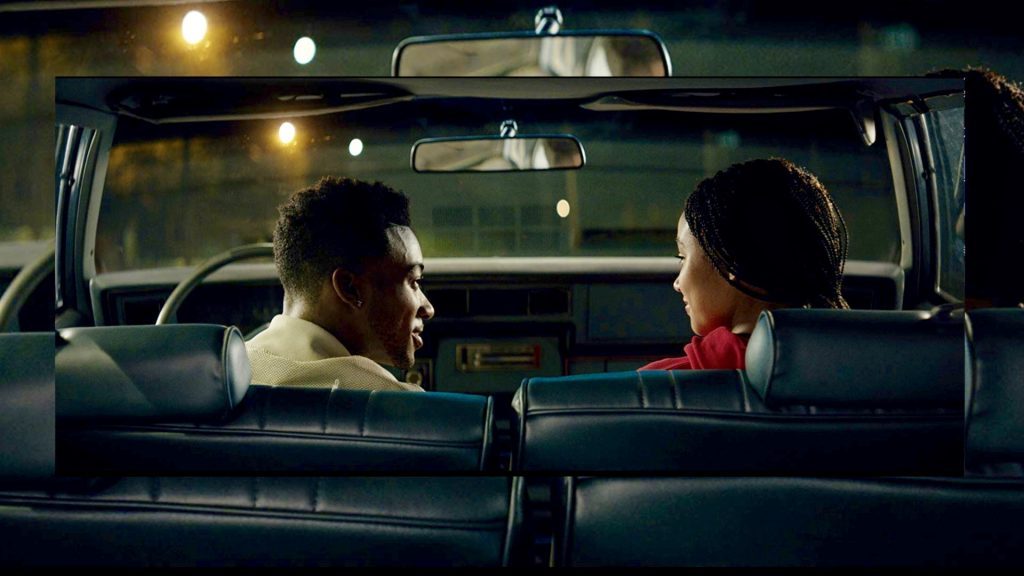 "What are you willing to die for?": Russell Hornsby discusses his breakout role in The Hate U Give with Tre'vell Anderson.
Inside an unremarkable single-family home on a sunny morning, Maverick "Mav" Carter sits at the head of a table joined by his wife, Lisa, and their three kids, Starr, Seven and Sekani. His eyes are fixed and face serious as he gives his children a talk - "the talk" - about how to act when they're pulled over by a cop.
He then presents them with a copy of the Black Panthers' Ten-Point Programme, telling them to commit it to memory.
This, the opening scene of director George Tillman jun's The Hate U Give, is what sold Russell Hornsby on the project. It was "something different," he said, something new and unapologetic to address what it can be like being black in America.
"That opening monologue, an opening salvo of the script that led with the father, with the male figure, the head of the house being strong and being present in his kids' lives ... As I read through it, the love that was in there, the passion, that's what sold me," he said.
And then, he read the reviews of Angie Thomas' New York Times bestseller of the same name that the film was based on.
"I said to myself, `Oh, this has a chance to really be something'," he said.
The Hate U Give follows Starr (Amandla Stenberg), a 16-year-old black girl who witnesses the fatal police shooting of her best friend Khalil (Algee Smith, Detroit). His death catapults her into the spotlight of the Black Lives Matter movement in her town as she finds herself and her voice. Hornsby plays her father and Regina Hall her mother, among a cast that also includes Common, Issa Rae, Anthony Mackie, Sabrina Carpenter and Kiwi K.J. Apa.
While the film fits with the emerging Black Lives Matter Cinematic Universe - on screen productions of contemporary socio-political life inspired by and related to the rise of the Black Lives Matter movement - it's the first to centre on a young adult, and female, perspective. It's that approach that made Hornsby feel, during production, "that we could really say something if we're as honest and forthright and truthful as we wanted to be".
"I look at it, honestly - and I could be off or wrong - as this generation's Boyz N the Hood, which helped define my generation," he said. "We learned about aspects of our community, about aspects of our society, about aspects of blackness and life at that time from Boyz N the Hood."
But what Hornsby did not know is that his performance would emerge as a stand-out element of the timely film; and something that might, finally, make the industry take proper notice of his talent. (Despite strong performances in the Oscar-nominated Fences and
HBO's In Treatment, Hornsby has been waiting for a true "breakout" moment.)
Granted, when the opportunity to audition came - "I was still, at the time, at that [career] place where you get submitted for jobs," he said - there was only one day to turn around a self-tape. But he was in "a different emotional space" required for the role he was filming in New York at the time; playing a grieving father opposite Regina King in the Netflix limited series Seven Seconds.
"There was no time to prepare, and I'm an actor that needs to prepare, especially as I get older," he laughed. "You can't just show up anymore and be cute. You get older, and roles are real now, so you've really got to do some work. And I was mad there wasn't time to work on it, but I did it."
The tape landed him a meeting with Tillman (Soul Food, Notorious), during which he did a monologue from August Wilson's King Hedley II, which he had performed on Broadway in 2007.
"I said to myself, `If I just do this monologue, which shows that I can do something kind of hood and this and that, it's a wrap!'," he said.
But he still had to audition to get studio approval from Fox days later. It provided him the time to prepare the way he wanted to, getting cornrows to help the character come to life. Once he booked the job, he said, "I dug in."
"I approached this like I did theatre back in the day, where I sequester myself and I don't really talk to anybody," he said. "This is a solo journey where all I do is focus on the character, the role, the story. Russell goes in and I come out on the other side as Mav. I'm finding his walk, finding his rhythm, finding his soul, finding his voice.
"For me, that is the craft of acting, literally creating something from nothing ... you can put me in any scenario, and I'm going to be [the character]. That's what I like to do. Those are the kinds of roles and the opportunities that I like because then I get to show what I can really do with some time and a character that I can flesh out."
Hall called Hornsby's process "wonderful and such a reminder as to why you start acting in the first place ...
"To tell a story, to have a character live through us and to have an audience have an experience with us of their own," she continued. "And because he does so much theatre, the way he rehearses and approaches a character is incredibly genuine and honest. That's what we wanted to do. We wanted every family to be able to identify with those parents and to make sure black people felt like, `That is us' too."
Considering The Hate U Give is a contemporary story, everyone involved shouldered a responsibility to keep the story as authentic as possible. While filming, Tillman said the spirits of Philando Castile and Alton Sterling - black men killed by police within a day of each other - wafted through the set. So did the energies of the demonstrators in Ferguson, Missouri, and the unrest in Charlottesville, Virginia. The hoodie Starr wears in the film is an homage to Trayvon Martin, the black teen killed by self-appointed neighbourhood watchman George Zimmerman in Sanford, Florida, in 2012.
"Sometimes, you have those projects where you know you have to go that extra mile and work extra hard because it's not just for you," Tillman said. "And for us, we wanted to be authentic. That holds a lot of responsibility, and I felt it more than anything when we did the [police] shooting [sequence]."
A similar feeling went through Hornsby when it came time to film the opening sequence.
"It was very difficult for me ... I had to keep myself from not breaking down every take," he said, noting that he struggled even during table reads. "Literally whatever I could do while shooting to keep from crying, [I did] because of me having two sons and knowing the state of the country and it really being in my DNA that this is real.
"It was difficult to separate Russell from Mav [in that moment]. Mav is saying `This is what it is,' but Russell's going, `Man, this is painful. This hurts'."
(Hornsby's own sons, 1 and 3, are too young for "the talk," but, "I know that some aspect of that conversation will have to be shared with my boys, definitely," he said.)
And then there's the scene in which Mav, after a run-in with police witnessed by his family, makes his three kids line up on the grass in front of their house and recite a portion of the Panthers' Ten-Point Programme:
"We want an immediate end to police brutality and murder of black people."
He urges the kids to speak, despite the consequences, channelling the ancestral and justified rage of an oppressed community. By the end of the scene, audiences at early screenings were applauding in theatres.
"A lot of my friends and the people who know me know I'm a feeling person," Hornsby said. "I feel, deeply ... And I think what carried [that scene is that] it's not just about the words on the page ... I had to go to a place where everything is literally life and death. I'm not, at that moment, acting anymore. I'm telling Amandla, I'm telling Lamar [Johnson], I'm telling TJ [Wright], as Russell, `This ... is real. They will kill you. So, if you're gonna go down, go down swinging. Go down for something. If you decide to speak, speak out and say something. If not, sit your ass down. Because that's how it is in life.'
"I can't fake emotion. So what you saw was 110% of me."
Hornsby says they are giving audiences something they can feel.
"We're just saying, `Sit down for a minute and feel'." - TCA