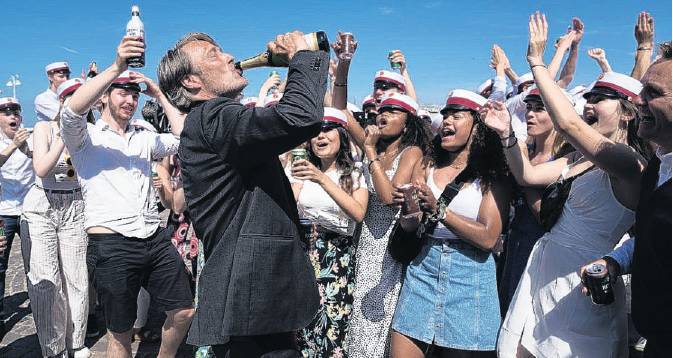 ANOTHER ROUND
Director: Thomas Vinterberg
Cast: Mads Mikkelsen, Thomas Bo Larsen, Magnus Millang, Lars Ranthe, Maria Bonnevie, Helene Reingaard Neumann
Rating: (M) 3+ STARS 
REVIEWED BY jEREMY QUINN
This Danish tragicomedy from Thomas Vinterberg (The Celebration) sees depressed high school teacher Martin (Mads Mikkelsen), and three of his colleagues, all in the throes of mid-life crisis, propose an experiment that involves them maintaining a consistent level of intoxication throughout the working day.
Inspired by the theory of Norwegian philosopher Finn Skarderud, who believed that humans are born with a much lower blood alcohol level than is required for optimum happiness (0.05% supposedly being the correct amount), the four friends start daydrinking with the proviso they stop by 8pm (as per Ernest Hemingway) and spend the weekends sober.
Another Round (renamed from the Danish title Druk, meaning binge drinking) uses this setup to explore aspects of Danish drinking culture that could easily be applied here, opening with a crowd of high school students participating in a race in which they circle a lake, each consuming a box of beer. It's not far removed from many unofficial Orientation Week events.
As for the experiment, things initially get better for the men - Martin begins to bring some energy to his previously uninspired history lessons, and his relationship with his wife and family improves - but when they decide to up the ante (for research purposes of course), it all takes a predictable turn for the worse.
While the film is enjoyable, and provocative in its execution, it also isn't clear exactly what it's saying about its chosen subject, ending on an ambiguous note that will nevertheless inspire robust discussion at the pub afterwards.