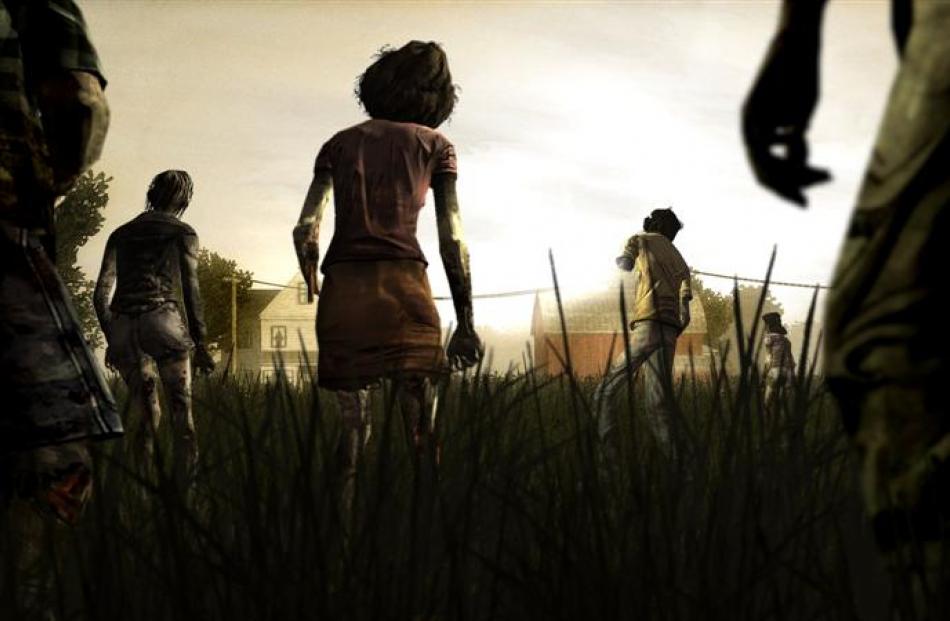 Reviewers Hayden Meikle and Simon Bishop reflect on the best and the worst of gaming in 2012. -
GAME OF THE YEAR
Meikle: Borderlands 2. Loved the first, loved the second. Funny and brilliant and like nothing else on the market.
Bishop: The Walking Dead. A five-part series based off the comic book. Absolutely amazing in every respect. A true must-play experience.
HONOURABLE MENTIONS
Meikle: Assassin's Creed 3 is a fantastic addition to the series and just keeps getting better. Sleeping Dogs was good, if a blatant GTA clone. And two No 3s - Mass Effect 3 and Far Cry 3 - highlighted the beginning and the end of the year.
Bishop: XCOM Enemy Unknown really surprised me. Excellent strategy games are few and far between, and XCOM is exceptional. Spec Ops: The Line was also a real highlight. Certainly worth a look as the price comes down.
PLEASANT SURPRISES
Meikle: I expected to hate Transformers: Fall of Cybertron, but it actually wasn't half bad.
Bishop: The Darkness II. Quite enjoyed the first one back in 2007, but this one was a much better game overall. Story was great, gameplay was fantastically gory. Under-rated.
HARDLY WORTH IT
Meikle: Street Fighter X Tekken left me cold. And (gasp) I really didn't see what all the fuss surrounding Halo 4 was about.
Bishop: Twisted Metal was the game I disliked the most. Disgusting narrative, disgusting to look at and the controls were even worse. I wouldn't give it to my worst enemy.
GAMES WE WISH WE'D PLAYED
Meikle: Rugby League Live 2, Hitman Absolution, Journey and Max Payne 3.
Bishop: Max Payne 3 is on my wishlist, too. Others that I'll play some time down the track include Far Cry 3 and Sleeping Dogs.
BEST SPORTS GAME
Meikle: Fifa 13 is growing on me, though its gameplay still needs some work. NBA 2K13 was excellent, and UFC Undisputed 3 was also good. But it was Madden 13 that really stepped up this year. Great new Connected Careers mode, fleshed-out Ultimate Team and a sparkling package of gameplay/graphics. Brilliant stuff.
Bishop: Madden 13 also wins it for me this year. The first Madden game where I've felt the defence aspect of the game was more enjoyable than the offence. Very good overall and very good longevity/value for money, as with most sports games these days.
BEST DRIVING GAME
Meikle: Not exactly a vintage year. Forza Horizon presented a fun range of races and options, but was always going to suffer in comparison with Forza 4. The most enjoyable game was the downloadable Trials Evolution.
Bishop: Need For Speed Most Wanted. It's pretty much a direct sequel of Burnout Paradise, just called a different name and with real cars instead. Burnout was awesome, though, so that's OK. Multiplayer with friends is an absolute blast.
BEST CHILDREN'S GAME
Meikle: The 127th Lego video game came out late in the year - and, coincidentally, 127 will be the total viewing time, in hours, of all The Lord of the Rings and Hobbit movies put together. Lego Lord of the Rings is marvellous fun. A ''children's game'' for everybody.
Bishop: I played very few children's games this year. Of those that I did, LittleBigPlanet Vita edition was probably the best. The full LBP experience translated over, with added features that take advantage of the Vita's abilities. Appeals to everyone also, not just the young'uns. Honourable mention to the Ratchet and Clank Trilogy, three PlayStation 2 classics that stand up well today.
MOST ANTICIPATED GAMES IN 2013
Meikle: Bioshock Infinite. It's been a long time since I was this excited about a non-sports game. Also looking forward to Grand Theft Auto V.
Bishop: I will be all over Grand Theft Auto V. Others that I'm looking forward to are The Last of Us, from Naughty Dog, and Dead Space 3. Also looking forward to finding out about the next generation of consoles.