GHOST OF TSUSHIMA
For: PS4
From: Sucker Punch
Rating: (R13) ★★★★+
REVIEWED BY BEN ALLAN
As we near the end of this generation of consoles, we're seeing games that wring every last drop of capability out of the venerable hardware. 
Hot on the heels of The Last of Us Part II and all its impressive visuals, here's Ghost of Tsushima, another absolute monster that leaves you wondering how much more spectacular-looking games can get.
An ode to samurai history/ legend, and perhaps more specifically the iconised samurai films of directors such as Akira Kurosawa, Ghost of Tsushima drops players into a scaled recreation of the real-world offshore Japanese island in the late 13th century. You'll spend the game behind the shoulder of Jin Sakai, a young samurai of a noble household whose first unenviable task is to ride into battle with a Mongolian invasion fleet. It's probably not much of a spoiler (especially as this was a historical event) to say things go poorly for Tsushima's defenders and in the wash-up, Jin is left all but alone, surrounded by hostile occupying forces, trying to gather allies and doing whatever he can to liberate his homeland.
It's worth saying at the top: Jin's surroundings are gorgeous. Brooding storm clouds crackle on the horizon, wind ripples over massive fields of pampas grass and golden leaves flutter down from an extensive canopy to carpet the forest floor. The striking imagery throughout the game runs the gamut from clifftop vistas of the sunrise over the ocean to tense standoffs in muddy village streets in the pouring rain. There's always something new to gawk at, and it would be a shame to opt for the game's provided ''Kurosawa mode'', which drops it into black and white without first experiencing all its spectacular colours.
That's just what it looks like. What's a samurai to do in all this graphical magnificence? Ride around causing and ending trouble, of course. Ghost of Tsushima is reminiscent of a lot of open world games, sprinkling its enormous map of Tsushima with Mongol strongholds to bring down, characters to meet and mission with, collectables to find and — yes — scenery-inspired haiku to compose.
The game offers main and secondary story mission objectives for each of its ''acts'', and plonks these on the map for you, but there's no time limit to tackle these, so in between Jin is free to explore.You can be pointed in the direction of missions, or ''tales'' in the game's parlance, by talking to Tsushima's people, but the game is also designed strongly to reward aimless meandering.
In between all these diversions — and there are a lot — you can get to the business of liberating Tsushima. A great many Mongols (hordes, even) are dug in around the island both in minor and major encampments, and Jin can destroy these facilities to help liberate the island. Story and side missions will also pitch him directly into conflict.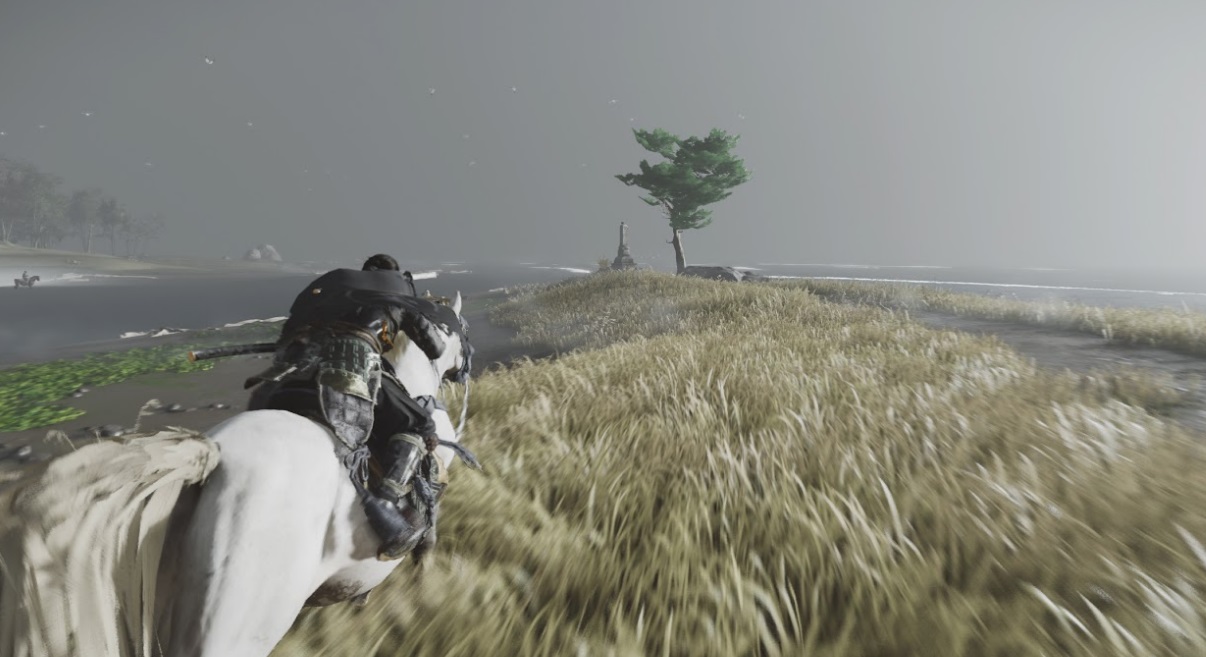 Here he has options. As a samurai, he's an accomplished swordsman, so if you so choose you can start almost any combat situation by literally calling out opponents to come and fight you, putting you into a samurai fastdraw contest mechanic, complete with slow motion, that never really gets old. After that it's melee combat proper, in which parrying, sidesteps and quick, decisive blows are the order of the day. As Jin bests Mongol leaders, he unlocks new stances that work especially well depending on the type of opponent he is facing, and learning to switch smoothly between these multiple times in a fight is key to success. He also eventually picks up legendary techniques such as lightning-fast strikes that make him a truly dangerous warrior, able to take on many opponents at once.
Sometimes though, a more discretionary approach is needed (or mandated), so Jin can choose pragmatism over the samurai code and sneak around for a bit of backstabbing. With a bow and several sneaky tricks, such as smoke bombs and distracting noisemakers in his arsenal, Jin is perfectly capable of taking down entire encampments in stealth mode, lurking in the grass and plunging from roofs sword-first on to unfortunate guardsmen.
Despite dozens of hours in the game, I haven't seen the story all the way through to the end yet, there's always another farm to liberate, legendary armour to rediscover or hot spring to soak in.
If there's a down side, it's that Ghost of Tsushima has an uncanny ability to remind you of other games. It includes a lot of different mechanics and situations that individually might seem very familiar to experienced gamers.
But that's a qubble. Dive in: go for the Japanese dialogue with subtitles, whistle for your trusty horse and find out what's over the horizon — and see if you don't find yourself making samurai noises out loud at your television.
 - Ben Allan