Bridget Douglas may have discovered the flute by accident and taken her time to study it but she has not looked back. Rebecca Fox talks to the Dunedin-born and bred New Zealand Symphony Orchestra flautist.
Bridget Douglas still remembers it vividly.
The hundreds of children of all ages and abilities from Dunedin's Saturday morning music classes crammed on to the stage and choir stalls of the Dunedin Town Hall as, from the podium, Aart Brusse held them all together.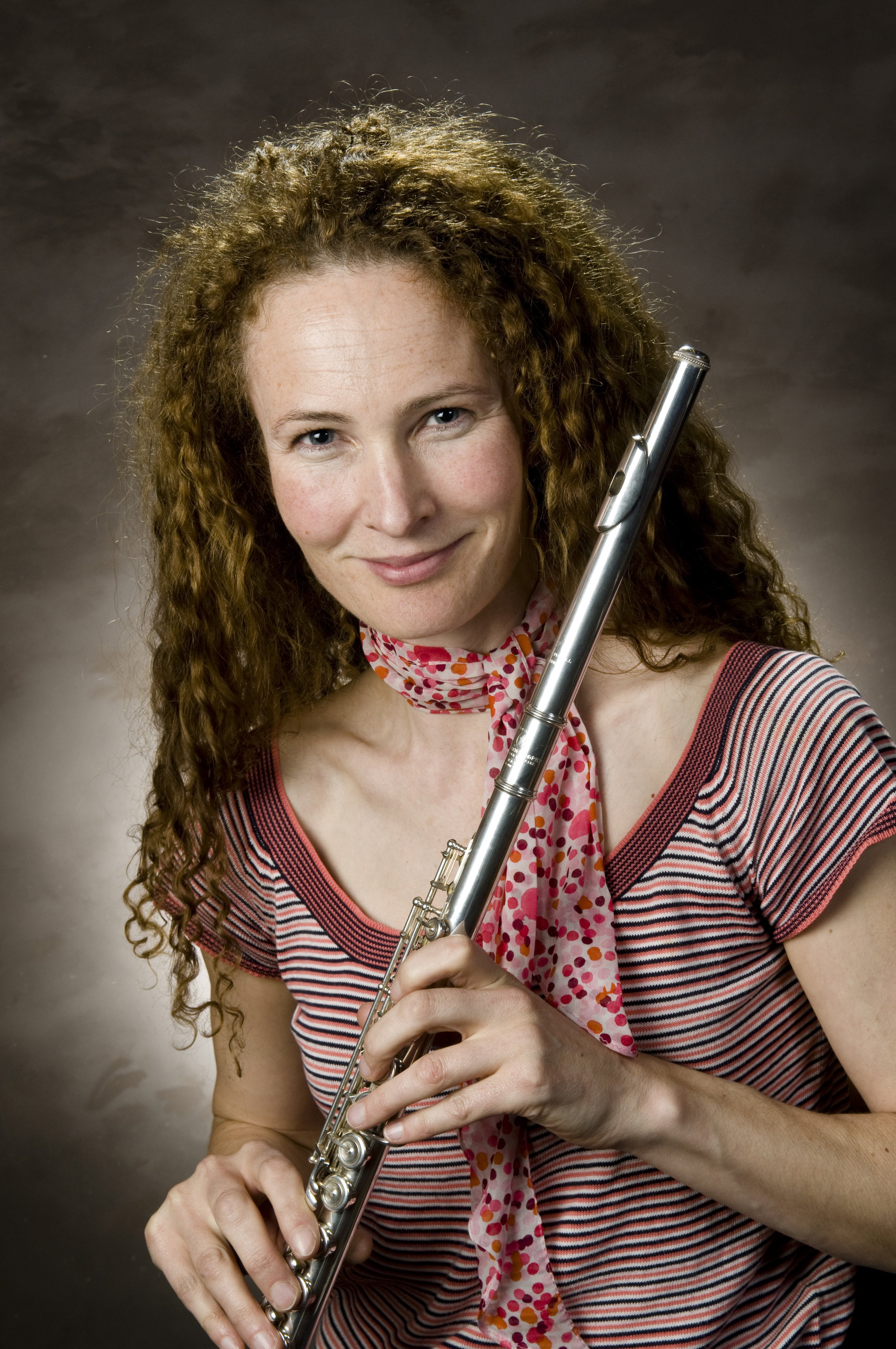 Douglas was among the group eagerly waiting to play her favourites, the rousing finale of Beethoven's Symphony No 9 (Ode to Joy) and the ''Great Gate of Kiev'' from Mussorgsky's Pictures at an Exhibition.
''It felt like we were going to take the roof off the town hall from the shear volume and effort of us all straining away together.''
These days when she plays at the town hall it is among the 90 or so members of the New Zealand Symphony Orchestra - a position she has held for 22 years.
''Every time I play in the Dunedin Town Hall now with the NZSO, I still fondly remember those concerts.''
Douglas' flute career got off to a slow start as she originally learnt piano - her mother was a pianist and her grandmother a piano teacher who taught her music theory.
''Mostly Sunday afternoons at her place, followed by lots of card games, a black and white TV movie (usually an old musical) and lots of Ernest Adams cakes or slices.
''The radio was always tuned to Concert FM in our house so I grew up with classical music around me - it was just part of our daily life.''
She discovered the flute by accident after her mother suggested learning another instrument at Saturday morning music classes at George St Normal School.
''On the morning we went down to rent an instrument, I had in mind that I'd learn the clarinet but there were none left ... there were some flutes, however.
''I was pretty slow to advance at the beginning as I'd never played the recorder before and everyone else in the class had [the recorder has a very similar fingering system to the flute].''
She was a pupil of the late Denise Wark, an ''amazingly generous musician who was incredibly encouraging and supportive of all her students''.
Wark ''always had a smile on her face and her love of music and the flute was infectious''.
She left behind an incredible legacy of flute students. Many continued their music study after school and Dunedin. There are professional performers, music teachers, music therapists and music/arts managers and administrators around the world whom she inspired, Douglas says.
She went on to play in the Dunedin Youth Orchestra and Dunedin Collegiate Orchestra where she met others who were going on to study music at university level.
''I hadn't considered that as an option before then but it made me think that perhaps it was a possibility.''
She credits the experience gained in those orchestras and the South Island Youth Orchestra and the National Secondary Schools Orchestra as developing her love of playing in orchestras.
''The Dunedin Youth Orchestra [DYO] was my first orchestral experience and got me hooked. We were so fortunate to have such dedicated and patient conductors in Aart Brusse, Peter Adams and Anthony Ritchie.
''There's a lot of great team-building skills that are learned playing in an orchestra and they're also incredibly social and fun for kids.''
She stepped on to the stage with the Dunedin Symphony Orchestra when she was 16 years old.
''It was amazing. The Sinfonia sounded so good compared with the youth orchestras I had been in. I still remember my first rehearsal and gig with them - it was Gilbert and Sullivan's The Pirates of Penzance.''
The older more experienced musicians were supportive and she felt ''incredibly lucky'' they decided to take a chance on her.
''It's wonderful to come back now to the DSO as a soloist - many of the players are the same from all those years ago. It really does feel like coming home to make music with old friends, and the DSO was an important stepping stone towards the job I have now in the NZSO.''
But at 17, she was not quite ready to leave home to study flute (back then you couldn't study flute performance at Otago University) so she decided to follow in her father's science footsteps.
''Doing a more 'sensible' bachelor of science at Otago Uni seemed like a safer step and I knew that I could always study the flute after that.''
However, while enjoying science, it did not dispel the feeling that she loved the flute more and wanted ''to at least try to be a real flute player''.
So she went to Victoria University of Wellington to study flute with Alexa Still (former principal flute of the NZSO).
'' I loved it and haven't looked back.''
Following in Still's footsteps she left Victoria for the United States and a specialist graduate music school at the State University of New York at Stony Brook, studying flute with Samuel Baron.
''I auditioned by sending a cassette tape (I'm showing my age) with my final recital at Victoria Uni and was accepted based on that. It was mindblowing to be ... surrounded by so many fabulous and focused music students and music teachers. I lapped it up and threw myself into everything. I knew what a once-in-a-lifetime opportunity this was for me.''
Although she was on an incredibly tight budget, she got some financial assistance through scholarships and a stipend from the university for tutoring undergraduates.
''I went to as many concerts and operas in New York as I could ... I became a specialist at turning the $10 standing tickets at the Metropolitan Opera in New York into A Reserve seats once the lights went down.''
She was also a member of the Chicago Civic Orchestra for a season.
Her debut recital was at Weill Recital Hall in Carnegie Hall, a prize for winning the Artists International Award, an experience she describes as ''scary and intimidating''.
''It went by in a bit of a blur. I felt immense pressure to perform well and worked really hard towards that recital. There is such a long and distinguished history of musical performance at Carnegie and I didn't want to lower the tone.''
The Carnegie recital was a week after she had returned from New Zealand where she had trialled for the NZSO job so it was a ''pretty intense time''.
She got the job with the NZSO in 1997 and enjoys ''doing what I love for a living''.
''It's a real privilege - I'm surrounded by my friends who are wonderful musicians and supportive colleagues. We play music together to audiences all around the country sharing our joy and love of music. There's nothing quite like sitting in the middle of 'the band' of 90 players as we work together to bring great music to life.''
Some of the more memorable experiences for Douglas have been overseas tours playing to large audiences at the Royal Albert Hall in London (with fellow Dunedinite Jonathan Lemalu as soloist), the Musikverein in Vienna, the Concertgebouw in Amsterdam, as well as playing with world-class soloists who have worked with the NZSO in New Zealand such as singers Renee Fleming and Bryn Terfel, violinists Pinkas Zuckermann, Hilary Hahn and Janine Jansen, and playing with Sting.
Alongside her commitments as principal flautist with the NZSO, Douglas co-founded contemporary ensemble Stroma with Dunedin-born composer Michael Norris and conductor Hamish McKeich.
''We had all lived overseas and been part of vibrant contemporary music ensembles. Wellington was lacking in a dedicated, flexible ensemble of professional musicians and we decided to make it happen.
''It was a real labour of love for us all and I'm proud that it's still going.''
She describes playing contemporary music as a bit like solving a mathematical equation or scientific question.
''The music is not always obvious at first sight and you need to discover it gradually as a performer. I like the way it makes my brain work in a different way - it can sometimes feel like hard work but it's incredibly rewarding when you gradually uncover a new and beautiful piece of music.''
Commissioning New Zealand composers to write is an important part of Stroma's reason for being, she says, as is presenting new works by contemporary composers from around the world.
''I believe it's important to present the music of today and not just play music of dead composers. Music is a living thing that is constantly developing and changing, just as art, dancing and writing are not the same as they were 200 years ago.
''I think it's our responsibility as arts practitioners to present the art of 'now'. I know some new works can seem quite confronting and daunting at first, especially if they're not based on a traditional tonal harmonic framework, but if you listen with a really open mind you can usually find something interesting and beautiful about it.
''I especially love working with our many talented New Zealand composers. They really are world class.''
To hone her skills she also plays in harp-flute duo Flight which enables her to regain her musical voice as she works with her colleagues to form a musical consensus - something you do not get in orchestral music where the conductor is always the boss.
''The conductor is responsible for the overall interpretation and shape of the music as a whole. As an orchestral player you sometimes have to stifle your own musical instincts.
''Playing chamber music is a lovely balance to life as an orchestral player as it forces you to be actively involved in all musical decisions. It's also just a lot of fun making music with friends.''
Douglas also teaches flute and is acting head of Winds at the New Zealand School of Music at Victoria University.
''Teaching makes you evaluate how you play yourself and forces you to find ways to help your students develop as musicians.''
Her advice to budding flautists is to practise.
''There is definitely something in Malcolm Gladwell's 10,000 hours theory. Be prepared to work hard and don't be afraid to throw yourself into as many diverse and challenging musical experiences as you can.
''The more you perform, the better and more comfortable you get with it. But mostly you just have to find the joy in the music and try to communicate that to others.''
Douglas herself is continually working to evolve as a musician, trying to have a better tone and technique and always questioning her approach to playing and her musical interpretation of works.
The works she will play with the NZSO this month are John Ritchie's The Snow Goose and Quantz's Concerto in G Major.
She has always been attracted to the work.
Ritchie is a master at writing heartfelt music that is touching in its simplicity and authenticity.
''When I was looking for a New Zealand work to play in this concert with an Otago Uni connection, this work was an obvious choice.''
She has recorded and performed his arrangement of the work for flute and piano but this is the first time she will have played it with an orchestral accompaniment.
''I'm looking forward to it.''
Quantz was probably the most famous flute virtuoso of his time and wrote prolifically for the flute - over 200 compositions alone for his employer, King Frederick the Great of Prussia.
Douglas says his Concerto in G Major is one of the most idiomatically written works for the flute.
''It's virtuosic and challenging but also incredibly rewarding and fun to play as it all makes sense on the flute. It's one of my favourite Baroque works for flute.''
She will be conducted by Kenneth Young, who was the tuba player in the NZSO when she first joined the orchestra in 1997.
''I have a huge amount of respect for his musical abilities and he has conducted me as a soloist before. I know I can trust his musical instinct and feel supported as a soloist when he's conducting.''
To see
Bridget Plays Baroque with the Dunedin Symphony Orchestra
King's and Queen's Performing Arts Centre
Saturday at 5pm and Sunday at 3pm.