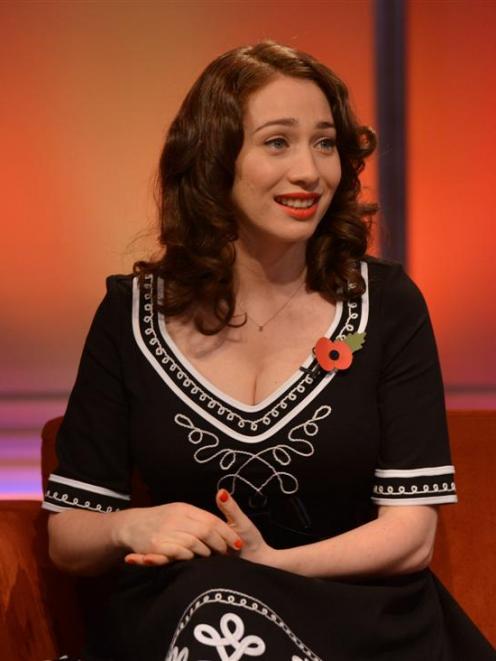 Before her tour here, prolific US artist Regina Spektor tells Lydia Jenkin, of The NZ Herald, how writer's block has never been a problem.

It seems that Regina Spektor was almost destined to be a pop star. A strikingly pale-faced, raven-haired, blue-eyed piano player with a characterful voice, she emigrated from Russia to the Bronx with her family at the age of 9 as a political refugee.
She studied classical piano at the Manhattan School of Music, and went on to achieve a degree in composition, but despite these years of experience she doesn't consider herself a qualified classical musician.
"I think to call me a classical musician is an insult to classical musicians," she explains in her whimsical high-pitched voice, down the phone from New York.
"I don't have at all what it takes to be a classical musician - I have the utmost respect for their talents. But I think having listened to a lot of classical music, and having learned to love it the way that I do, it's definitely a giant part of me, and probably the biggest part of how I write and perform. But I also really love rock 'n' roll, and pop, and there's another side of me that's really connected to that."
Her fifth studio album What We Saw From the Cheap Seats, released earlier this year, captures that collision of inspirations beautifully, with many of the tracks recorded live with Spektor playing piano and singing simultaneously, with further wide-ranging instrumentation and experimentation added over the top.
The songs were not all specifically written for this album, however, as the prolific Spektor has 10 years' worth of songs waiting in the wings which have not been recorded or released, just waiting to find a home on an album.
"There's a song I want to put on every album but for whatever reason it just doesn't feel right, so I'll wait until the next record and try again, and then wait until the next record and then try again. There are some songs that have been waiting for a really long time."
She's also hesitant to try to explain where the inspiration for her wide-ranging music comes from, or even the album title - it's not that she's inarticulate on the subject, just reluctant to colour her music with explanations.
"I always have the hardest time trying to talk about it, because I like to be conceptual but not necessarily definitive. I always prefer for as much of the art to stay free of my own definition as possible, I feel like it weighs it down.
"But I can tell you I was thinking of the title long before I ever started working on the record, and long before I knew what songs would be on there.
"It's not necessarily that I had a concept, it just felt right I guess."
Many have commented on her wonderful observational ability, and her lovely viewpoint that is somehow both childlike and wise, whether it's a quirkily barbed political comment, or during a deep love ballad.
Spektor feels she has no particular goal or agenda when it comes to writing songs, the ideas simply arrive.
"You're not really trying or thinking; you're just being really open and doing what feels right. We're always thinking and shaping our thoughts, and I think you're constantly making art even when you're not doing it deliberately. You might think, 'Oh, I came up with that so fast,' but for all you know you've been working on this for years and you just didn't realise.
"Slowly but surely, little things get stuck to a little idea and it grows in your subconscious, until suddenly it's just there.
"In that way I don't really believe in wasted time so much any more.
"Or maybe it's just my convenient way of being lazy, I don't know."
Lazy is not the right word, but she's certainly an artist from whom talent seems to simply flow, and she appears unconcerned about ever having writer's block. For a long time she would not actually write her songs down as she was creating them, confident another one would soon arrive.
"I used to forget a lot of songs, but I got really lucky, because I play all of my songs live, like every song I've ever written, and there would always be people that would record my shows and put them online.
"I am so grateful to them because I honestly wouldn't have had the chance to work on a lot of the songs without those recordings."
So if you're there to see her perform at the Auckland Town Hall (with support from Only Son, aka Jack Dishel, her husband), feel free to whip out your camera and record a clip or two - Spektor could be grateful when she wants to jog her memory for the next album.
---
See it, hear it
Russian-born American singer-songwriter Regina Spektor plays the Auckland Town Hall on Monday, December 3. Her new album What We Saw From the Cheap Seats is out now.
---