The Anzac Centennial Revue in the Dunedin town hall yesterday marked 100 years' existence of Dunedin RSA Choir.
The choir (directed by Karen Knudsen) and supporting artists presented an enjoyable programme including the traditional Ceremony of Remembrance with Last Post, Ode and reveille (Ralph Miller). Rhiannon Cooper compered, and accompanists were David Burchell, Johnny Mottershead and Mark Wigglesworth.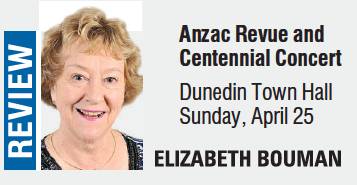 An 18-page colourful souvenir programme included photos, interesting profiles and historic content. After national anthems of both Australia and New Zealand, the choir sang Happy Birthday to themselves, followed by some reminiscences by Keven Tansley.
A rather contemporary full harmony arrangement of Hine e Hine included choir scholar Alexander McAdam, then scholars Lillian Gibbs, and Emma McClean joined for Highland Cathedral. Piper Murray Tannock and drummer Sam Coutts added a touch of patriotism.
Baritone Scott Bezett sang Avant de quitter ces lieux from Faust and To Gratiana Singing and Dancing (Browne) and was joined by Rhiannon Cooper (soprano) for the favourite duet All I ask of You.
Dancers from Bennett School of Ballet and Jazz entertained with a variety of dances. Glittering costumes and especially white tutus for the classical Der Traum highlighted the styles of dance. Watching so many fit young people no doubt reminded the majority of the audience of how agile we once were, long ago!
Emma McClean joined for Bridge Over Troubled Waters and a touch of humour came with Knudsen's arrangement of Covid Rap, with text by Guy Noble. The choir discarded their crimson jackets and it was on with a variety of hats and into choreography for YMCA.
Mosgiel Brass (conductor Philip Craigie) celebrating 150 years in 2022, opened the second half of the concert with a rousing section of wartime favourites.
The choir sang several more numbers and a highlight was Run Soldier Run - an emotive, forward moving composition by Knudsen, using lyrics by her mother, from her grandfather's wartime poems.