Rock legend, and we use the term advisably, Don Henley is bringing the Eagles to Dunedin. A somewhat starstruck tony Neilsen pulls himself together for an interview. 
It's 8am ... I've been awake for hours, fearful I might sleep in.
Finally the phone rings. A long distance call from Dallas, Texas.
"Hi Tony, this is Don Henley."
Yes, it's for real! I've landed an exclusive interview with the only original member of the Eagles. Best check out the local weather first.
"It's lovely here today, it's cool. Feels like autumn, it's nice," Henley offers.
I pass on my congratulations, following the recent news the band now has the best-selling album of all time, the Eagles Greatest Hits, 1971-75.
"It's not something we put a lot of thought into really," Henley says of the album. "A happy accident, I guess. It's gone back and forth between the Eagles and Michael Jackson over the years. The media has made it into something of a contest, which we don't really want it to be. They hadn't done a count since 2006 so they recently did a recount and we were surprised to get the news and also learn that our Hotel California album had also come in at number three. We just feel very grateful and on we go. We must've done something right.
"The irony is that we didn't even want the album to come out. We had just put out our fourth LP, One of These Nights, in 1975, and the record company, after that album had run it's course, they wanted another one to fill the gap, while we were finishing Hotel California. They said, `We're going to put out a greatest hits record', and we said, `We haven't got enough hits for that yet', and they said, `We're going to do it anyway'. The song Hotel California isn't even on the album. But it's been a wonderful thing, you know."
Alongside Henley, the Eagles line-up for the Dunedin concert in March will consist of Joe Walsh, Timothy B. Schmit, Vince Gill and Deacon Frey. There will also be horn and string sections.
Henley, at 71, joins the likes of Paul McCartney, Bob Dylan and Elton John among the ranks of elder statesmen rockers still touring.
"Well, what else can I do," he says. "It's what I have known all my life and we still love it. We love the fans. We love to play the songs to them. It's not as easy as it used to be. There are some physical obstacles that we have to overcome. I work out with a trainer on tour five days a week. It requires a lot of discipline and a lot of work.
"The band is different now obviously. The band is not the same band that it was, but the people want to hear the songs live."
While Walsh and Schmit have been with the Eagles since the 1970s, Henley is the only remaining original member of the band, which he concedes attracts a certain spotlight. Fellow band-founder Glenn Frey died in 2016 at the age of 67.
"Well, Glenn and I were the co-captains of the band since the beginning and so the responsibility does fall more on me, although I do look to the other members, and to our tour manager. We all pitch in on the decisions about what's going to happen, but yeah, there is more responsibility on my shoulders. But that's fine. I can handle it. Of course, I've handled the responsibility of my solo career for many years now.
"The Eagles is a well-oiled machine. We have some of the same crew members we've had for many, many years. There are almost a hundred of us in the touring company. Everything works pretty smoothly."
The current line-up does bring another element of continuity - Glenn Frey's son Deacon on guitar.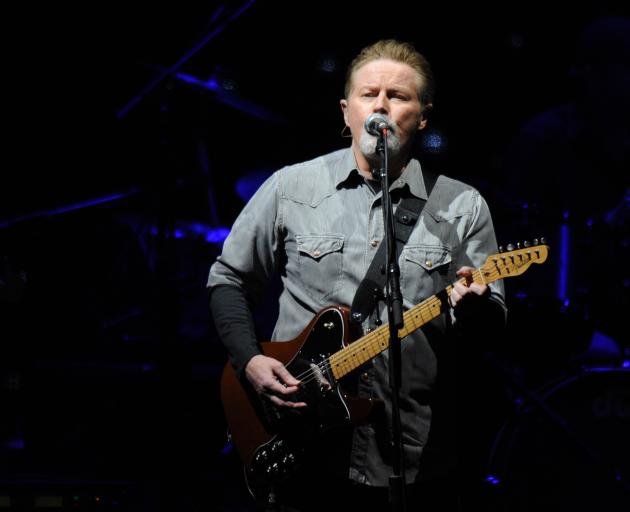 "The sound is very similar to what it's always been," Henley says. "But Glenn's son doesn't sound exactly like his father.
"He's a very good guitarist, and plays in a style similar to his father, because he's grown up watching the band his whole life. He's 25 now but he was 23, 24, when he stepped into the role. It was not easy for him. His first show was at Dodgers Stadium, Los Angeles, with a crowd of about 56,000. He did it. He kept his composure. We're very proud of him. He's getting more comfortable up there with every show. He looks like his father.
"And I'm back there on the drums and he stands directly in front of me. And I look on him from the back and he looks uncanningly like his father looked in 1975. The crowds are embracing him, too. It's great to see their acceptance of him, and also their acceptance of Vince Gill."
Country musician Vince Gill has been with the band since last year.
The music doesn't stop with the core band members, though.
"We have a wonderful brass section," Henley says, "which we use mostly on Joe Walsh's songs. Joe has helped with the horn arrangements. We also have a four-piece string section to enhance the songs that were recorded with strings. It makes for a big sound. And we have a brand-new state-of-the-art sound system and an excellent sound engineer."
I saw the Eagles in Christchurch, in 1995, in light rain, I tell Henley. It was the last time they headed this far south. Does he have any special memories of New Zealand?
"We all love New Zealand. Of course, I toured recently with my solo show, with Jewel. It's always a treat to go to New Zealand. I've actually been thinking about property down there."
The Eagles show draws on the band's seven studio albums, but the band members also have their solo material to draw on. Henley's responsible for chart-toppers such as Dirty Laundry and The End of the Innocence.
"I don't know," he says of the prospect of playing some of those. "We have so many Eagles hits to play. Our show is over two and a-half hours long and we still don't manage to get all the hits in. We have done Boys of Summer occasionally, so you might get to hear that. And we also do some things from Joe's solo career. In fact, we even do one of Vince Gill's songs. So there's a wide variety. The set list is 23 or 24 songs."
Henley says he's on the drums about half the time these days.
"We have had a second drummer now for many years, since 1994. So it's about 50/50. He plays half of the songs and I do the rest. Sometimes I go out to the front of the stage, play guitar and sing from there."
The prolific songwriter says he is not penning much new music these days.
"I hear songs in my head all of the time, but I'm busy with three kids in college and the Eagles tours going on. There's just not much time for the kind of reflection it requires to write. I hope to get around to it again at some point. But nothing presently, no.
"I put out a new album about three years ago. You know, there's ageism in the music business. If you get to a certain age it's hard to get your songs played on the radio. I could sit down and write the best album I have ever done and it probably would not get played on the radio. Sad but true. But we have streaming. We have YouTube. We have the internet. So we have other ways of getting the music to the people.
"I hope before I hang it up I can write another group of songs. But no plans presently. I've got my hands full with the Eagles. ... We're in strange and uncertain times right now. People need something familiar."
Away from the music, Henley has been championing environmental causes in the US, including the Walden Woods Project, which aims to "foster an ethic of environmental stewardship and social responsibility".
"Yes, I founded that project in 1990. We preserve the land and the legacy of a fellow named Henry David Thoreau, who was one of New England's writers and one of the founding fathers of the environmental movement.
"One of my bucket list dreams is to hike the Milford Track," he says. "I've looked at it on the web. Some day I'm going to get around to it."
The concert
•The Eagles, Don Henley, Joe Walsh, Timothy B. Schmit, with Deacon Frey and Vince Gill, play Forsyth Barr Stadium, Dunedin on Saturday, March 2.