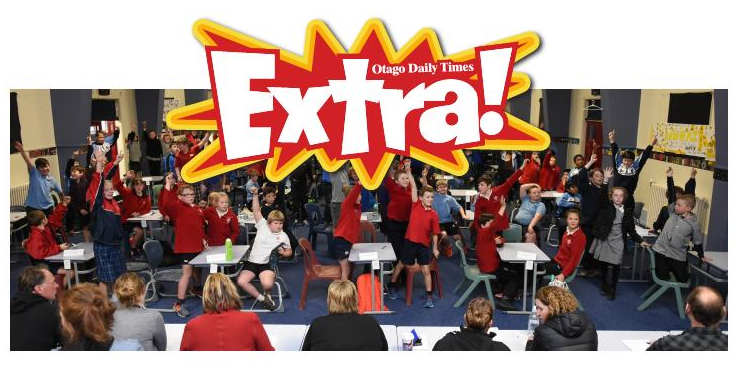 If you want to find out more information, browse the 2019 topic list, and find out quiz information visit our new website here. 
Extra! is a newspaper magazine published 12 times a year by the Otago Daily Times. It is read by thousands of children every month and provides teachers with an invaluable teaching resource, aligned to the school curriculum.

Not only does it save schools time and effort, Extra! is a rewarding curriculum-based introduction to current events, reading and writing for children from years 5-13.
This valuable teaching tool gives students the opportunity to have their work published amongst their peer groups. Over 200 schools throughout New Zealand currently subscribe to this fantastic publication.
Download the 2019 Extra! brochure and get your order in below.
Extra! contains 16 pages, featuring a single page focus topic in each issue and seven pages of social studies activities, including current event quizzes, New Zealand and world mapping and current issues. It has eight pages of literacy- related material contributed by school pupils- such as letter writing, short stories, poems, book, movie, and music reviews and school and class reports and photographs.
 
Extra! gives your students the opportunity to compete against students from other schools in current events/spelling quizzes and short story/poetry competitions.
Want to know more about what is happening in 2019?
Some of the Extra! feature topics for 2019 include:
Earth Issue: Volcanoes 
War Issue: Including a ANZAC special edition
Environment Issue: Sustainability 
Rugby Issue: Rugby World Cup
Courage Issue: Growth Mindset & Resilience 
Legendary Issue: Myths and Legends from around the world
If you require any more information please contact Trish or Lydia on (03) 479 3589 or email extra!@odt.co.nz
If you wish to subscribe to Extra! please complete the order form for full membership here and for casual membership here.
Any questions enquire with our Extra!  team on extra!@odt.co.nz.