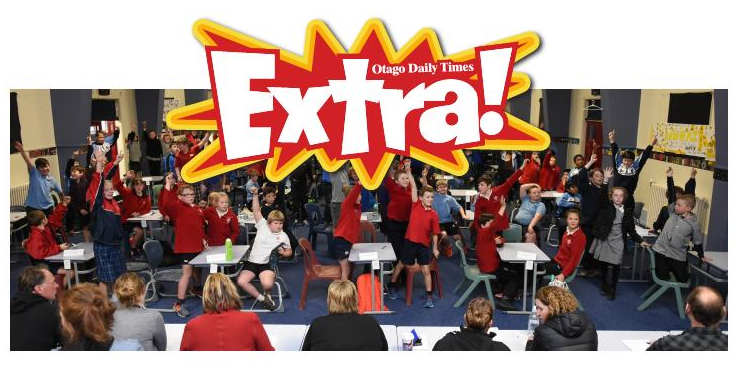 Extra! is a newspaper magazine published 11 times a year by the Otago Daily Times. It is read by thousands of children every month and provides teachers with an invaluable teaching resource, aligned to the school curriculum.

Not only does it save schools time and effort, Extra! is a rewarding curriculum-based introduction to current events, reading and writing for children from years 5-13.
This valuable teaching tool gives students the opportunity to have their work published amongst their peer groups. Over 200 schools throughout New Zealand currently subscribe to this fantastic publication.
Download the Extra! brochure and order form below.
Extra! contains 16 pages, featuring a single page focus topic in each issue and seven pages of social studies activities, including current event quizzes, New Zealand and world mapping and current issues. It has eight pages of literacy- related material contributed by school pupils- such as letter writing, short stories, poems, book, movie, and music reviews and school and class reports and photographs.
 
Extra! gives your students the opportunity to compete against students from other schools in current events/spelling quizzes and short story/poetry competitions. Want to know more about what is happening in 2018?
Some of the Extra! feature topics for 2018 include:
Marine sanctuaries around NZ and the Pacific
Commonwealth Games 2018, Gold Coast, Australia
ANZAC Day
Famous New Zealanders
FIFA World Cup, Russia
NZ's Endangered Species
Women leaders around the world
If you require any more information please contact Vicki or Trish on (03) 479 3589 or email marketing@alliedpress.co.nz
If you wish to subscribe to Extra! please complete the order form below and either email to marketing@alliedpress.co.nz or fax to Marketing on (03) 474 7424