Established in 1968, Saturday Morning Music Classes (SMMC) is a locally operated nonprofit organisation.
With contributions and fees priced to be affordable for all families, SMMC aims to:
Provide tuition on orchestral instruments, voice and guitar. Encourage participation in orchestras and ensembles. Give opportunities to enjoy and share music-making.
Largely functioning under the Ministry of Education's ''Out of Hours Classes'' regulations, means that the SMMC is subsidised for all primary school students (although not for secondary and tertiary students, or adults).
Classes are offered at schools, including: George St Normal, Bathgate Park, ElmGrove in Mosgiel, The Terrace School Centre in Alexandra, and the Cromwell School Centre. The Let's Make Music classes are also offered after school at Mornington and Tainui.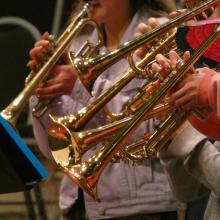 It's recommended that children younger than 8 begin with Let's Make Music, a class for 5- to 7-year-olds, which is an enjoyable introduction to structured music-making. Or they could start with Listen and Learn Violin (5 and over), Recorder (6 and up), Musicianship Theory (7 and up).
A selection of instruments is available to hire for a small annual fee, with priority given to first- and second-year pupils.
For more information, visit www.smmcotago.com