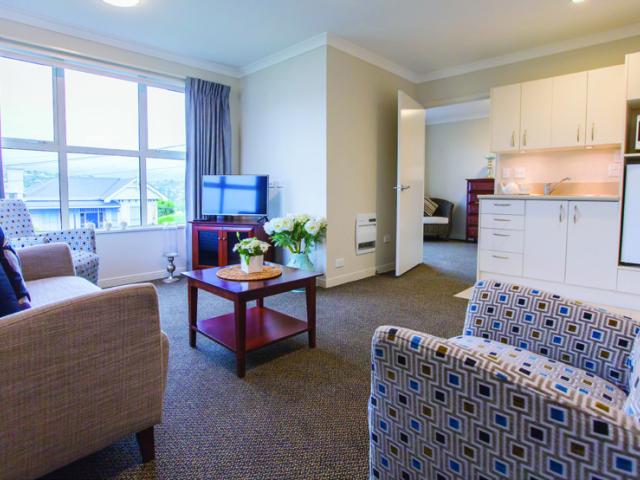 When you choose a Ryman village, you're set. From independent and assisted living, to a range of care options, we have everything you need if your circumstances change in the future. It's pioneering, and confidence inspiring. And just one of the reasons New Zealanders voted us one of Reader's Digest Most Trusted brands for the 7th year.
Call for more details or to book a private viewing:
ROWENA JACKSON VILLAGE, 40 O'Byrne Street North, Waikiwi, Invercargill, 215 9988
YVETTE WILLIAMS VILLAGE, 383 Highgate, Roslyn, Dunedin, 464 0390
FRANCES HODGKINS VILLAGE, 40 Fenton Crescent, St Clair, Dunedin, 455 0277
FROM FRIENDSHIP TO STARDOM
Maureen, Sybil, and Myrtle are fun to be around. When they're together they're loud, they speak their minds, and they laugh a lot. It was this combination of traits that saw them become the perfect cast members for a reality television show.
The trio never set out to be on TV. It was a Ryman shuttle driver that set the wheels in motion for their journey to stardom. While driving the ladies to and from town, the driver witnessed their banter and suggested they try out for a part in an upcoming reality television show. The rest, they say, is history. Aged in their 70s, 80s, and 90s, the three women were some of the audience's most loved participants. Fame was not something they sought, but simply being themselves has led to further on-camera exploits. Since their television debut, Maureen, Sybil, and Myrtle have appeared in a music video, a TV commercial, and a photo shoot. Having fun is what brought them together and it's what keeps them together.
Myrtle recalls travelling to Vanuatu shortly after moving into the village. As fate would have it, Sybil signed up for the same trip. One of their most recent exploits was a Ryman video starring village residents and staff replicating a Justin Timberlake music video, scene-by-scene. "It was such a wonderful performance, we all got an Oscar", winks Maureen.
Village events like this are just some of the many opportunities for the ladies to get together. There are also activity groups including walking and cycling, book club, and the weekly happy hour - something Maureen, Sybil, and Myrtle enjoy whenever they can.
While they get on brilliantly, Sybil points out that "there's plenty of fun with everybody else as well". The other two agree, and Myrtle adds that "the staff are really, really good too. They look after you. And if you're there by yourself, they make sure you're safe and that there's someone else to talk to".
While the three friends enjoy time together, they don't live in each other's pockets. Each one has a variety of different interests. Myrtle says they keep themselves busy and are involved with a lot of activities, with Sybil adding that "you just have to get up and do it".