Your guide to the best brunch, lunch, & dinner in Central Otago!
Benger Garden Cafe
Come and try our homemade pie today with Roast Addiqtion Coffee.
Open 7 days. Great food selection and friendly staff plus one of a kind garden outdoor seating in Central Otago.
While here, explore the garden and watch the birds in our aviary. Indulge yourself on homemade baking.
Eat Humble Pie Alexandra
Tucked down the end of the Centrepoint Mall . . . have you checked us out yet?
Range of the yummiest gourmet pies, hot, cold, regular or family size, complimented by fresh sausage rolls, savouries, sammies, scones, cakes, coffee and much more. Dine in or takeaway.
Ph. 027 345 4324 to pre order, and for all your catering requirements.
103 The Store
"HOLY SMOKE!
The most delicious Bagel ever! 103's Café delivers incredible food, fabulous baking, the Best Allpress Coffee, superb services along with the best atmosphere. A must visit in Roxburgh.
Ophir's Pitches Store
is a destination for all! Try our gorgeous baking with Allpress Coffee and StirTea Teas. Stop for lunch to enjoy one of our popular Caesar Salads or stay in house and indulge in our regionally inspired dinner menu matched with superb local wines and beers.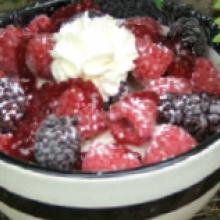 Monte Christo Raspberry Cafe
Enjoy delicious desserts and fruit ice creams made with our own, sprayfree raspberries while you relax in the lovely, shady Monte Christo gardens, outdoor café and children's playground.
Great service, food, coffee and now there's a cute Tea Shop. Open 11am to 5pm. Pick your own or buy fresh berries in season.
100 Springvale Road, Clyde
Alexandra RD1 9391
Faigans Cafe & Store
Faigan's Café is a licensed rural café in Millers Flat, reflecting the building's rich history as well as the distinct agricultural and horticultural heritage of the region.
Hearty rustic food is available throughout the day from the cabinet, as well as on a varied lunch menu.
E-Central Cafe
Ranfurly's E-Central Café... come and try our home baking and have a coffee.
We are well known for our deluxe cheese rolls — a must try! Or order off the menu. Famous cheese and date scones made fresh daily.
The Gate (Forage Cafe)
Light, spacious and with amazing views, family-friendly Forage is Cromwell's place to go from 6am until 4pm for fab food, bedazzling beverages and a feast of local and more distant tourist information along with booking facilities.
Ample private parking is right outside the doors.
The Merchant of Clyde Cafe
The Merchant of Clyde is already becoming a regular one-stop shop for locals and visitors in Clyde, who are soaking up the flavours of Olivers' café-delicatessen bakery.
Our specialist baking team starts early each day to bake the goods for the café and produce the other specialty products sold.
The Merchant of Clyde's homemade specialty condiments and preserves are also an important part of the experience.
nom nom Clyde
Located on Holloway Street behind Olivers, Nom Nom specialises in artisan ice creams, gelato and sorbets – made from fresh ingredients. We also have a Real Fruit ice cream option for that healthier treat, milk shakes, and real fruit smoothies all made with our own vanilla bean gelato. Ph 03 449 3162