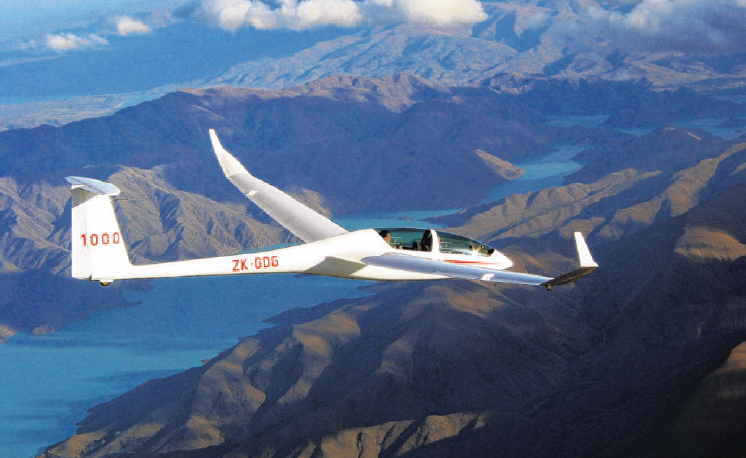 There is no better way to completely blow your mind than to sit comfortably in the front seat of a high-performance glider, while you soar like an eagle amongst the rocks and glaciers of the Southern Alps. Glide across multicoloured lakes and float through stunning cloud-scapes. This is why glider pilots have been flying from Omarama for more than 60 years.
Omarama offers some of the world's best and most reliable soaring conditions. The unique atmospheric conditions experienced here have enabled pilots to soar to over 10,000 metres high, and achieve distances up to
2500 km and average speeds over 200 kmh per flight.
Glide Omarama is a world-renowned soaring school that teaches all aspects of glider-flying in the mountains. Skilfully utilising the energy of the sun and the wind, its experienced instructors fly very high-performance gliders deep into the spectacular Southern Alps.
One of Glide Omarama's missions is to encourage visitors to appreciate and learn more about the sport of gliding. To achieve this, they offer four gliding opportunities ranging from a short 30-minute trial flight ($NZ358) to the ultimate all-day adventure in soaring ($NZ1475).
Participants on these flights have the opportunity to fly the glider under the watchful eye of their instructor, as well as taking in the marvellous scenery.
A Glide Omarama Facebook reviewer said in December 2016 that spending some time with these guys will probably be one of the five most memorable things you will ever do. Anywhere. In your life.
Soaring in a glider from Omarama could really be the greatest adventure of your life! Put it on your bucket list. See www.GlideOmarama.com for more information.