Following on from New Zealand Immunisation Week (April 29 to May 5), Southern DHB has been encouraging everyone to ensure their whole family is up to date with immunisation.
High immunisation coverage protects those who are too young or sick to be immunised – an experience Southern DHB Public Health Nurse and mum of four Stacey Ellis knows all too well.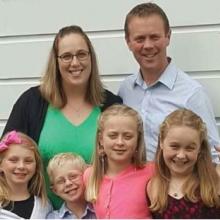 Stacey's son had viral meningitis when he was four weeks old which left him with a low immune system in his first year. "It was really important the whole family was immunised to protect him as he was so vulnerable and too young and too sick to be immunised."
"Because he was so susceptible to becoming unwell in his first year of life, being up to date with all of our children's immunisations was very important to make sure they didn't get sick and pass it on to him," says Stacey.
Many people will have their immunisations recorded in their Well Child Book, or check with your family doctor next time you visit to ensure you are up to date.
For more information on immunisation go to: