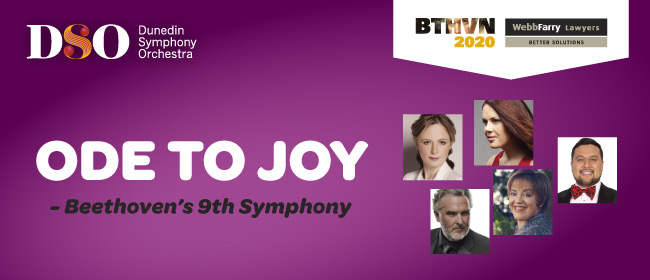 Cancelled! please go to https://dso.org.nz/ for more info
Join the DSO as we celebrate being back in the magnificent Dunedin Town Hall. To mark this special occasion, we will be performing Beethoven's mighty Symphony No. 9, 'Choral', also known as 'Ode to Joy'. This symphony culminates in a triumphant celebration of the unity and dignity of humankind – an appropriate theme for our extraordinary times.
As a result of the pandemic, the spotlight is on the many outstanding musicians now based in New Zealand and as a result we have a stunning line-up of guest artists.
USA-based Gemma New will be the concert conductor. Originally from Christchurch, her short career so far has been most impressive. She conducts many USA, European and New Zealand orchestras, and she already holds senior positions with major USA and Canadian orchestras. (The DSO acknowledges the generous assistance of the NZSO which has enabled Gemma to perform with us.)
Simon O'Neill (originally from Ashburton) is one of the world's acclaimed tenors, singing on the most prestigious stages around the world, but as the pandemic has curtailed his international performances, Dunedin audiences have the opportunity to experience this superstar in our concert. With him on stage will be some of New Zealand's leading singers: soprano Anna Leese, alto Kate Webber and bass-baritone Joel Amosa. In the concert's first half, this fine quartet will perform a variety of arias which are designed to display their superb vocal talents.
Beethoven's symphony takes up the second half, and there will be over 200 people on stage as the four vocal soloists will be joined by the Dunedin's largest choir – City Choir Dunedin – plus the Southern Youth Choir, and of course the orchestra.
Gemma New – Conductor
Anna Leese – Soprano
Kate Webber – Alto
Simon O'Neill - Tenor
Joel Amosa – Bass
City Choir Dunedin
Southern Youth Choir
Programme:
First half: a selection of opera arias
Beethoven: Symphony No. 9, 'Choral'
Tickets are available now at https://dso.org.nz/
Please note that International Series subscription tickets issued by the DSO at the start of 2020 are not valid for this concert as the International Series was cancelled.