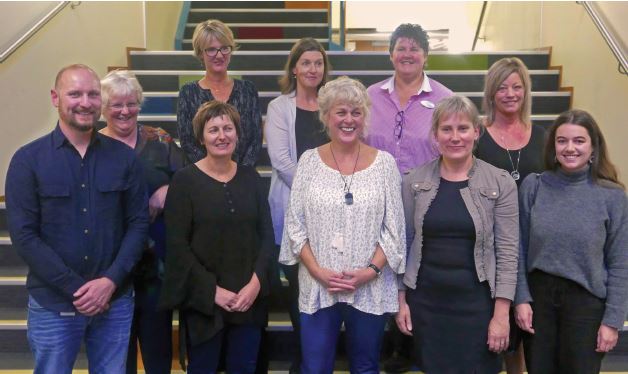 International Nurses Day (May 12) was celebrated with an awards evening this week, to formally recognise and celebrate innovation and outstanding practice in the nursing profession across Otago.
This year, recipients were acknowledged and honoured at the Otago Nursing Excellence Awards, held at the Otago Polytechnic Hub in Dunedin on Monday 13 May.
"We are thrilled to recognise the significant contribution our nurses make to improve the health and well-being of our community," says Southern DHB Chief Nursing and Midwifery Officer Jane Wilson. "We know there's incredible commitment to improve and advance nursing practice, and this celebration provided an opportunity for nurses' contributions to be properly recognised."
The Awards are held bi-annually in Otago alternating with Southland, and provide a unique opportunity for nurses to come together and celebrate innovation, clinical excellence, leadership, and research.
"We were delighted to have received nominations for nurses working across a wide range of practice environments," says Mrs Wilson.
Award categories included Innovative Practice, the Rising Star Award, Education, Clinical Excellence, Leadership, along with a surprise Award introduced this year - the Chief Nursing and Midwifery Officer Award for outstanding contribution at an organisational level. This award went to Southern DHB Charge Nurse Manager Jen Gow for her work in leading the 'Releasing Time to Care' programme, designed to streamline basic processes and increase the amount of time for nurses to tend to patients.
Scholarships were funded by Southern DHB, Enliven Presbyterian Support Otago, HealthCare Otago Charitable Trust, Otago Polytechnic, Otago Rescue Helicopter Trust, the Donald Malcolm Research and Education Fund, and the Neonatal Trust.
Southern DHB would like to say a big 'thank you' for the huge contribution nurses make every day to health outcomes and communities. As part of International Nurses Day celebrations, staff were treated to cake sponsored by Southern DHB and the New Zealand Nursing Organisation.