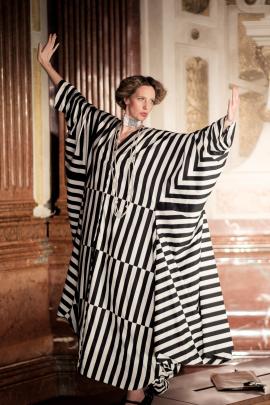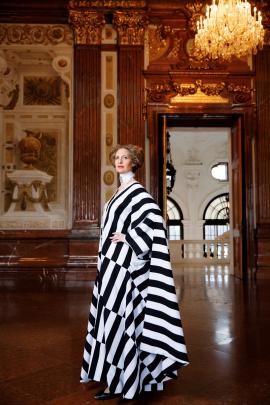 As a celebration of Suffrage 125, Arts Festival Dunedin presents Beloved Muse, the story of Emilie Flӧge, a business woman and voice in the suffrage movement who lived in early twentieth century Vienna. Beloved Museplays at The Savoy, from Friday 21 to Sunday 23 September.
Emilie Flӧge was a fashion designer and the companion of artist Gustav Klimt.  Having trained as a seamstress, Emilie opened an haute couture fashion salon in Vienna with her two sisters.  Over 30 years, she developed a playful, art-oriented approach to retail and established an international client base including women from America.
Emilie was a proponent of the rational dress style, promoted by the women's movement. This style was loose fitting and worn without a corset. Coco Chanel is widely regarded as the designer who revolutionized women's clothing. However, Emilie Flӧge had been creating cutting edge women's wear years before Chanel's trousers and two piece suits made their mark on the fashion world.  Her trademark was a free flowing silhouette, as depicted in Klimt's dazzling painting Portrait of Emilie Flӧge from 1902.
As the companion and muse of Gustav Klimt she was portrayed in many of his paintings, including The Kiss, a work from 1907. He had a profound impact on the design of her clothes.  Unusual for the time, they never married or had children but had a romantic partnership while maintaining their independence until his death in 1918.
This year also marks the 100th anniversary of the death of Klimt who was one of the most prominent members of the Viennese Secession movement.  His primary subject matter was an erotic interpretation of the female body. Klimt achieved particular success in his 'golden phase', noted for paintings which sometimes included gold leaf. Klimt's paintings have been sold for record prices, including his famous Adele Bloch-Bauer II, which sold in 2016 for $150 million.
Beloved Muse is a one woman play, written by Penny Black and performed by acclaimed Austrian actor Maxi Blaha. It is currently on an international tour which will include Europe, USA, Japan and Australia.