If it wasn't for the TV show It's in the Bag, I may never have traversed the country and visited every small town in New Zealand.
To my chagrin at age 38 as a born and bred Aucklander I had been to Wellington, Christchurch, Dunedin... and apart from some teenage surfing at Mount Maunganui, that was about it.
When the legendary New Zealand broadcaster and gifted performer Selwyn Toogood passed the It's In The Bag television show baton to me, he said two things. ONE. "this has been my baby, don't mess it up, relax and enjoy it". TWO. "You'll get to see the best of the country and meet the real loveliest New Zealanders". He was dead right on both counts. The show didn't work so well in the larger supposedly more urbane sophisticated 'too cool for school' metropolitan areas. "What should she do Remuera, the money, or the bag?" never got the same frenetic, overwhelming response as say Balclutha or Paeroa.
So now we are all being exhorted to get out on the highway and go looking for adventure in our own backyard. I'm old enough to remember the tourism catch cry of a past era, "Don't leave home until you've seen the country'. Now its time has come again – put simply – New Zealand is your patch, seize it.
And why wouldn't we?
Our 'wow factor' is based not on the height of our skyscrapers, length of our bridges and tunnels, or teeming millions in confined spaces – but understated simplicity self-deprecating humour and warmth, and jaw dropping beauty.
New Zealand. Our place. Our Turangawaewae, our still point in a spinning chaotic world.
So close. So different. So friendly; so enchanting, uplifting and mercurial.
Apart from the government in those weird times giving us a prod to get out, get going and embrace the land, there are some obvious smart reasons to holiday locally.
Affordability, accessibility, safety.
First up the New Zealand dollar gets almost slaughtered in most desirable overseas countries. Britain, Europe, and North America spring to mind. You'll do okay in Libya, Yemen, Somalia, Iraq, Syria, and South Sudan. Enough said. Accessibility. You're here already. All we need is a gentle nudge to exit our comfort zone, lose the spirit of timidity and with a safe pair of hands seize the courage to risk, and embark on an adventure.
Put the new in New Zealand for yourself, and at the same time assist the local economy and do us all a favour.
What goes around... reward yourself. It's time the baby boomers themselves, started to disinherit the children. We housed them, educated them, pampered to most of their requests, and possibly even helped them into their first home or apartment. As we have our own twilight zone it's our time to be rewarded. Drop the guilt. You may choose to only travel in economy – you can bet your bottom dollar that will allow your own children to travel business! You and I won't be here to hear how grateful they are!
Finally, safety. It's a no brainer. If the covid19 phenomenon has taught us (and the entire world) one thing, it's New Zealand stands tall as a place of transparency, refuge, enterprise, freedom, and truth. We have ably demonstrated that we are far enough away, and behind... to be ahead.
Team New Zealand, all five million of us, are not smug about this, nor are we taking our privileged position for granted. We're just getting on with it. Others around the world may say Kiwis are boxing above their weight. Frankly, we're not even interested in getting into the ring.
We've got nothing to prove. Our relative isolation has turned out to be an intrinsic part of our strength of character. It's fundamental to who we are and what we're in the process of becoming. So, having dealt and still dealing with some tough events that we're almost beyond our control, we're, if possible, going to get out and about and look at what we have (and may have taken for granted) through a fresh pair of eyes.
Now seems like an ideal time to see the country. Travel is not about careering from location to location ticking as many boxes as possible on the way. It's not about running yourself so ragged that half the time you're asleep on the bus or train or back of the car and could be anywhere. It's about enjoying and engaging with what's in front of you. Breathing with re-invigorated lungs. Sucking in the air. Smelling the perfume in the wind. Being transfixed by dancing clouds and melting sunsets behind mountains we didn't know existed. Tangerine dreams and marmalade skies. Nourish your soul. Ignite your imagination and luxuriate in a sense of wonder.
I'm encouraged by the deftness and tenacity of some in the tourist industry whose core businesses have been shattered. Neighbours and friends of mine, Susan Williamson and John Percy for 28 years have conducted and designed small bespoke tours to Italy with phenomenal success. Having been a client I can attest to the professionalism, care, nurture, and creativity they have given to this venture under the banner of 'Etruscan Pleasures Italia'.
Suddenly travel to anywhere overseas and most certainly Italy is on the back burner. Without retreating into a morbid 'woe is us' funk, they've been nimble, rolled up their sleeves and taken their considerable travel experience and expertise and created a unique bespoke New Zealand (at this stage North Island) tour event, that's different from the usual breakneck "if this is Tuesday it must be Twizel" rollercoaster ride.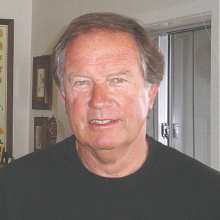 With an excess of imagination, they're thoughtful and clever at creating a different experience. They ''get it''. They understand travel should always be more than just enjoying and being in the moment – it's about memories that can be replayed and relived for years to come.
For Susan and John, the journey should be authentic. Grassroots, without artifice or pretence. Not the bleakness and sterility of an over-thought conveyor belt itinerary. Touring without trepidation. Travelling without tedium. Experience without exhaustion. Let someone else do the thinking as well as the heavy lifting for you. That's how they roll. Good on them for re-inventing themselves. We're going to need a lot more of that positivity and enterprise if we're going to make a full recovery or at least get close to it. This could be the ideal time to seize the moment.
As we've all discovered over the last few months – you never know what's around the corner. And in life we all get one shot at it. There is no Plan B. Start packing!