Approximately 26,000 home testing kits, dozens of community engagement sessions, nine inspirational champions and one giant inflatable bowel later, the Southern DHB's National Bowel Screening Programme is now one year old.
However, the numbers that matter the most are those that show the programme is having a significant impact on the lives of Southern residents.
Preliminary figures to the end of March show that 62 people have been diagnosed with bowel cancer as a result of the Southern programme. In addition, 552 people with non-cancerous polyps – which can become cancerous over time – have been identified and treated.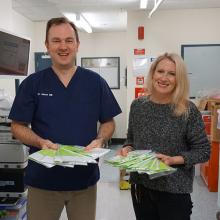 The programme's Clinical Lead, Dr Jason Hill, says the figures speak volumes. "We're absolutely delighted with these results, which demonstrate the tangible effects of this programme," he says. "As well as identifying instances of bowel cancer, it's significant that we are identifying and removing many cases of polyps. There can be no doubt the programme is making a considerable difference to Southern residents."
Screening participation rates have been consistently high throughout the South. The latest Ministry of Health data, to the end of January 2019, indicate that all Southern DHB regions exceed the national participation target of 60%. Overall, the Southern participation rate is 70.6%, above the national average.
Dunedin 'champions' share experiences of bowel cancer
The Southern bowel screening programme has nine 'champions' who advocate for the programme, sharing their own personal stories and encouraging others to take the bowel screening test.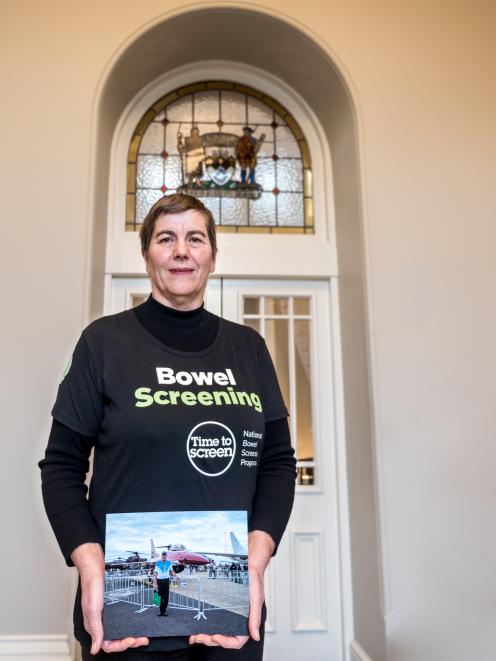 One of them is Dunedin City Councillor, Rachel Elder, who knows first-hand the pain that bowel cancer can cause. She lost her brother, Hugh, to the disease in 2017.
"He had been having strange pains in his knees and had lost a lot of weight," she recalls. "They eventually did a scan and found cancer, mainly in his bowel. It was a real shock to everyone."
Ms Elder says she feels "really strongly" about supporting the bowel screening programme.
"Hugh would be happy to know I'm encouraging others to do the screening," she says. "He was a real gentle giant, and I know he wouldn't want other people to go through what he went through."
After her brother's diagnosis, Ms Elder discovered that their father had been having regular colonoscopies and polyps removed for some years, but hadn't informed all of his family.
As a result, she had a colonoscopy which found non-cancerous polyps. After having surgery to remove them, she will now have a colonoscopy every five years due to her family history.
Southern DHB kaumatua, Matapura Ellison, says his father was diagnosed with bowel cancer at age 82.
"They caught it through a random health check," he says. "They operated on him and removed the cancer, and he went on to live till he was 100. We are so relieved we had our father for all that time."
Mr Ellison is pleased bowel screening is available here in the Southern district.
"Bowel screening is really important to me and my whanau," he says. "I want to be here to enjoy my mokopuna yet to be born – and hopefully to live as long as my father!"
About bowel screening
The National Bowel Screening Programme is a free programme to help detect bowel cancer. It is being offered every two years to men and women aged 60 to 74 years who are eligible for publicly-funded health care. 
However, anyone with concerns about their bowel health – such as a change in their normal bowel habit that continues for several weeks, or blood in a bowel motion – should talk with their GP directly, and not wait for a testing kit.

The National Bowel Screening Programme
Screening can detect cancer at an early stage when it can often be successfully treated

Invitations to participate are sent through the mail, followed by a test kit

The kits are easy and simple to do at home, and samples are returned by mail for testing

People are being asked to make sure their details are up to date with their GP so they don't miss out

For more information visit timetoscreen.nz or freephone 0800 924 432.
About bowel cancer in New Zealand
New Zealand has one of the highest rates of bowel cancer in the developed world

More than 3000 New Zealanders are diagnosed with bowel cancer each year and more than 1,200 die from it annually

Bowel cancer is the second most common cause of cancer death in this country, after lung cancer

According to the Ministry of Health, people diagnosed with early stage bowel cancer who receive treatment early, have a 90% chance of long-term survival.