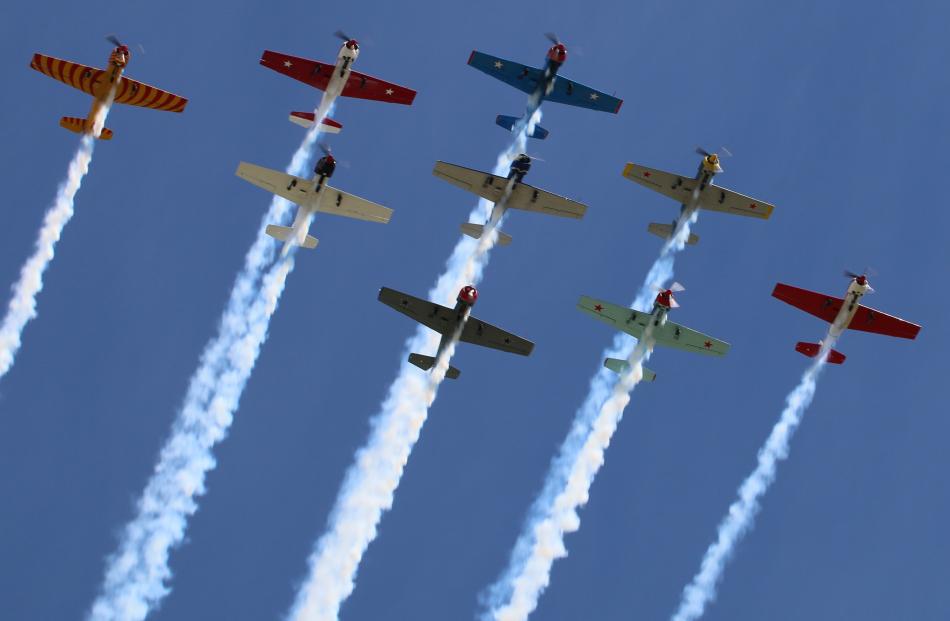 Every second Easter for more than 30 years the skies above the small New Zealand resort town of Wanaka have come alive with the sound of Warbird aircraft. 
Beautifully restored examples of some of the world's most iconic fighter aircraft strafe the Wanaka airfield while pyrotechnics and other ground theatre rounds out the scene. 
The next edition of this world-acclaimed Warbirds Over Wanaka International Airshow is being held at Easter 2020.  Aircraft types expected to be on the flightline include the likes of the Spitfire, P-40 Kittyhawk, P-51 Mustang, Avro Anson, Grumman Avenger, Harvard, Yak-3 and the magnificent Catalina Flying Boat.  There will also be an impressive flypast of other classic aircraft such as the Dominie, DH Dragonfly, Beech 18, Fox Moth and Tiger Moth.  The aircraft are well supported by the pyrotechnics team with big explosions and fireballs complimenting the full commentary.  While the airshow celebrates classic Warbirds it also allows visitors to see modern military aircraft up close and personal. 
The Royal New Zealand Air Force has supported the airshow for the past three decades and helps facilitate visits from other air forces including Australia, the United States and France.  In 2018 this support included the USAF F-16 fighter jet demonstration team out of Japan.  The aerial displays are well supported by numerous things to see and do on the ground. 
Many visitors make sure they get to the airshow early to wander around and enjoy all the ground displays before the aerial action begins, including the Re-enactors village, aircraft for sale, sport aircraft build demonstrations, RNZAF camp and the wide variety of products and services on sale in the big Exhibitor's marquees. 
Good Friday is practice day at the airshow with Saturday and Sunday the full airshow days.  Later on the Friday afternoon the crowds head into the picturesque township of Wanaka 10 kilometres away joining locals for a free community airshow over the stunning Lake Wanaka. 
There are a number of ticket options including the very popular Gold Pass which gives visitors the opportunity to see everything over the weekend.  The airshow is world-famous for its non-stop action so many visitors like to have the ability to return the next day to see their favourite acts again.  
For more information about the airshow and how to purchase tickets go to www.warbirdsoverwanaka.com