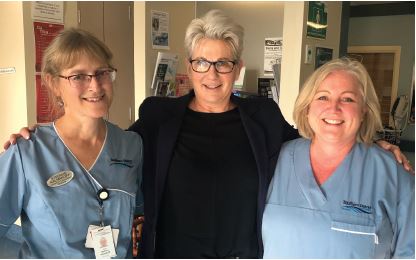 Each year more than 3500 babies are born across the district and every single birth has a midwife involved in caring for the mother and her baby.
"We are incredibly proud of our midwives, their achievements and dedication providing high quality care for women, babies and their families," Chief Nursing and Midwifery Officer, Jane Wilson. "It's a role that requires dedication, patience, emotional and mental strength as they support women right throughout their pregnancy and beyond."
Staff were treated to cake to say thank you for their hard work and important contribution to the health and well-being of mothers and babies at every point of maternity care.
Thank you to our dedicated midwives!
One-on-one pregnancy and parenting education sessions
Starting a family is an exciting time, but there are lots of questions too! Plunket's pregnancy and parenting education (PPE) courses, supported by Southern DHB, are a helpful place to start.
PPE – or antenatal or childbirth classes – provide first-time parents and their support people with valuable information and support at an important time.
For those who cannot attend the regular PPE session, one-on-one classes may be available. These sessions can be requested in cases where language, mental or physical health or location make attending group classes challenging.
Every course is facilitated by a qualified facilitator, and each facilitator follows the Ministry of Health recommended service specifications for Pregnancy and Parenting Education.
Topics covered include maternity services in New Zealand, healthy pregnancy, pregnancy care, labour and birth, postnatal care, breastfeeding, safe sleep and early stages of parenting.